| | |
| --- | --- |
| Sunday | Closed |
| Monday | By Appt. Only |
| Tuesday | By Appt. Only |
| Wednesday | By Appt. Only |
| Thursday | By Appt. Only |
| Friday | By Appt. Only |
| Saturday | Closed |
If you suffer from painful, achy and heavy legs, have painful varicose vains, or skin changes in your ankles we can help you.
Did you know that in most cases, vein prodecures are considered medically necessary and are covered by your insurance?
If you have unsightly spider veins on your legs, face or chest we can help you.
Dr. Norman Bein dedicates his medical practice in St. Louis, MO to the in-office treatment of varicose veins and spider veins. By specializing in venous disease our vein center is able to focus all our efforts on our patients' individual needs. Each vein treatment is tailored to your individual symptions, and because of this the results are exceptional and long lasting. With the latest state-of-the-art equipment available you will receive the latest, most advanced procedures available in the St. Louis area for both your spider and varicose veins.
Dr. Bein is also a Registered Vascular Technologist and performs his own diagnostic ultrasounds in his office at the time of the initial visit.
Is this your business?
Promote your business through our innovative Marketplace system! It's free to sign up!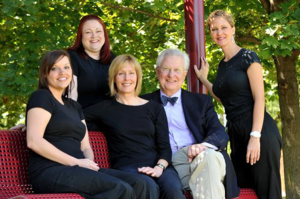 Dr. Bein has been a practicing surgeon for over 30 years. He is certified by The American Board of Surgery and is a Fellow of The American College of Surgery. Dr. Bein is also a member of the American College of Phiebology and is a Registered Vascular Technologist.
Dr. Bein has been performing vein surgery for over 35 years. With recent advances in laser surgery he has been able to bring his knowledge and experience to Vein Specialties LLC, directing his practice to the in-office treatment of all aspects of venous disease.
Being Dr. Bein's wife of 24 years, Maria has worked closely with him in all aspects of his surgical career. Maria's experience is as a pediatric burns nurse in Australia where she completed her nursing training and midwifery certification. Maria set up a burns unit in Saudi Arabia and them worked as a wound care curse in the USA. Maria has a keen interest in the skin and its problems. She works here as our clinical director and also works directly with Dr. Bein and the other nurses on procedures. She has extensive training in vein disease, treatment, and sclerotherapy.
Ivy has advanced training and experience using multiple lasers.
-Cutera, Domier and Sandstone for tattoo removal
-Obagi Medical and Physician's Choice skin care products
-Jane Iredale skin care make-up
-Medical microdermabrasion
As our patient coordinator, Shannon is the first contest you will have with our vein treatment clinic whether in person or on the phone. She will assist you with vein procedure basics, scheduling a convenient appointment and any other questions you might have. Shannon has an extensive business background.
In her position as insurance coordinator, Sherrie will be able to assist you with insurance and other financial arrangements for your vein treatments. As our office works with insurance directly, whether in or out of network, Sherrie will be your advocate with most insurance plans and file the appropriate paperwork. She is also able to assist you with clarification of your benefits. For cosmetic (non-medically necessary) procedures, Sherrie will be able to assist with other financial arrangements.