Dr. Tom Riechers, chief of staff for Mercy Hospital Washington, penned a letter on Monday to Washington Mayor Sandy Lucy and other city officials urging swift action to mitigate the spread of COVID-19 in the city.
Riechers asked the city to consider the following actions:
1. Require mandatory face coverings and hand sanitizer stations at the entrance to all public facilities and public businesses.
2. Require mandatory employee face coverings, gloves and appropriate hand sanitizing policies at restaurants and food take-out sites.
3. Consider limiting or modifying planned public gatherings like Sunset on the Riverfront and the Fall Arts and Crafts Festival. Although these are outdoors, which reduces transmission, the density of the crowd and the consumption of food and drink raises the risk. Food servers should wear gloves and face masks, and tables/seating should be distanced to limit the spread of the virus among the crowd.
Riechers called these "common sense actions that are scientifically sound" and "are certainly warranted now" as the local hospital has recorded consecutive days that its intensive care unit has been at 94 percent, he told The Missourian. The ICU currently has COVID-19 and non-COVID-19 patients.
Eric Eoloff, president of Mercy Hospital Washington, described the COVID-19 transmission rate in Franklin County as "seriously concerning" and said there is "clear evidence of growing community spread" in the county.
Those treated for the virus in intensive care have ranged in age from 45 to 84, with three currently on ventilators.
"These are people who are not coming from nursing homes but from the community," Riechers said.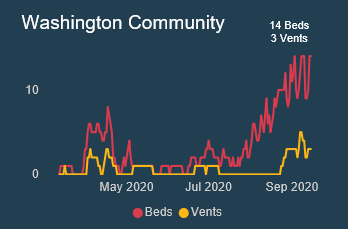 The local ICU has 13 beds and the hospital has some surge capacity, according to hospital officials.
Of those admitted to the ICU for COVID-19, Riechers said many have preexisting health concerns such as diabetes, heart disease and obesity.
"When they get to the ICU and get into a bed, then they are going to be in that bed for two, three or four weeks," Riechers said. The hospital has admitted additional COVID-19 patients, but these patients are not in the ICU.
Riechers and Eoloff said they are worried that, if the upcoming flu season mirrors previous years, the ICU could be overwhelmed with patients. During the flu season's peak locally, the ICU is typically at 90 percent capacity.
"When you put the flu season on top of a COVID-19 problem, then we will be overwhelmed in the ICU and our ability to care for patients," said Riechers, who added that some patients who could not be seen in Washington would be transferred to St. Louis-area hospitals.
"This is really about trying to prevent a problem instead of waiting until it is too late and then reacting to a problem that we can't fix," Riechers said.
In his letter to the city, Riechers wrote, "Waiting too long will expose our community to a much worse outbreak as these phenomenon tend to expand geometrically and not on a linear basis."
Riechers said that as many as 40 COVID-19 cases were directly linked to a recent wedding reception at the KC Hall.
Riechers encouraged the city to reexamine how it analyzes the data related to COVID-19 cases. He suggested using the Harvard Global Institute's recommendations, which identify communities of 100,000 people with more than 25 new cases per day as being in the "red zone," or a COVID-19 danger zone.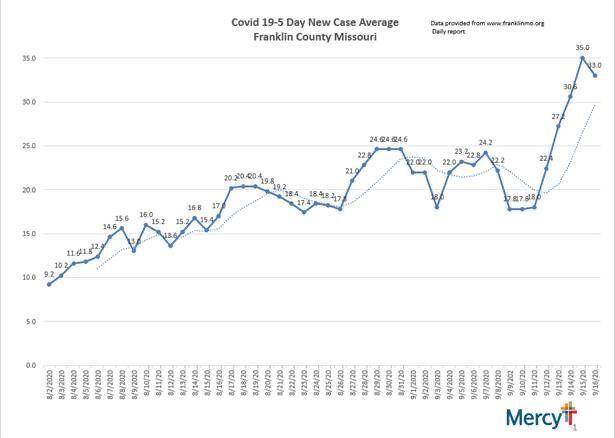 For the last several days, public health officials in the county have reported more than 30 new COVID-19 cases per day. Since March, the largest single-day increase of new cases was Saturday with 41 new cases.
"One of the ways to mitigate and to slow the peak of the rise — or how bad it will get — is to put things into place that will slow the transmission of the virus. Studies have shown that masks can impair the transmission rate by 80 percent," said Riechers, adding he is advocating for masks to be worn when in public.
"The most commonsense mask mandate (to me) would be to (wear a mask) if you are in a public accommodation. In other words, if it is a restaurant, a hair salon, a government building or a work place environment where people are going to be close together indoors, then the mask mandate makes sense. If you are in a restaurant, where you can't wear a mask when you are eating and drinking, then at least the server, waitresses and the people preparing your food need to wear a mask and gloves. We've not been seeing a lot of that happen in our town, and that is pretty short-sighted," said Riechers, who explained that he wears a mask to church services to help prevent the spread of the virus to his fellow parishioners.
He added, "I am doing it for my fellow man and less for me. If we all took that same kind of attitude to this issue, then we would be in a different place as a community."
Eoloff agreed, saying, "In communities where large public gatherings are restricted and businesses directly serving the public are mandated to have their co-workers wear face coverings, the spread rate of COVID-19 is significantly less. This makes it possible for businesses to stay open and for patients to stay close to home for needed health care."
Although Riechers said he is not in favor of banning large gatherings, he is hopeful that city leaders and business owners will heed the warnings and require masks to be worn in the city.
"I want a society that is open with people working, kids in school and our economy and government functioning," Riechers said. "We have a lot of common sense restrictions in our lives where we let government intervene that make sense. We have stop signs at intersections, people have to wear shirt and shoes when they go into a restaurant for a reason, and those are infringements on some level on our liberties, but I think that wearing a mask in public is a very minimal thing to ask so that we don't get into a situation where we have to have a local shutdown, local lockdown or something that really impairs our local economy and our ability to live our lives."
Riechers, who plans to attend Monday night's Washington City Council meeting to field questions from city leaders, said he has not received a response to his letter from the city's administration. He has heard from a member of the City Council, who suggested that Riechers forward his letter to the Franklin County Commission rather than the city.
Attempts by The Missourian to reach members of the city administration were not successful as of press time.