While the COVID-19 pandemic has made it difficult for many industries to keep going, local meat processors are finding it hard to keep up.
Area butcher shops report that the virus has boosted business unlike anything they've ever seen before as many of the higher volume processing plants have scaled down or closed up during the pandemic.
Ken Bolte, the University of Missouri Extension's Franklin County engagement specialist in agriculture, said large processing plants have had to shut down for days or weeks at a time, creating an immediate increase in demand.
"Prices jumped in the stores and people started looking to buy locally from producers. There's lots of folks that did that anyway, and there's a lot more interest in that being done, and that's created a swell of need for local processing," Bolte said. "Kind of like let paper – the same basic situation. The same with freezers."
When the virus struck in the spring, butcher shops were selling meat faster than it could be processed.
"When it first started, we were doing quite a bit more burger, fixing up the meat case all day and trying to make sure it's out in front of the public," said Jim Joerling, owner of Dan's Country Meats in New Melle. "We didn't really have time to process because retail was so booming. It slowed down a little bit there, but its still more than normal."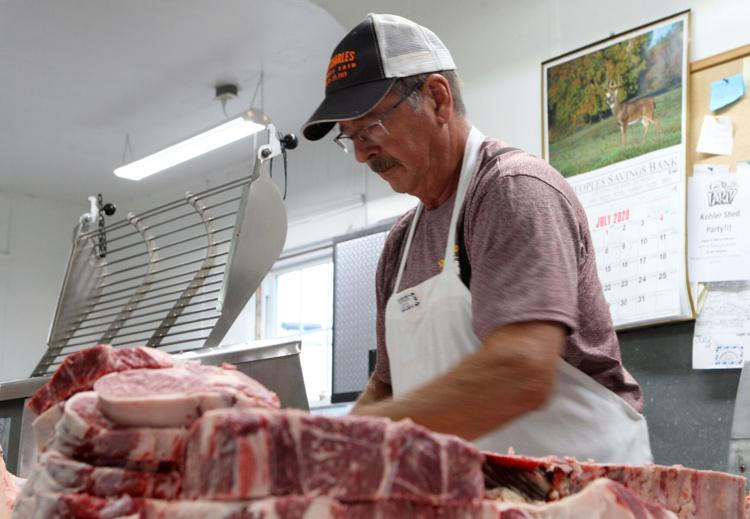 Steve Williams, owner of Williams Brothers Meat Market in Washington, said its customer base has expanded.
"We've seen a large increase of customers from not only Washington and Union, but down to St. Louis County, and we've even got people coming from Jefferson County, Cedar Hill and places like that," Williams said. "We hope to keep a percentage of those coming back."
Williams said the company's books are fully scheduled until after Christmas.
"The part that we're really dragging on and we'll try to get it all done, is the local producer trying to get his livestock into market to take care of his customers," Williams said. "We're pretty much booked up the rest of the year on that.
"We promised Washington Town & Country Fair we would do their livestock from the fair and with the other commitments we gave to other people already, the dates we had open were filled up pretty quick," he said.
Adam Richardson and Ron Eisenbath operate Josephville Meat Processing in Wentzville, which Richardson described as "extremely busy."
"I've never seen anything remotely close to this before, and I don't think I ever want to see it again either," Richardson said. "Being extremely busy is a good thing. It's a good problem to have, but it's still a problem. We hate to ever turn down customers."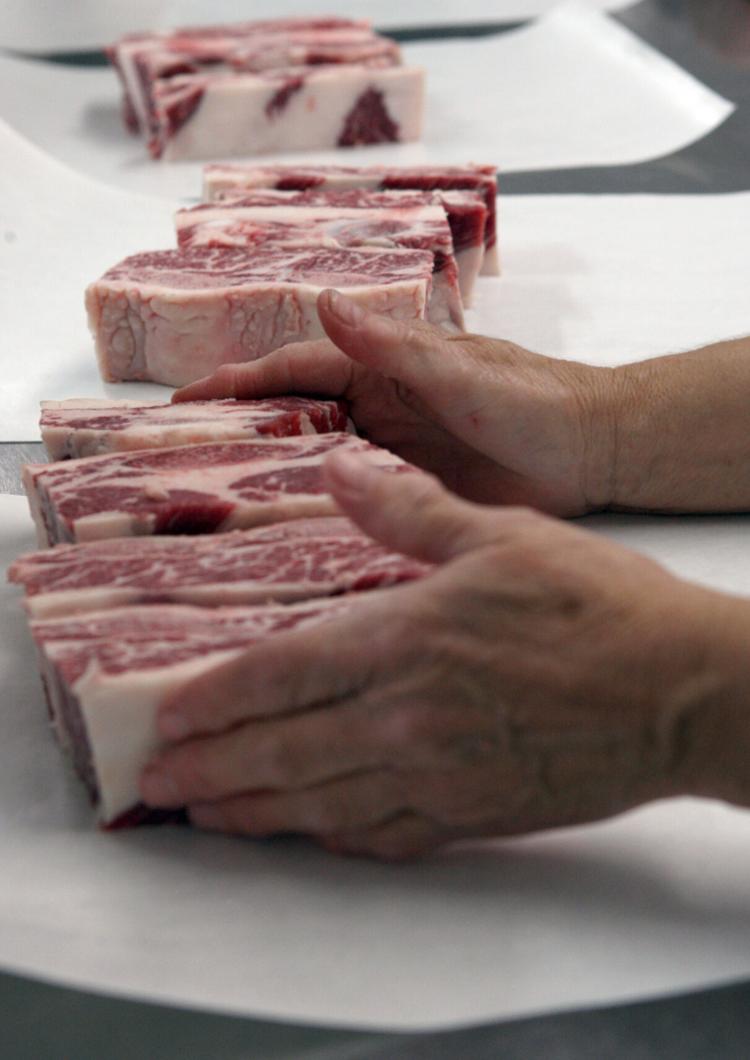 The high demand for beef has forced the business, which has been in operation since the 1960s, to make a tough decision, Richardson said.
"We're not going to be processing any more hogs until January," he said. "We're just too booked up with the beef," he said. "We had to do something drastic so we could have enough room and enough hours in the day to get everything accomplished."
Even with that decision, Richardson said there is still up to a six-month wait on an order of a quarter or side of beef. Under normal circumstances, he said the wait would be approximately six weeks.
Richardson said many new customers are flocking to their local markets for the first time and placing large-scale orders. "It's a good thing to get new clients," he said. "At the same time, it's kind of tough when you have your existing clients and customers that have been coming to you for years and years, and you're trying to fit them in and the new ones, and it's a longer wait for everyone. We try not to get anybody upset and keep everybody going because it's harder to get the meat right now."
Other processors have made the same decision as Richardson and Eisenbath, stopping hog production in favor of beef, according to Bolte.
Bolte said processing has been delayed for more than 2 million hogs nationwide. As a result, farmers are feeding their hogs high-fiber diets to keep them market-ready longer.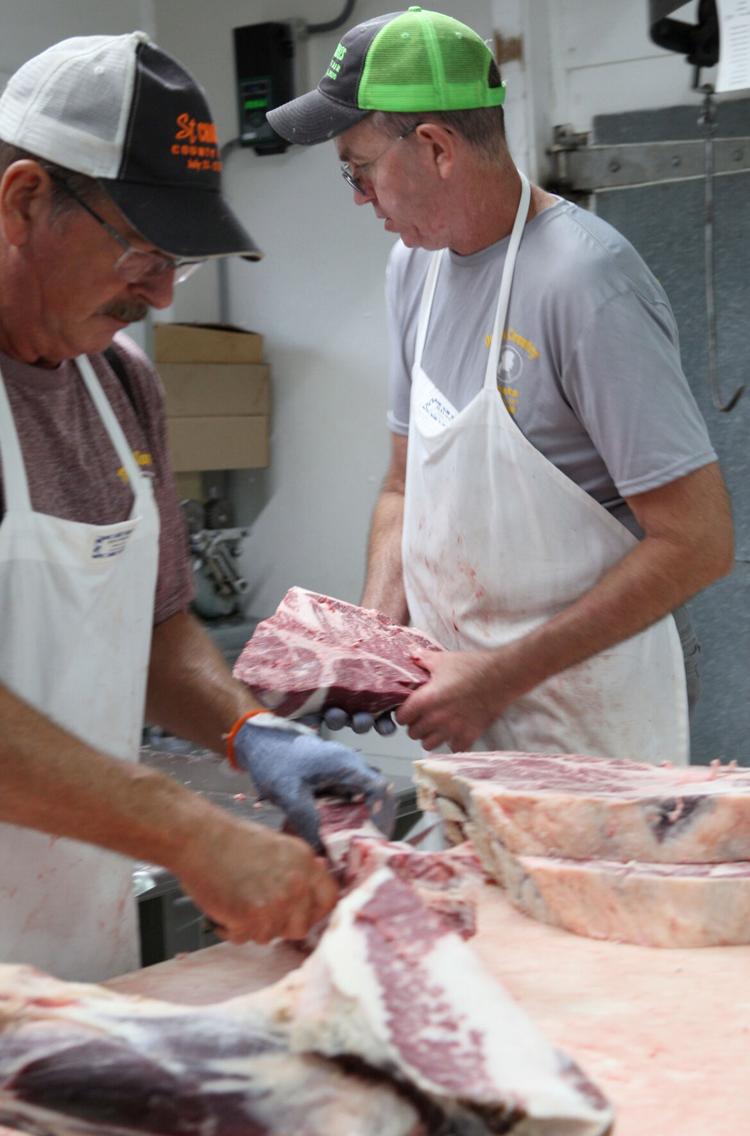 "They're still on foot," Bolte said. "They've slowed them down. Normally, people try to grow animals as quickly and healthy as possible. But due to the fact that they didn't have any places to have them harvested, they've slowed their growth rates down."
Bolte said it could take another month or longer for the market to start to catch back up.
In the meantime, farmers are reaching out to help each other.
Mike Piontek, whose farm is located west of Washington, has been storing some of the hogs from Rehmeier Farms Inc. in Augusta. Piontek is caring and feeding some of the younger hogs from the Rehmeier Farm, giving the Rehmeiers more room to hold other hogs they have not yet been able to take to market.
A fire at the Rehmeiers' facilities also limited the space the family had available for operations.
"We're just helping them out and being neighborly for them," Piontek said. "Something like this, you've got to help somebody out."
Some, like Rich Deppe of Deppe Farms in Washington, have been able to avoid a backlog in their swine production due to pre-existing contracts with a plant that has remained open.
"We've been selling to a lot of the local butcher shops every week," Deppe said. "On some it's limited as to how many they can actually butcher. A lot of people are going that route now with farm to table. We have an agreement with a packer, JBS (Beardstown) to supply them with a certain number of hogs every week. We were lucky enough and fortunate enough with COVID going on that we've been going to Beardstown (Ill.) and they have not shut down the plant."
Deppe said his farm has sold hogs directly to approximately 700 customers during the pandemic and delivered them to their butcher shop of choice, but it just takes time to get them in.
While prices in the supermarkets remain high, that's not necessarily being reflected in the prices paid out to farmers for their livestock.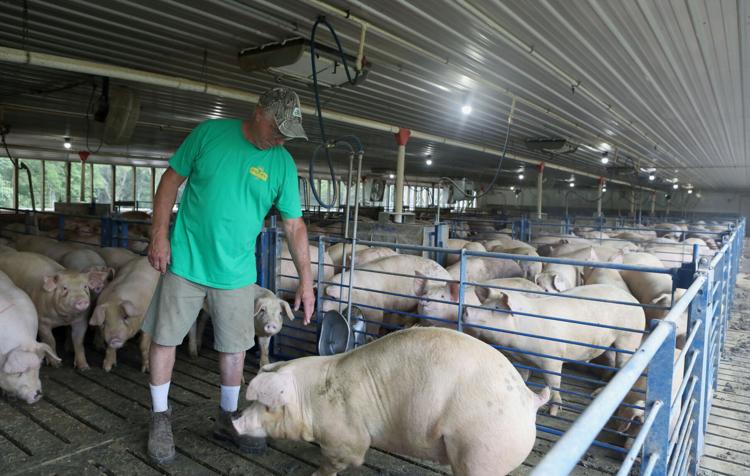 "Prices are extremely cheap," Deppe said. "I can't quite understand why it's so high in the stores. People were saying they were paying up to $8 per pound at one time for hamburger and like $4-$5 a pound for certain cuts of pork. To be honest, we're only getting in the area of 30 cents per pound for a hog. There's a lot of money somewhere along the line. It's either the plants or the retail stores that are making a huge profit right now."
It costs on average $45 to $50 to harvest beef and 45 cents to 55 cents per pound to have it processed, according to Bolte. He said it typically costs more to have a hog processed than it does to buy the live animal because the processing has many different options. As an example, he said he recently bought a hog for $140 and it cost $190 to have it processed.