After 730 days, Tonya Miller, 39, would just simply like to know what happened to her mother.
She feels she owes it to the woman, who was a whiz in the kitchen, crafting family dinner after family dinner, was a consistent presence in the stands for her grandchildren's sporting events and who toiled in her flower gardens each year in order to brighten up the neighborhood.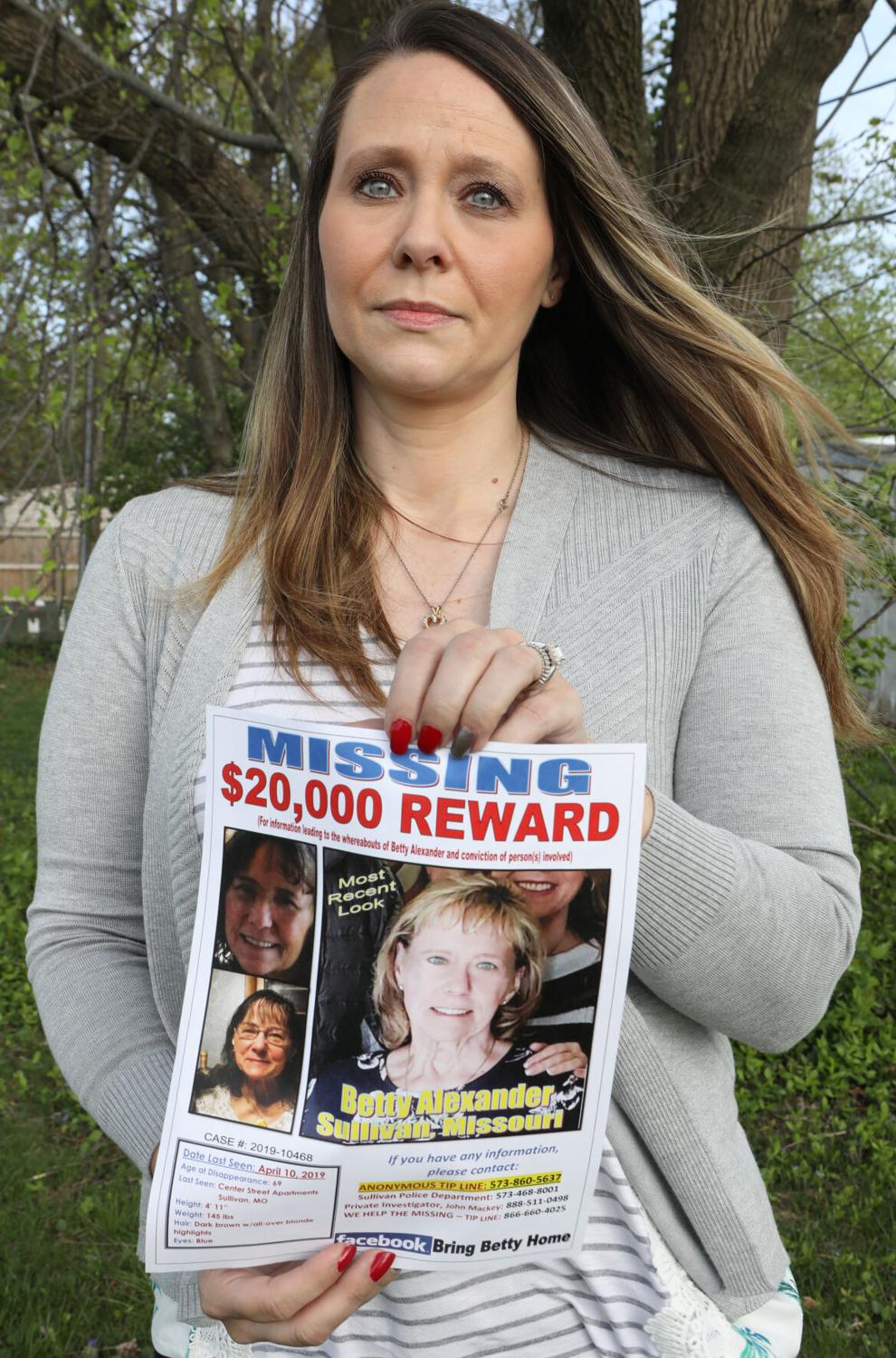 "It is just kind of like I'm a shell (of my former myself). It is like being a zombie, and I mean that. It is all your mind can think about whenever you go somewhere," Miller said. "Especially if I get a call or text from the detective or private investigator, I always jump when I hear the phone ring because I think this is the day we bring her home."
Her mother, Betty Alexander, 69, was last seen in her downtown Sullivan home on April 10, 2019, when an employee from an area pharmacy made a delivery. Four days later, when Miller returned from her child's track meet, she stopped by her mother's apartment around 4:30 p.m., and Alexander, who was reportedly in the beginning stages of dementia, was gone.
"It is like she vanished," Miller said. In the apartment, Alexander's Meals on Wheels delivery was sitting on the table with a glass of milk, which had warmed from being out of the refrigerator. Her apartment keys, nondriver's license, debit card and cash were all left in her purse that was placed in the closet, where it was normally stored. Alexander's glasses, which she always wore, were resting on the arm of her recliner. The medication she needed for her chronic back pain was left in the house.
"When I found her glasses on her recliner, I knew something was really wrong. She didn't go anywhere without her glasses. She would put them on as soon as she got up," Miller said.
Her family discovered that she took her medicine the night of the delivery around 7 p.m. but did not take her medicine the following day. Alexander's disappearance has been narrowed down to after 7 p.m. Wednesday, April 10, 2019, and before the morning of Thursday, April 11, 2019.
According to previous Missourian reporting, police have conducted numerous searches for Alexander, beginning the day she was reported missing. The search has included the use of canine officers, a helicopter, drones and volunteers going door-to-door to look.
Lt. Patrick Johnson told The Missourian on Monday that the department has continued to follow up on numerous leads but has not been able to locate Alexander.
This weekend, to commemorate the two-year anniversary of her mother's disappearance, Miller announced that the family increased the monetary reward to $20,000. The reward, which is being financed by the family's personal savings and from donations from individuals in the community, is being offered in hopes that someone will come forward with information that will lead to Alexander and possible convictions of the individual or individuals involved in her disappearance.
"I just have a gut instinct, and I've felt it from the day that I walked into that apartment two years ago, that somebody took her," Miller said. "I really don't believe she's still alive. I still pray and hope that she is because there is always that chance for a miracle."
She continued, "I just want her home. I just want to say goodbye and to have closure. I didn't get to say goodbye."
The hardest part of her mother's disappearance is the guilt that Miller feels "knowing that something happened to (my mother) and I wasn't there to help (her). I couldn't stop it. I couldn't save her."
Johnson said Alexander's three adult children — Dave Schoonveld, John Schoonveld and Miller — are owed closure.
"It has been two years; the family has waited long enough," Johnson said. He said anyone with information related to Alexander's disappearance should call the Sullivan Police Department at 573-468-8001 and speak with Detective Ralph Finn. He said any information, no matter how seemingly insignificant, might prove consequential. People can help by sharing Facebook posts from the page "Bring Betty Home" to spread awareness of Alexander's story.
"There is the potential that with the anniversary, that with the press coverage, that somebody who knows something but hasn't come forward will come forward," Johnson said. "I know the family would be grateful for any information."