Among the most memorable lines in L.M. Montgomery's beloved book "Anne of Green Gables" is one that could apply to many Missourians as easily as to the Canadian author. "I'm so glad I live in a world where there are Octobers," she writes.
In Missouri, October means a fresh canvas of color. As the days grow shorter, the leaves blanketing the state's forests, cities and neighborhoods turn brilliant shades of red, orange, yellow, purple, green and brown. The Missouri Department of Conservation (MDC) is projecting that 2021's fall foliage will peak in the St. Louis region around the middle to end of October, when the leaves reach their most vibrant hues before fluttering to the ground.
Tim Smith, who works at MDC's Shoal Creek Conservation Education Center in Joplin, said that though each tree displays its own warm color, what truly makes fall in Missouri remarkable is the landscape created by many trees mingling together in one space. 
"It takes a combination of all of these (trees) to make a beautiful landscape of our fall colors," Smith said Wednesday in an MDC virtual lecture.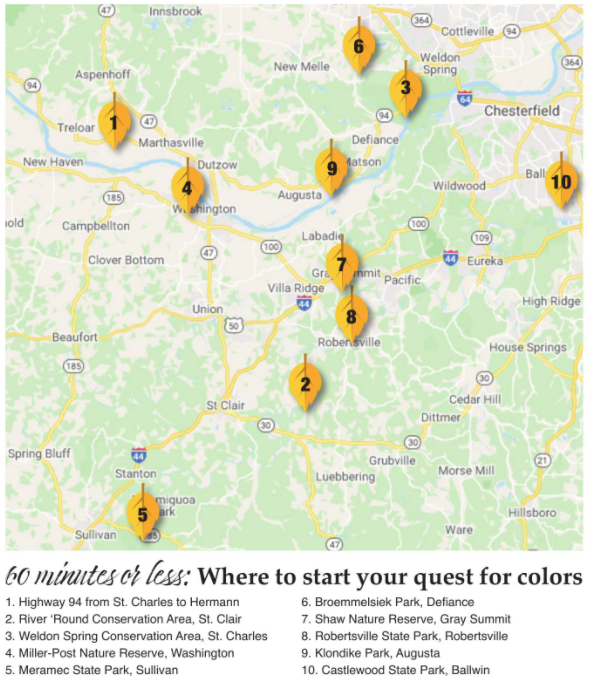 Around Franklin County, small peeks of the changing tones are just starting to show themselves, and the full gallery is expected soon. Although late summer droughts will likely mean less vibrant colors than in years past, Smith said any road that goes through an area that's timbered will give "spectacular views" starting in a couple weeks or sooner.
Ashes
Missouri's six species of native ash trees account for around 3 percent of the state's native forests, but up to 40 percent of neighborhoods and parks can be populated with ash trees. Their leaves add bright pops of yellow and bright green to the annual fall foliage, or orange and purple, depending on the species. According to the MDC and the University of Missouri Extension, Missouri's ash tree population is severely threatened by the emerald ash borer, an invasive insect native to Asia that has spread to around 80 counties in the state, including all counties in the St. Louis metro region. 
Hickories
Missouri has nine species of hickory trees across the state, and their leaves transform into a golden yellow each autumn before falling. The trees are distinguishable by the several leaflets with serrated edges at the end of each twig. Hickories also produce nuts with a hard outer shell from September to October.
Sweet gums
Another tree whose leaves emit a gold glimmer in the crisp autumn sunlight is the sweet gum. Although the tree is only native to the southeastern region of the state, Missourians have planted the tree, which has star-shaped leaves, in urban and rural areas throughout the state. The closely related black gums also are easy to spot with their scarlet to red leaves. 
Sassafras
Responsible for many of the deep orange hues seen in Missouri's autumn landscapes, the short to medium sassafras trees are easily identifiable by their sweet smell. Although it's illegal as a flavor or additive in foods in the U.S., as consuming it has been shown to increase cancer risks, the plant can be found everywhere except the northwestern corner of the state. Its leaves can be mitten-shaped or trident-shaped, and most will turn orange before floating to the ground. 
Dogwoods
Perhaps best known for its flowering white blooms during the spring, Missouri's official state tree, the dogwood, is also an important player in the area's autumnal transformation. The plant's size — a tiny shrub compared with the towering oaks and hickories — and egg-shaped leaves that turn scarlet throughout October make it stand out. They thrive under the canopy made by taller trees. 
Maples
The kaleidoscope of color Missouri offers each fall would look entirely different without the maple, particularly sugar maple trees and red maple trees, that are common across the state. Their leaves have a distinctive overall triangular shape and turn apricot orange to garnet red as the days turn colder. The trees also produce reddish brown fruits, each about 1 inch long, from August through October.  
Oaks
According to the MDC, the state's heritage and culture has been uniquely shaped by oak trees. Their acorns are diet staple for many wild animals, and their wood has long been used to construct ships, railroads, homes and more. Oak saw timber still accounts for more than 60 percent of all saw timber produced in Missouri. Twenty-two species plus 30 more hybrid species of oak trees grow across the state. Each fall, their leaves create a brilliant palette of rich reds and earthy browns and coppers.
One of the largest oaks in the state, a pin oak tree, is publicly accessible at the River Round Conservation Area in St. Clair. The tree is 88 feet tall and 125 inches wide.