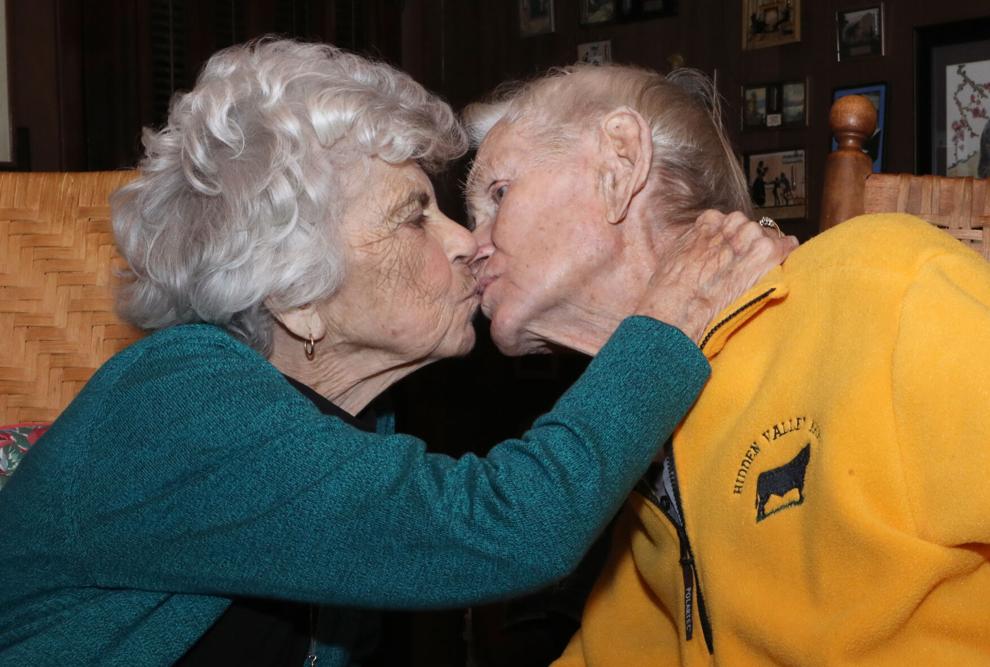 Their family says Tracy and Dorothy Brown are always holding hands. The couple welcomes each calm morning on their Gerald farm by sitting before their burning fireplace in adjacent rocking chairs — wedding presents to her grandparents that are 150-year-old pieces of wood — where they watch birds and deer outside the window with their fingers firmly intertwined. Dorothy, 88, is probably reading, using her other hand to flip the pages of her book. Tracy, 90, is likely using his free hand to pet their purring orange cat, Princess. 
"As a young child growing up, I always noticed they were different than other parents because I can remember them holding hands all the time," the couple's only child, Yvonne Byrne, told The Missourian. "I didn't see my friends' parents doing that."
Blanketing the walls around them each morning are souvenirs and mementos from a lifetime together. Seventy two years and nearly two months — to be exact. The couple eloped in December 1948. Tracy, then 18, had graduated from Sullivan High School and started teaching in a one-room schoolhouse in Oak Grove Village, instructing some students who were his age or slightly older. Dorothy, 16, was still a student at Sullivan. The couple drove three and a half hours south to a small courthouse in Piggott, Arkansas, a small town in the state's northeast corner, just about 10 miles across the state border. 
It was not uncommon for couples at the time to elope. In Missouri, marriage was illegal for anyone under 18, so many couples traveled to small towns just over the border for their ceremonies.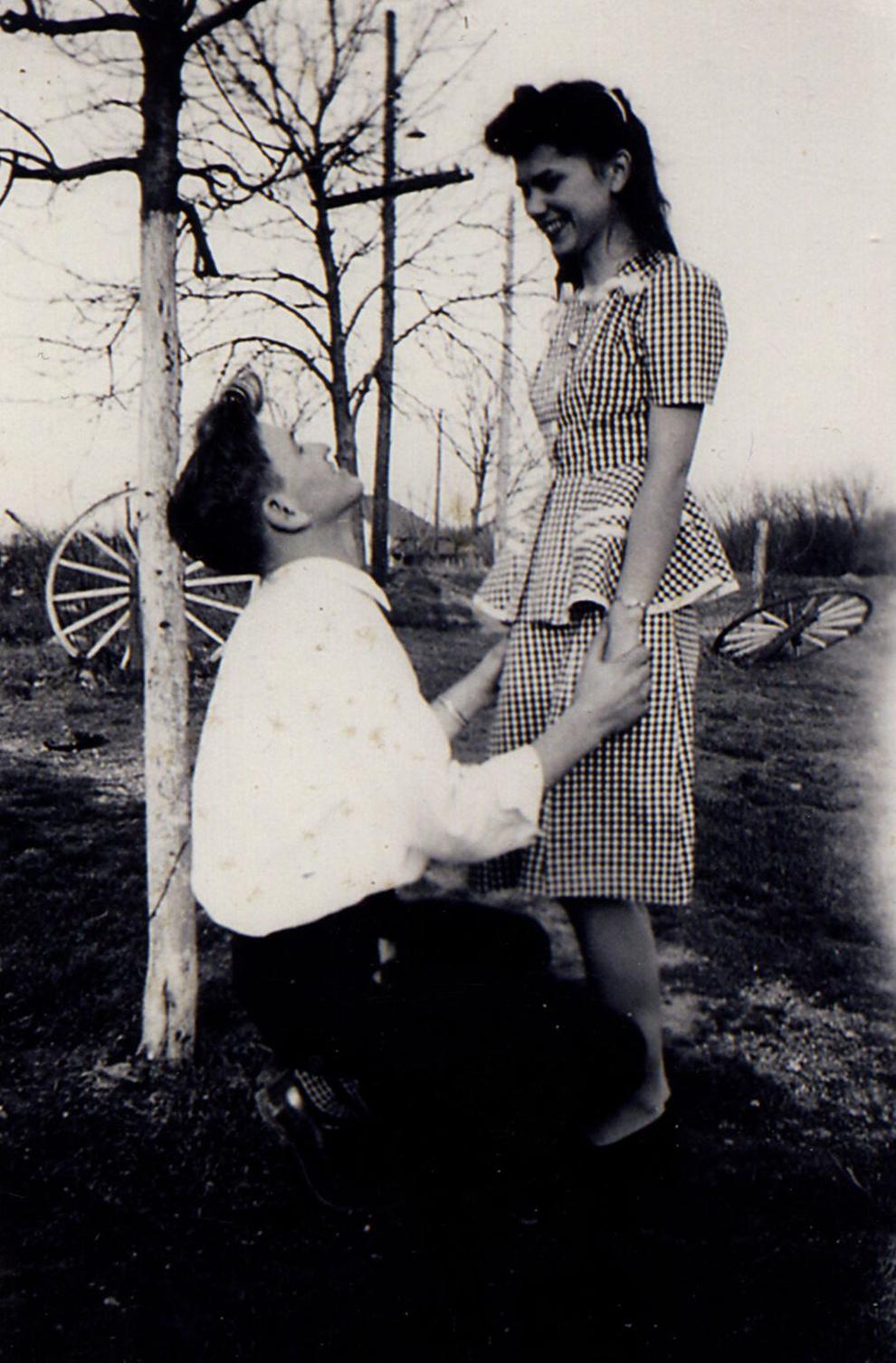 At that time, Tracy and Dorothy already had been dating for two years after quickly noticing how in sync they were. Although both had grown up without a lot of money, they told each other about dreams of college, traveling the world and having a family. Tracy, who was the second-youngest of 14 children, was eager to move on from driving cattle each morning and to get a higher education. And Dorothy, after moving often in St. Louis and then settling with her grandmother in Sullivan, was looking forward to earning a college degree and making a stable home.
They met during one of Tracy's softball games. He was the star of the team — he recalls once getting an offer to try out for the Cardinals, but he couldn't afford the shoes and gear. Dorothy was in the stands, and Tracy remembers coming over to her and dropping a penny in her shoe.
"She was the prettiest thing that ever walked," Tracy remembered of Dorothy. "There was never anyone else for either of us." 
As part of their marriage requirements, Tracy had to provide proof that he was 18 — as only the husband in the marriage had to be per Arkansas' laws at the time. The couple laughed recalling how Dorothy forged Tracy's mom's signature on the paper. Yvonne Byrne only learned about this a few years ago, when she was driving through Piggott and stopped by the courthouse for a copy. 
"Mom taught writing for a very long time so she has beautiful cursive handwriting," Yvonne Byrne said. "Grandma Brown didn't have that. I recognized it immediately."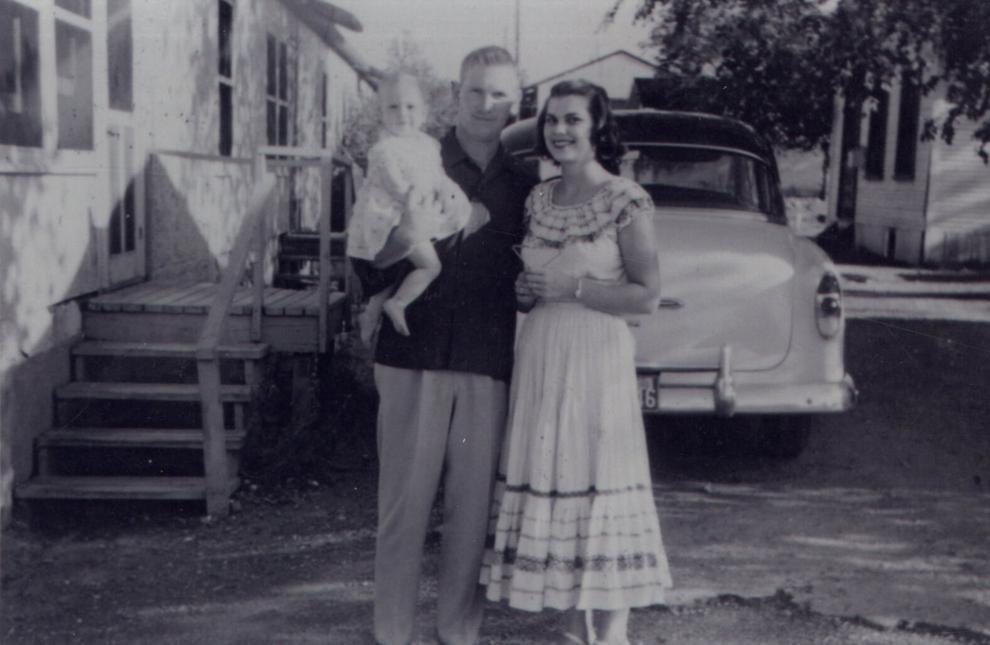 After Dorothy graduated from Sullivan High School, the pair started looking at colleges. They had friends out west and were excited by the idea of living in a new state, so both enrolled in Western New Mexico University in Silver City. They took classes in the summers and returned to Missouri to teach and save money each fall. While at the university each summer, both also worked odd jobs to earn money. Tracy was a campus police officer and school janitor, and Dorothy worked overnight shifts at the hospital. 
"(My dad) often said all jobs are honorable if you do your best," Yvonne Byrne said. 
One summer, Tracy even taught a P.E. class at the school, and because he needed a P.E. credit, the college had him enroll in his own class. He developed a sinus condition and couldn't swim underwater long enough for the final exam, so he gave himself a B in the class. During their fourth year of marriage, the couple welcomed a daughter. They named her "Yvonne" for the song "Jambalaya on the Bayou" performed by Hank Williams. The lyrics go, "My Yvonne, the sweetest one, me oh my, son of a gun."
"I think they just liked the song. I should probably ask them," Yvonne laughed. 
Seven years after enrolling at college, both earned their hard-sought degrees in 1959 — Dorothy received a bachelor's degree in education and Tracy, a master's degree in education. Their Yvonne, now a small child, attended the ceremony. The couple bought a house in Manchester, in St. Louis, some years earlier, and both went to work in the Parkway School District. By 1961, Tracy had been promoted to assistant principal of Parkway Central High School.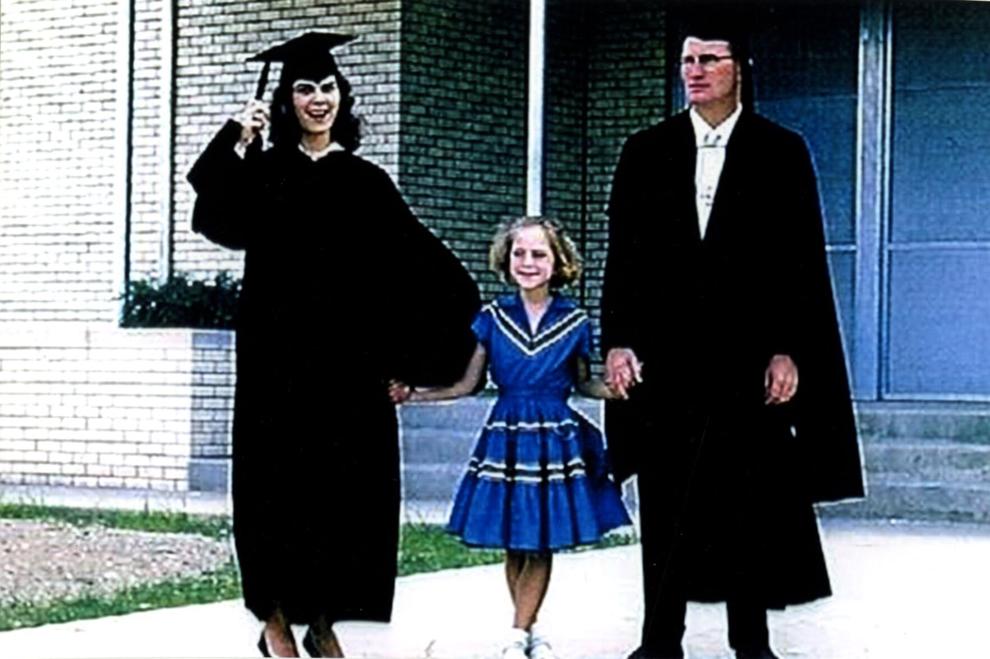 Some of Yvonne's earliest memories of her parents are of them playing checkers and cards with her. For fun, they loved to play tennis together. She also remembers long road trips across the country on every school break, sitting in the back seat watching towering skyscrapers of cities and vast national parks through the window. As Yvonne grew older, the trips grew longer and farther. The trio toured a pineapple grove in Hawaii, watched fireworks from a gondola in Venice and rode camelback to the Great Pyramids of Egypt. Their favorite destination was Scotland, where they tried to go almost every year and stayed in bed and breakfasts.
Yvonne also remembered spending most weekends of her childhood at the couple's farm, Hidden Valley, in Gerald. 
"This farm," Dorothy gestures to the window, where a deer can be seen outside, "pretty much took up every weekend from 1965 on." 
The farm also provided a whole other career. After the two retired from education after 30-plus years in the '80s, 18 of which Tracy spent as principal of Parkway South Junior High, they moved their full-time residence to the farm and started raising black Angus cattle. 
Another adventure was adding several new members to their family. Their daughter had started dating Mike Byrne, who introduced Tracy and Dorothy to his two sons from his previous marriage. Mike Byrne remembers having to earn the couple's trust, and he laughs about comments his new girlfriend's dad made about his beard.
"It took a little while for Tracy to warm up to me, but our boys — they latched on to the boys right away," Mike Byrne remembers. "And it was probably two or three years after we got married that I shaved off the beard, and he said, 'I've been waiting for that.' "
Mike Byrne says he didn't have the travel bug yet when he married Yvonne, but it came soon. The two couples traveled around the world, again in the summers as Yvonne Byrne had followed in her parents' footsteps and become a teacher. In 2008, the family's visit to Mackinac Island in Michigan was special because it marked the first trip they took in the fall — Yvonne Byrne had just retired as well, so it was the first time no one had to be back to start school in September.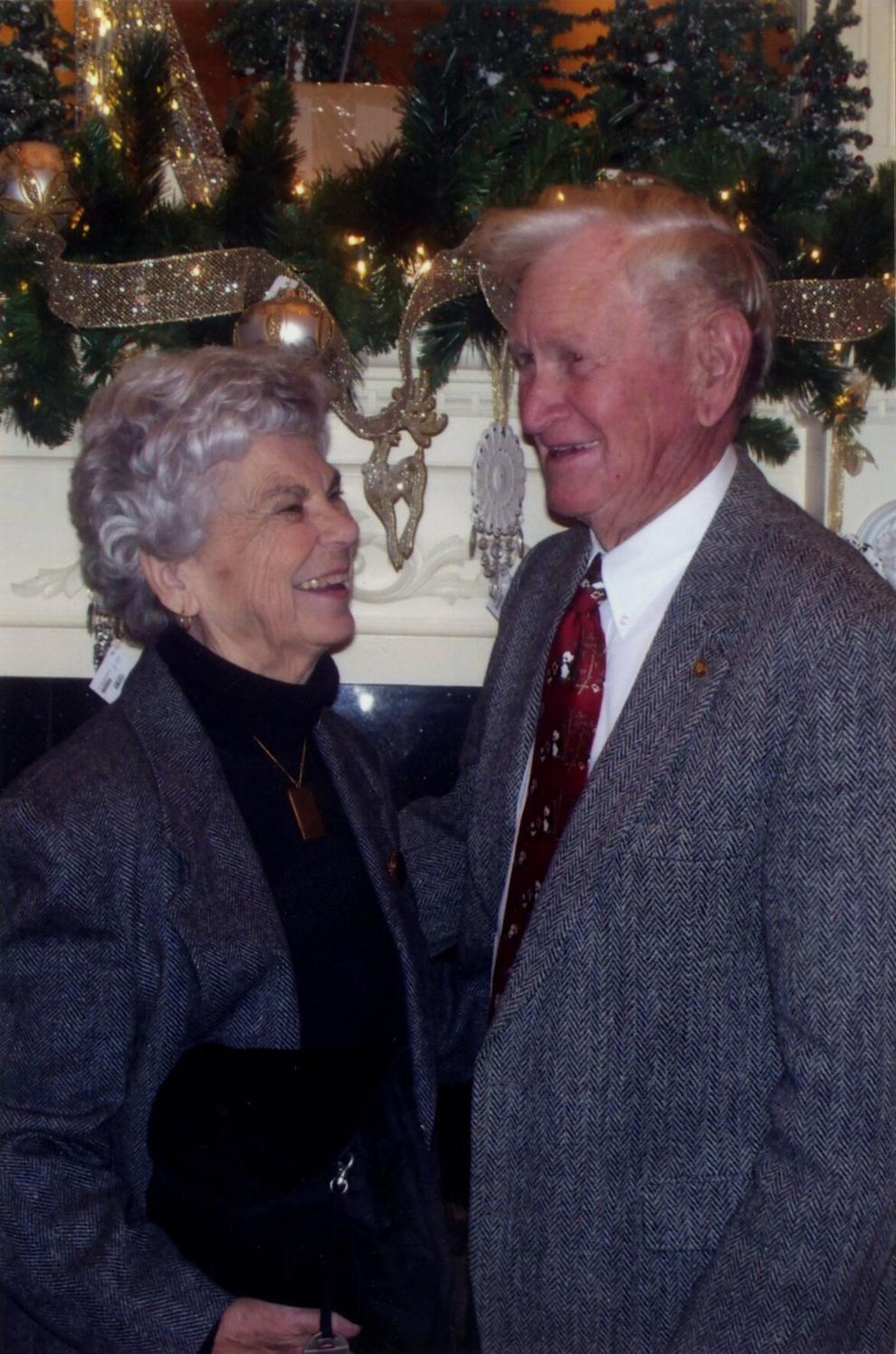 In 2012, the couple got a phone call that would become, in Tracy's words, the third proudest accomplishment in his life after marrying Dorothy and the birth of Yvonne. Western New Mexico University told him he would be inducted into its School of Education Hall of Fame for distinguished alumni. The honor marked his "lifetime of work in the field of education." The whole family traveled to New Mexico for the ceremony, excited to see the campus again. 
On that trip, they realized how much had changed in the last 50-plus years. They also realized how much hadn't. The courthouse where they married has since burned down. The one-room schoolhouse where Tracy taught during the first year of their marriage was moved out of Oak Grove and remodeled into a house in 1985. But their marriage thrives. Their "golden rule" has fueled decades of happiness, and it's the advice they say they would give any young couple.
"I feel very strongly that you have to live by the golden rule," Dorothy said. "I treat him just the way I would want to be treated."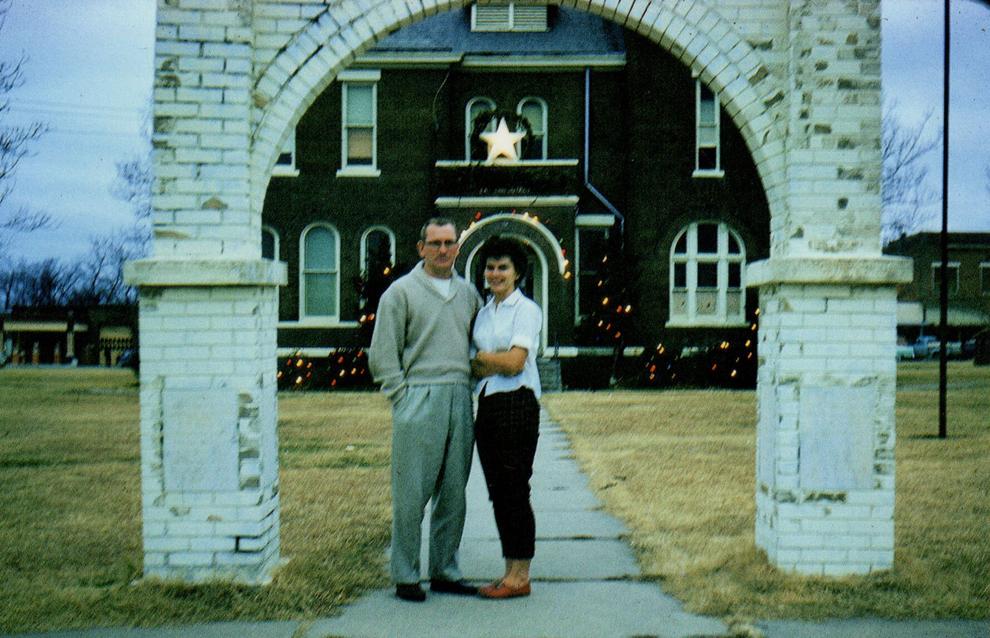 "Support each other. Be there for them," Tracy added. "You gotta be together. Miles don't make any difference; it's how you feel."
Mike and Yvonne Byrne say they've noticed this rule become enforced more than ever in recent years as the Browns meet health challenges brought on by their age. Yvonne accompanied them to an appointment a year or two ago, walking a few paces behind them through the entrance and seeing their fingers interlocked. 
"Even when they go off to the hospital, they're still holding hands," she said. 
As Valentine's Day approaches, Yvonne Byrne recalled another annual staple of her childhood. 
"For years and years, every Valentine's Day Dad gave Mom one rose for every year they were married. It got a little expensive the last few years," she laughed. 
This year, they will spend a relaxing Sunday at home. Neither has gone out of the house more than a few times the past year due to the COVID-19 pandemic, and while they say they miss eating out with Mike and Yvonne and visiting with family and their friends, they have always loved to spend time with just each other. As the interview wraps up, the couple returns to the rocking chairs in front of the toasty fireplace. They slowly sink into the wooden chairs, reach their hand out for the other's and smile.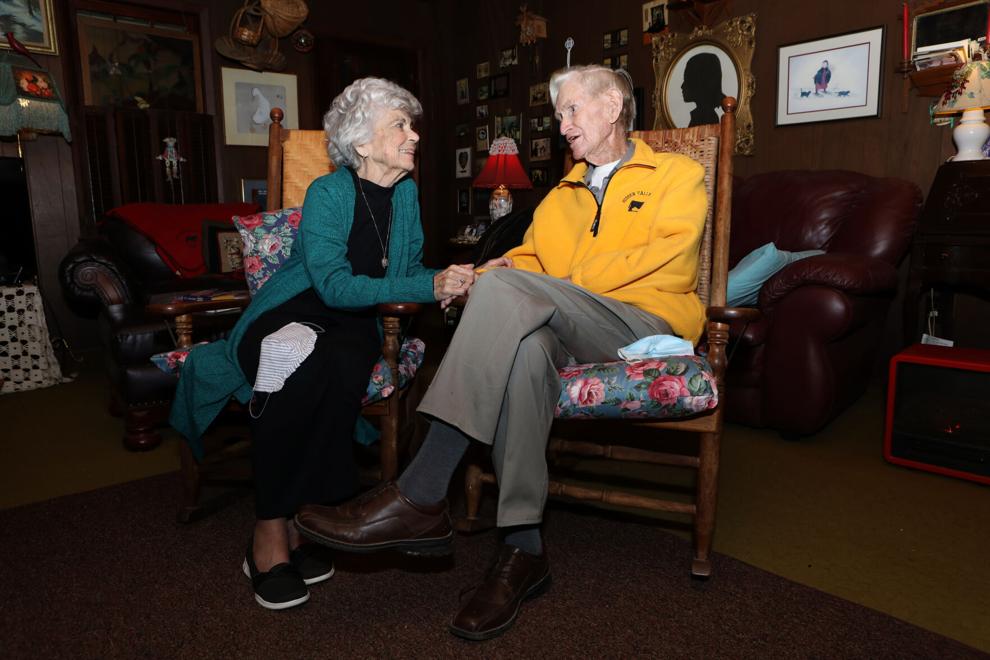 "I understand very much that Tracy and I have been blessed," Dorothy said warmly. "We're very thankful for that."