When Tim Vieth fell from a hunting stand and fractured bones in his neck and spine last fall, he had to relearn many things. Healing took time. Walking took time. Regaining strength is taking time. But Vieth says his body knew he had to get better, because he had to be on his feet in time for maple syrup season.
"It motivated me, because I got out of rehab two weeks before I'd set my grand opening, which I'd planned for over a year. There were days when I didn't want to get up, but people would call me like, 'Hey, can I come over and get some syrup?' and that gave me a reason to get up."
Tim Vieth and his wife, Cheryl, have hundreds of maple trees on their property and on Tim Vieth's parent's adjacent property. They started tapping the trees to make syrup 11 years ago, and have upped production each year. In 2020 they built their own sugar shack in their backyard, their maple-syrup-making paradise. This year they've already made 30 gallons and will make several more by the end of the maple season in March.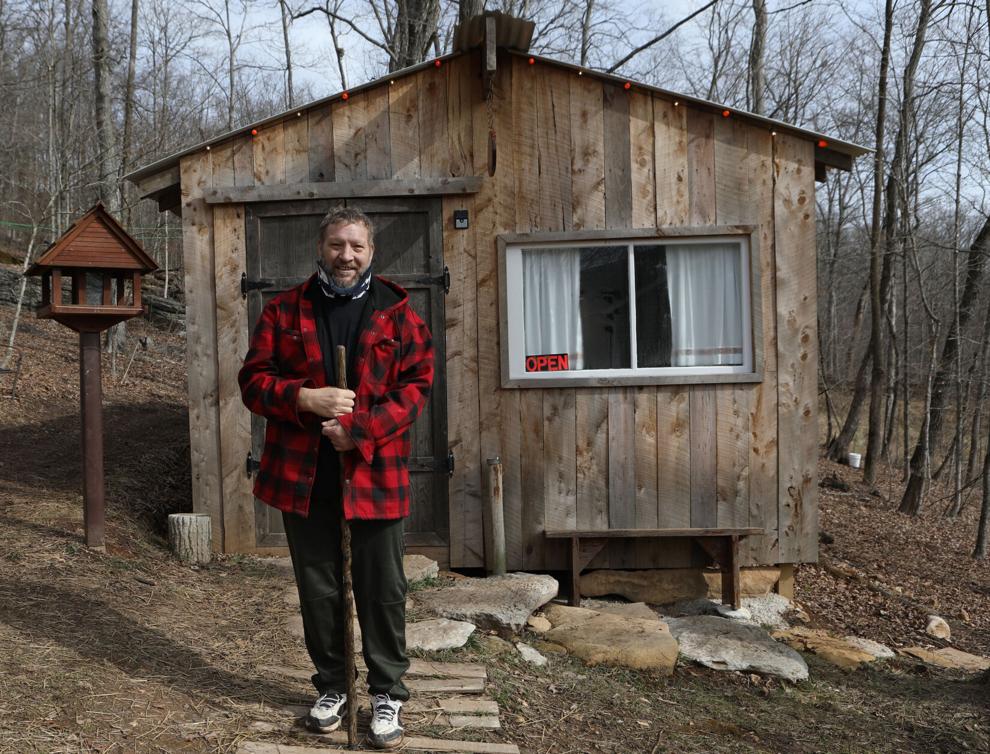 "I learned through trial and error, and once I did make a good syrup I was so happy and proud about it, I wanted to share it," Tim Veith said. "I wanted everybody to have good maple syrup."
Sticky Season
The Vieths' maple syrup journey started with a fizzle, specifically the fizzle of burning maple sap in a pot on their kitchen stove. About 11 years ago, the couple was making their four children a pancake breakfast at their Marthasville home when they realized they were out of maple syrup. Both grew up near farms and said they'd always liked knowing where their food came from, and Tim Vieth remembered that many of the trees in the forest outside were maple. This was before the days of YouTube, when they could quickly search how to most effectively tap a tree, but he remembered enough from a similar morning from his own childhood when visiting relatives in Minnesota, and they soon collected a small bucket of the sugary sap. 
They've since named the tree Old Faithful, and Tim Vieth gestures to it fondly when welcoming guests to the sugar shack. But that day, his main emotion was frustration. He explained he didn't make a good batch of syrup for six more years because he was too scared of burning it again, so the syrup never turned the dark caramel color of what he makes now. 
"I produced basically sugary groundwater," Tim Vieth laughed.
"Yeah, the kids refused to eat it," Cheryl Vieth added.
Through the trial and error process, Tim Vieth read up on maple syrup and studied how others make it. He taught himself the chemical process behind the syrup, memorizing each of the 57 individual chemical compounds that combine in the sap. And he learned more about the history of the syrup's production in Missouri.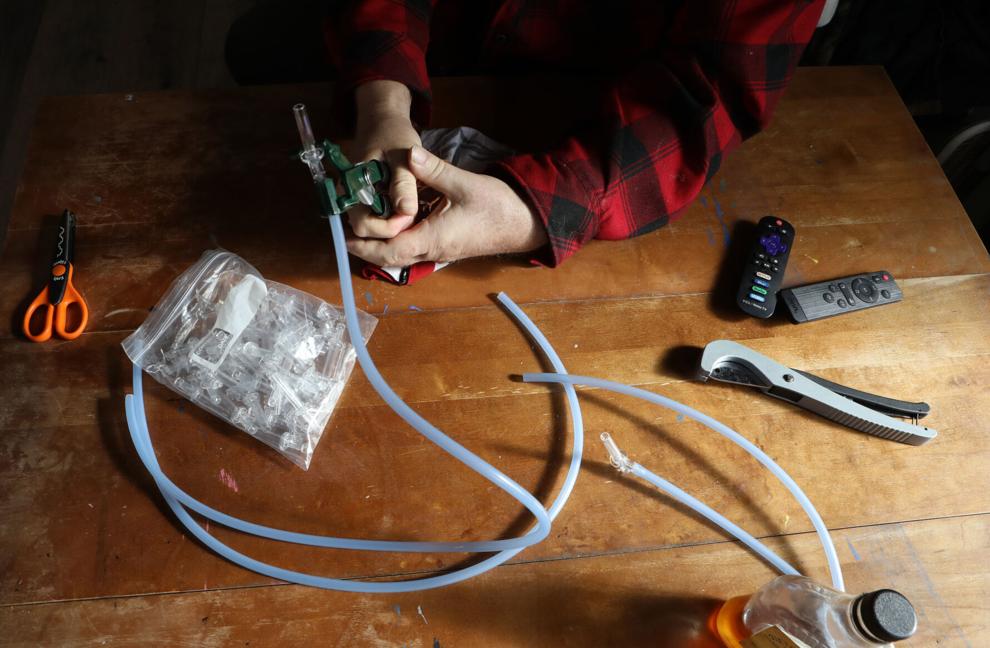 "As early as 1860, nearly 20,000 gallons of maple syrup were produced in Missouri," said Tim Vieth, citing the Missouri Department of Conservation. "Prior to changes on the import tax on sugar, making sugar from sap was more practical." 
The technology involved in the process has changed dramatically from those days, but the one the Vieths perfected is closer to the old days than most. They use propane instead of burning wood logs, but the basic process of collecting sap, heating it, stirring it and bottling it, is almost all done by their hands. 
With the help of friends, the Vieths have connected around 150 trees on their property via small tubes that carry the sap from the tap directly to a storage container in the sugar shack. It saves them from having to collect buckets from each individual tree, which helps them collect more sap in less time. As it takes 76,800 drops of sap to make a gallon, and 40 gallons of sap to make one gallon of syrup, it's time the Vieths would rather spend heating and stirring. 
The season when the trees emit sap normally lasts from January through March. Last year it was 11 weeks. The trees are then dormant until the next January, when they again produce the sap.
"When you're outdoorsy people like us, there's this downtime from January to March where you can't do any activities," Tim Vieth said.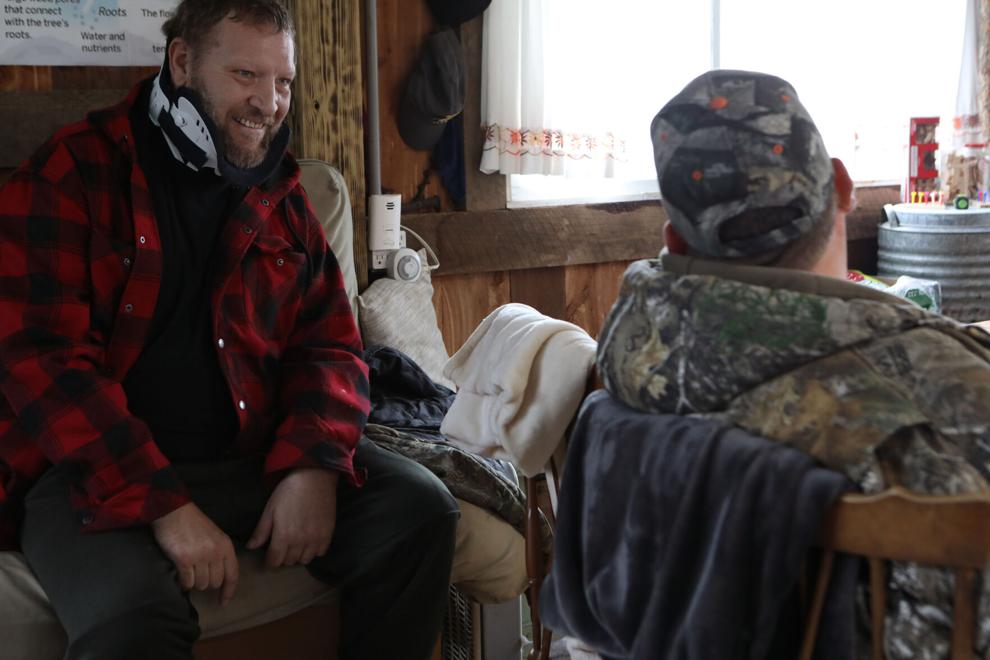 "This literally makes the winter fly by. I can't wait for it to get here," Cheryl Vieth finished. "It starts right after Christmas. I'm out here tapping trees and getting ready. And by the time we're done (in March), it's time to go fishing."
Building, Healing
During the winter months, the sometimes single-digit temperatures can barely be felt inside the shack. The stove heats the entire cozy bungalow, and modern conveniences like a TV, Wi-Fi, a mini-fridge and a welcoming kitchen table mean the Vieths can and often do spend entire days inside. 
Tim Vieth chose the spot to dig the shack at random, and soon after he started digging he found a limestone shelf beneath the earth that serves as the structure's foundation. They built the structure with almost entirely secondhand materials. Tim Vieth traded syrup for a table and set of chairs and stumbled upon a bench at a resale shop. The tin he found for the roof fit perfectly, and he had just enough wooden boards to build the size he wanted. As his day job is installing flooring, the wooden base was hardly a challenge.
Tim Vieth's father, an electrical engineer, did all the wiring inside, including a carbon monoxide monitor and TV hookup. The warm wood walls are adorned with gifts, knickknacks and many decorative maple leafs. Much of it, the Vieths say, were gifts from friends.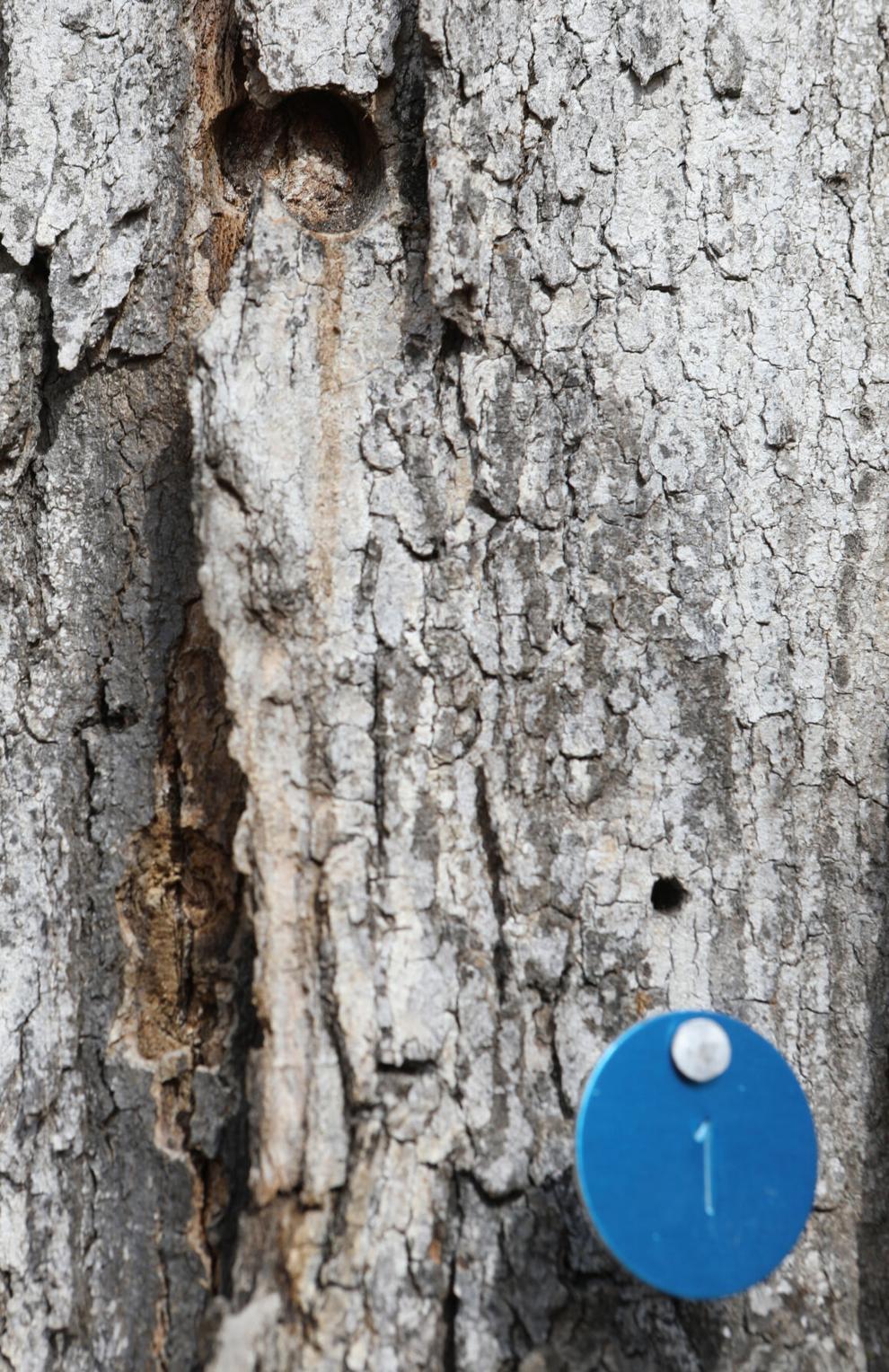 "When I fell out of my stand I was knocked out for 45 minutes. I thought, 'God, why did you let me build a sugar shack that I'm not gonna be able to use?' " Tim Vieth said. "The community came out when I had my accident. People put up my lines for me and helped set things up. All I do is sit in the shack and boil syrup."
The syrup takes about eight hours to reach a boiling point, so the Vieths love entertaining company while they wait. In addition to sharing the hobby of making maple syrup with guests, the Vieths also hope to share knowledge about the health benefits of the natural sweetener versus its corn-syrup-heavy alternative. 
When Tim Vieth had his fall, he fractured all seven of the vertebrae bones in his neck, including the often fatal C1 bone, and several vertebrae in his mid to lower spine. He ate plain maple syrup each day, and he believes it played a part in him recovering so quickly. According to the Food Network, pure maple syrup is high in antioxidants and contains riboflavin, zinc, magnesium, calcium and potassium, with fewer calories than natural honey.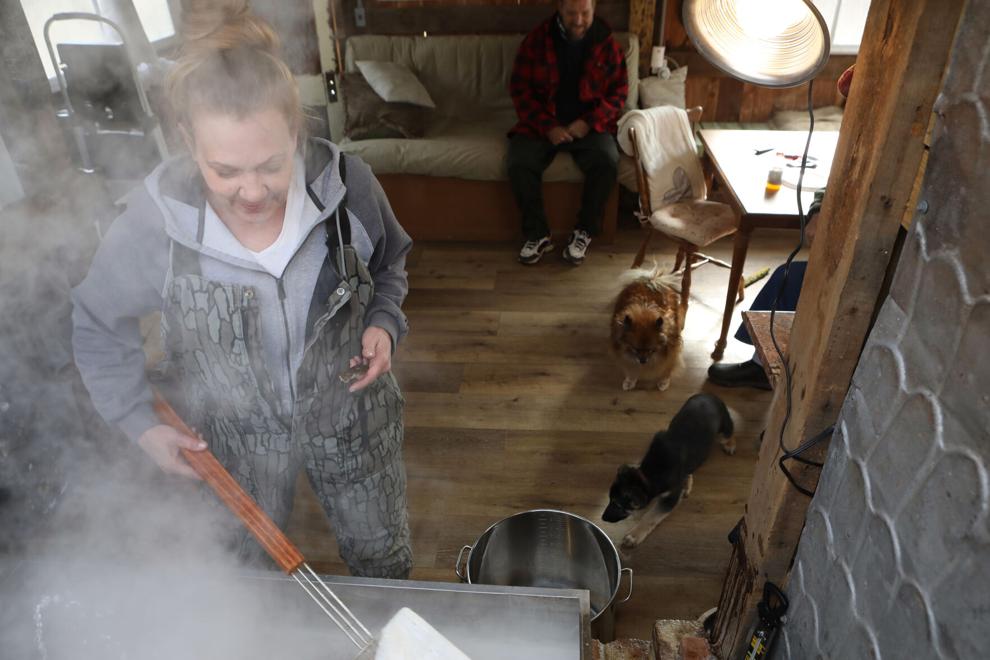 "Maple syrup is healing," Tim Vieth said. "It makes you feel good." 
The Vieths say its uses in the kitchen are endless. They pour the syrup on fruit, in coffee, on yogurt and ice cream, use it to marinate their barbecue and even their Christmas ham each year.
Some of their friends who visit the shack are novices to the craft, but others are fellow maple syrup enthusiasts who travel from across Missouri. The Vieths met many of them in an online community called the Missouri Maple Syrup Initiative. The group has around 100 members, according to the Vieths, although there is no official count. The United States Department of Agriculture reports less than 500 gallons produced in Missouri, but the initiative thinks it's closer to 1,500 counting hobbyists like the Vieths.
The Maple Syrup Initiative was founded by John Stolwyk, a St. Louis area native who now lives in Columbia and taps 200 trees near Jefferson City. Another member is James Brochtrup, who has made syrup in Festus for four years. He is one of the people Tim Vieth admires most in the group, and he was part of the crew who helped the Vieths tap trees this year. Tim Vieth also met the man who inspired him to build a sugar shack through the group — Al Marrocco, known as the "Lonedell Legend." 
"I like people coming and hanging out. We play cards, games, listen to music, chat," Tim Vieth said. "The sugar shack is about camaraderie. It's about friends and family, and doing good for your neighbor."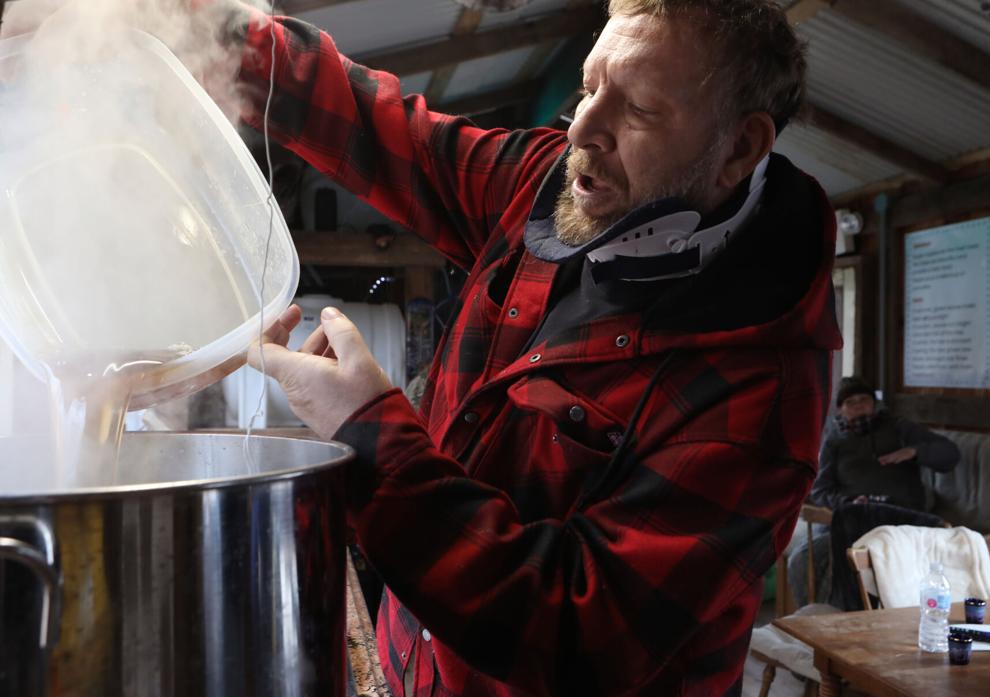 The Vieth Valley Farms Sugar Shack is open on Saturdays from 10 a.m. to 2 p.m. and is located at 16467 Hilltop Road in Marthasville. Call ahead at 636-259-0093 to visit or to purchase maple syrup.