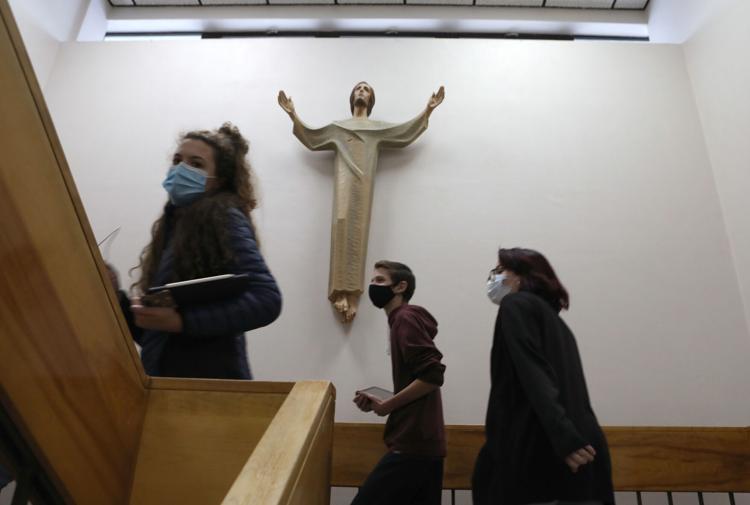 Theater students at St. Francis Borgia Regional High School want to take audiences on a journey — literally. The theater department will perform "Cellular 'Cenes," not in the auditorium, but rather in the art room, music room and cafeteria to accommodate social distancing.
No more than 15 audience members will be sold tickets for each performance. The audience members will meet the actors at the first site, and after the scene is performed will receive a text with a clue to the location of the next scene. Six different casts will take turns performing the piece.
The story follows just two characters — "He" and "She" — as they engage in a daylong romance beginning when She moves to the school and conducts an experiment to find a boy she can fall in love with.
"I think it's really cool we're doing it at Borgia because it shows how that could happen in a real-life setting," said Lucy Banion, a junior and one of the cast members.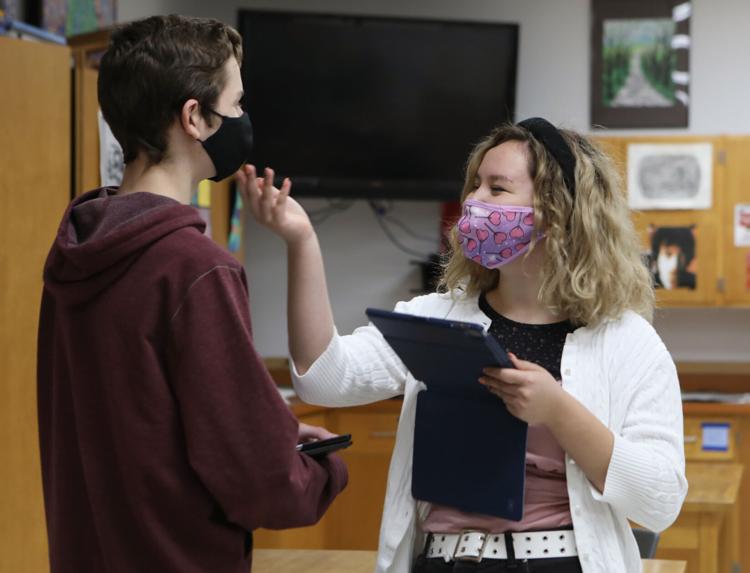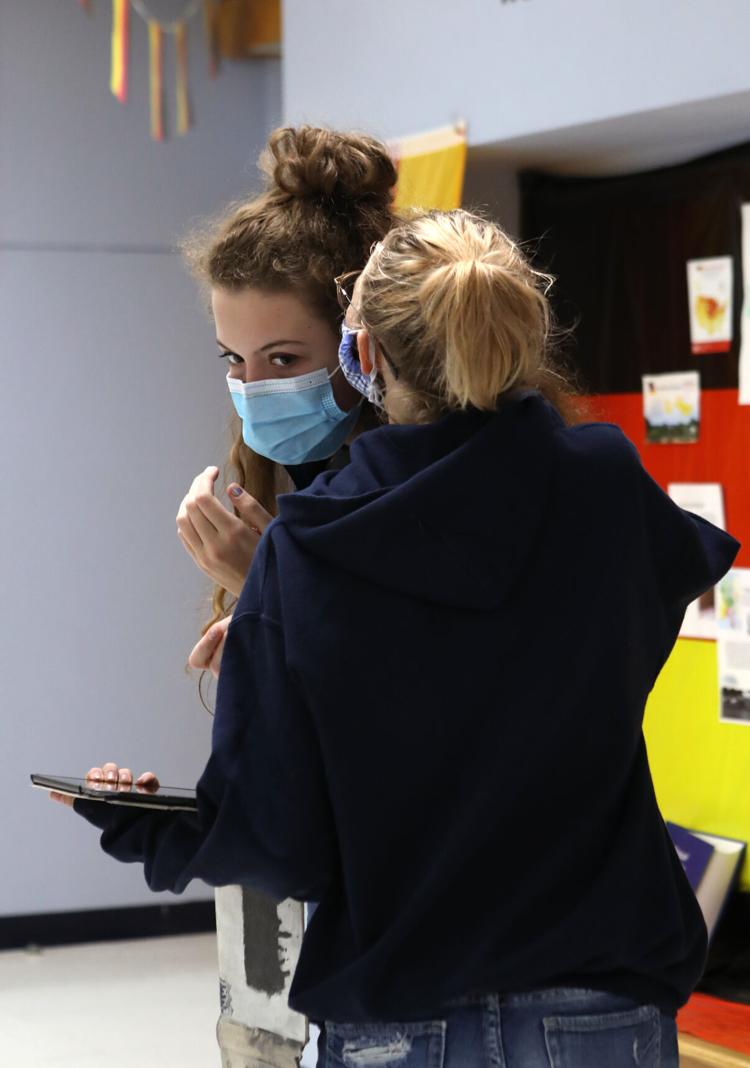 A third character, "The Entertainer," serves as a Shakespeare-esque narrator who breaks the fourth wall by talking directly to audience members to keep them engaged. Each of the entertainers gets to put their own spin on the part, and some will even play musical instruments as audience members walk to and from scenes. Banion will play the violin. Before leaving, the instructors who use the spaces, such as the art room, each day will be given a few minutes to plug their programs.
The department's director, Tim Buchheit, said each cast interprets the script a little differently, so the show will capture the magic of live theater as a truly one-time-only event.
"It's really fun to watch the kids pull together different versions of the show," he said. "There are certain things I'm insisting on, but there are other things I'm like, 'Hey, let's play around and see what happens.' "
Buchheit has known about "Cellular 'Cenes" for a number of years. The play's author, Ben Martin, is a friend of Buchheit's in Lee's Summit, where the piece has enjoyed several performance runs in which the actors and audience members traverse the town.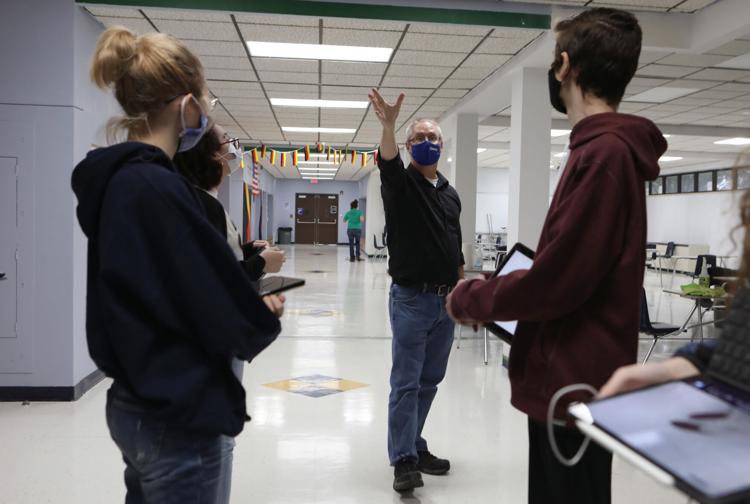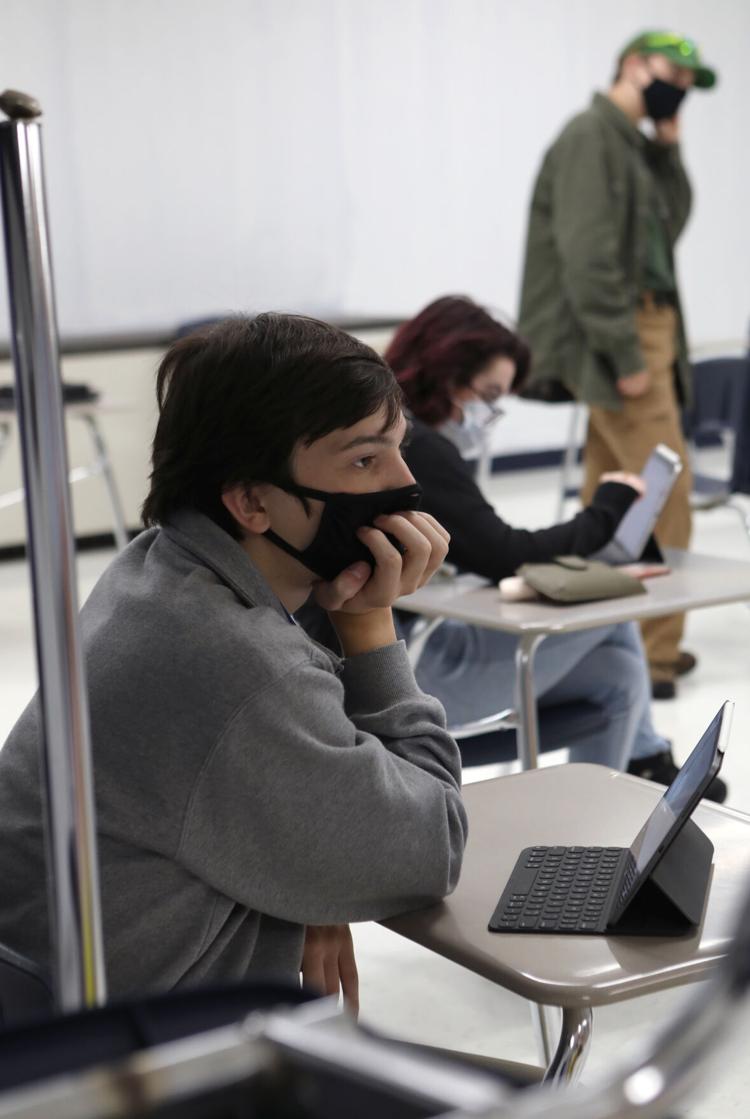 "When we had to shut down," Buchheit said, "I thought 'What shows can we do that are different, that don't put people in the auditorium?' "
The concept of audience members following the cast to different locations has been dubbed "found theater" and refers to an experience where the stage is not separated from the audience, which provides a uniquely intimate viewing experience. The name comes from the fact that these small-venue shows are often put up in spaces that aren't traditionally for performing arts that the production "found." Places inside Borgia such as the cafeteria and the open workspace fit that definition to a tee. 
"I love being on the stage, but I also like getting a break and just getting to do more stuff," Banion said. "With theater, the aspect you think of is sitting in the seat and watching the show on the stage. This is so different, and I really like thinking about the ideas of what theater really is about — it's an art form and not necessarily limited to one arrangement or a building."
The department's students got some experience in this in September, when they mounted their season opener, "The Internet is Distract—OH LOOK A KITTEN!" written by Ian McWethy, virtually via Zoom. Instead of buying tickets for a seat, audience members purchased the link to the livestream. Nearly 170 tickets were claimed.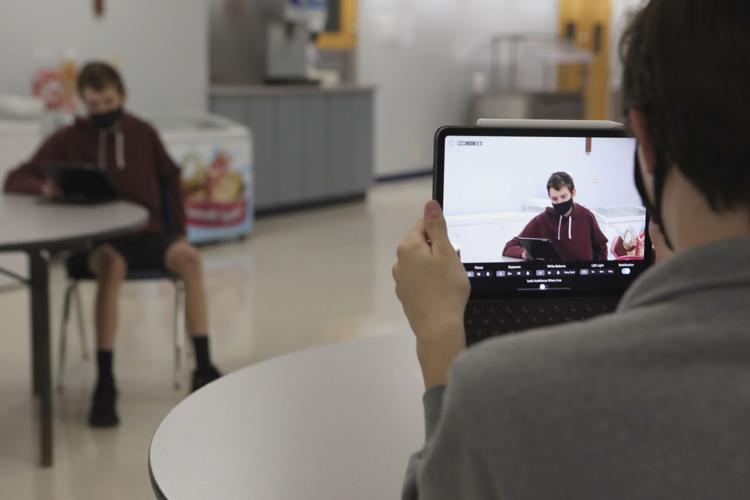 Although these shows will be in-person, "Cellular 'Cenes" will also be livestreamed. Students who aren't performing in a given show will be helping record the livestream. Buchheit said the livestream option will be great for family members outside of Washington who want to tune in. 
Junior Emma Wilson is serving as stage manager for all productions, a job that includes everything from keeping track of what characters' movements are supposed to be to confirming rooms. 
"I do a lot of running around," Wilson, who has done six previous shows at Borgia, laughed. "My job is to find the small details and remind everyone."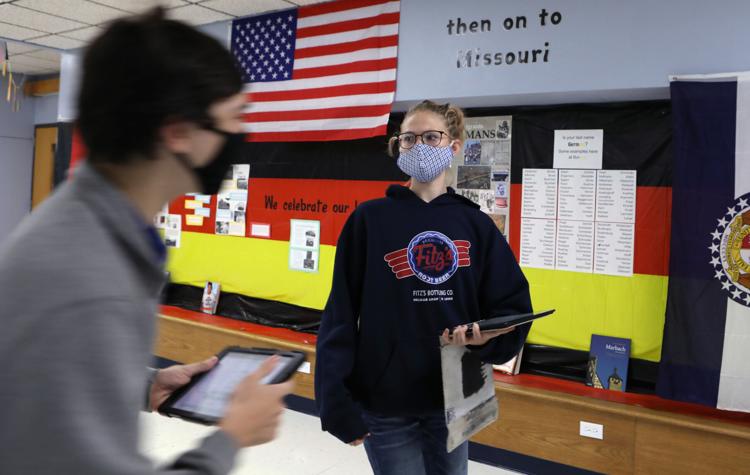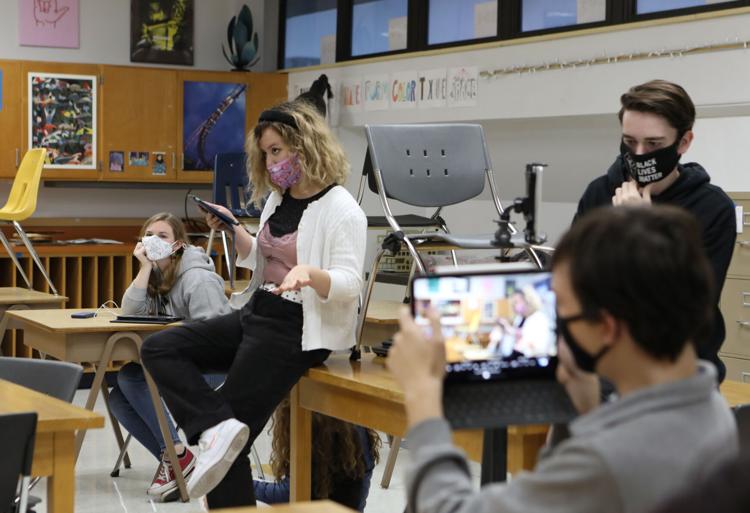 Performances will be Wednesday, Nov. 11, through Saturday, Nov. 14, with shows beginning at 6, 7 and 8 p.m. Tickets are available at www.our.show/SFBRHS.