Vibrant balloons bustling in the breeze greeted all arriving at the back lot of St. Peter's United Church of Christ Saturday afternoon. Although the event was scheduled for 5 p.m., the first car arrived at 3:15 to wait. A colorful banner announced the occasion — the 10th anniversary of Harvest Table.
Harvest Table is a Washington-based nonprofit that provides weekly hot meals to anyone regardless of any socioeconomic status, of any faith and of any background who wants to attend. Board members also have expanded the organization to provide clothes, toiletries, health care and assistance to anyone they meet who needs help. 
But the bulk of the mission is the meals. The feast for the 10th anniversary of Harvest Table included 71 pounds of donated prime rib, baked potatoes, salad, Wacky Apples from Happy Apples in Union, Schulte's Bakery cupcakes, treat bags full of candy and dozens of bags of fresh produce donated from the Washington Farmers' Market. 
These meals, in their white to-go boxes, added to a running tally of more than 91,000 meals the Harvest Table has served in the past 10 years. The group is currently serving between 90 and 120 meals per week from 5 to 6 p.m. on Saturdays.
The 17-member board meets once a month, and the four-person executive board, which includes Karen Dawson, Jane Rembusch, Brenda Mormon and Patty Russell, meets an additional time to plan the meals and address any challenges.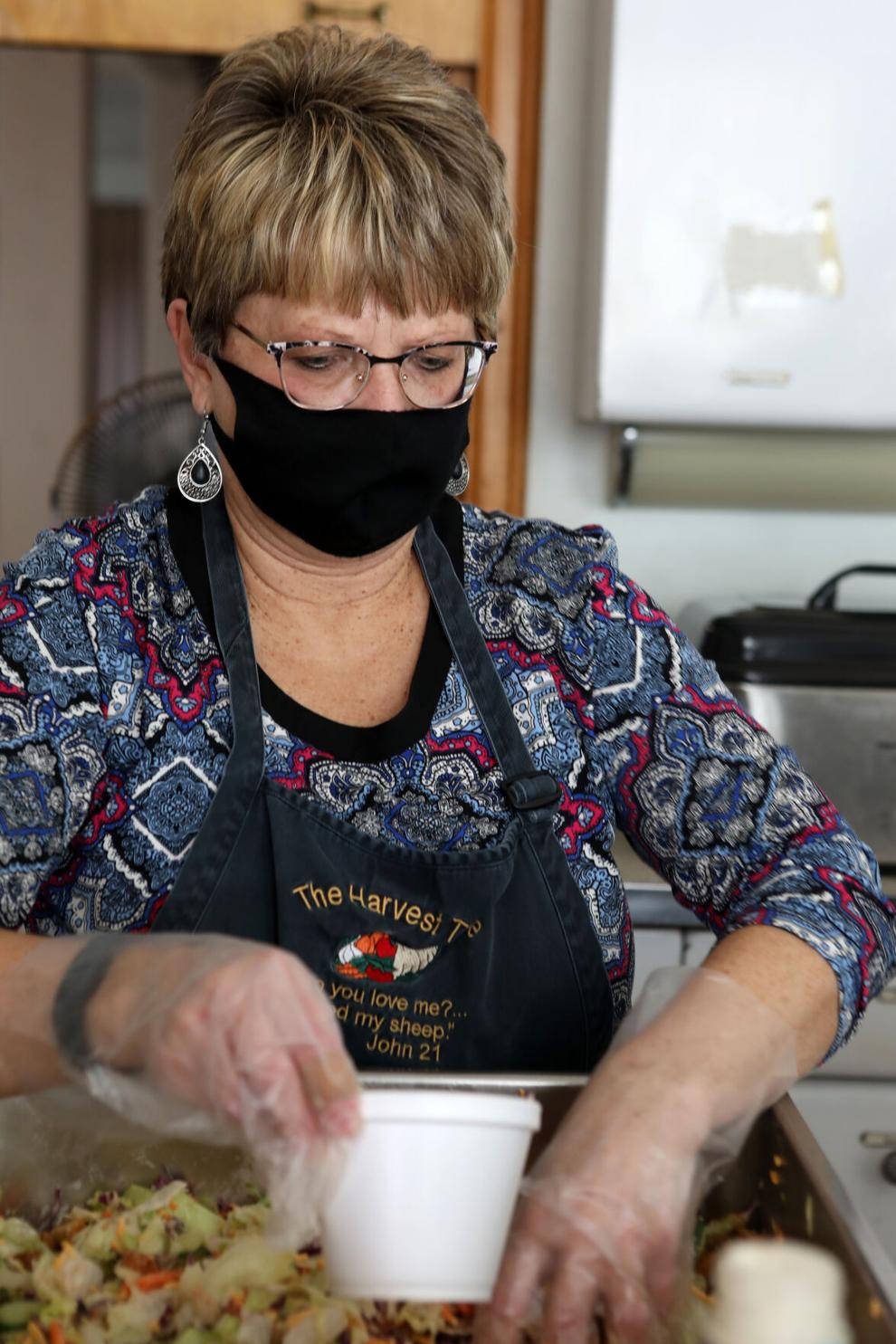 The organization is faith-based in its mission, but there is no favored denomination. Board members are Catholic, Lutheran, Methodists, Baptists, Presbyterians, and more, but all are in agreement that patrons never be turned away or even asked questions about their faith, as they believe Jesus first fed the hungry, healed the sick and served the poor. Volunteers of many different faiths, including Islam and Judaism, have been invited to serve meals. 
I Was Hungry and You Gave Me Food
When it started, Harvest Table offered simply a serving of warm casserole and a place to go. Several former teachers had noticed that people in the community were not getting enough food. The three food pantries in town were providing what they could, but there were people who didn't have the means to cook some of the nonperishable foods they'd received. 
"It kind of started in a Bible discussion group," Portia Clark, one of the founders said. "It was a Jesuit program, so the emphasis was social justice. It was about what you are going to do. You can't just pray about it, you need to do something to make a difference."
The group reached out to Dawson, about the best way to help, and together the team traveled to St. Patrick Center in St. Louis, which offers a free lunch program that serves 200 people daily with help from area Catholic churches. The group started planning for a similar program that would bring all the churches of Washington together. 
The first night 17 volunteers served 12 people. It was also every other Saturday in those days, because the founders didn't think people would come.
After about five years, the group was receiving enough donated food to move away from casseroles every week. The emphasis in planning the menu was and is still on nourishing comfort food, items people grew up eating that might transport them to a happy memory. Harvest Table collected lots of green beans and corn, which volunteers turned into different menu items so patrons didn't feel they were eating the same thing week after week.
"When we get carrots, it's a big night," Dawson laughed. 
The meal is designed to be like a restaurant experience. Patrons stay seated while volunteers wait on them, refilling drinks or getting second helpings. This also allows volunteers and guests to talk and sometimes form friendships.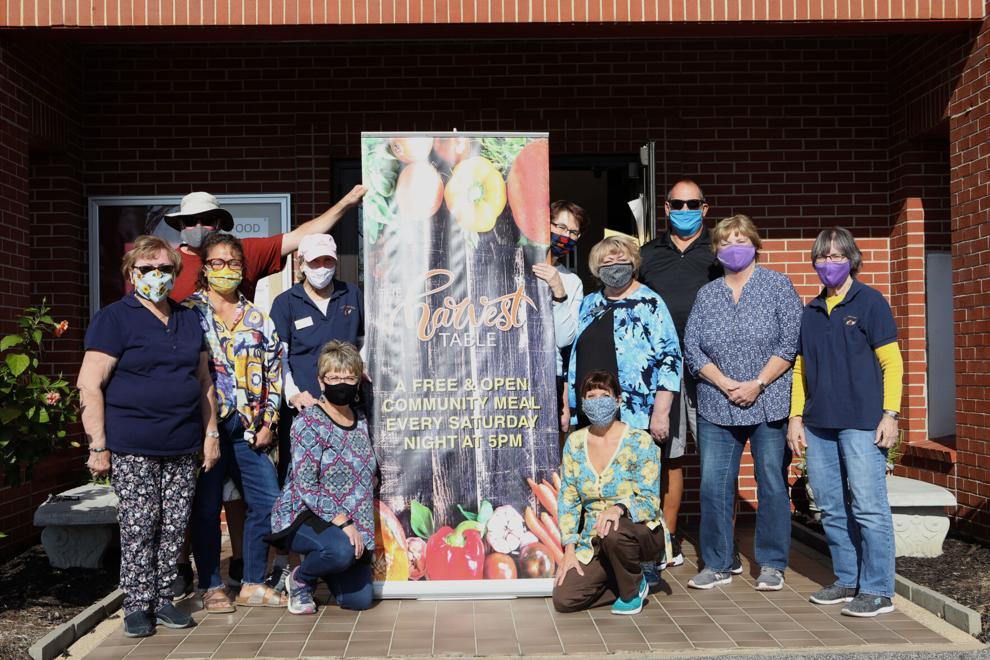 "We ask no questions, take no names; they just sit down and are served a meal on real dishes," Rembusch said. Members in the early days bought dishes themselves at garage sales and discount stores. Dawson joked that Harvest Table in those days had the largest collection of unmatched dishes for miles. 
At the start, many volunteers paid for the meals and any other costs that came up. Now the meals are almost always donated leftovers from weddings and funerals, company retreats or church dinners. Dawson said the organization is always thrilled to be a depository for leftovers. 
The group has worked with 4-H to develop nutritious recipes, and currently, the volunteers just provide salads and desserts each week, although sometimes even those are donated or can be purchased with donated money. 
"We're very frugal," Dawson said. "My, we are so frugal. Sometimes I think we can make a penny last a year."
The volunteer base also has expanded beyond churches to include civic groups. Dawson counts more than 30 social organizations and more than 15 businesses that have offered money, food and willing hands. Nearly every church in town has served multiple meals, and the total number of people who've volunteered is approaching 400. In the group's 10 years, it has never needed an official fundraiser because the needs have always been met.
I Was Thirsty and You Gave Me Drink
Rembusch remembers on her first night volunteering, about nine years ago, a little boy with an empty milk glass asking, "Could I please have more? I haven't had any all week." She later told a friend of the organization about this, and that friend purchased milk for the family for a year. 
That instance is one of many that showcases the community's support of Harvest Table's mission, which board members agree has been evident every step of the way.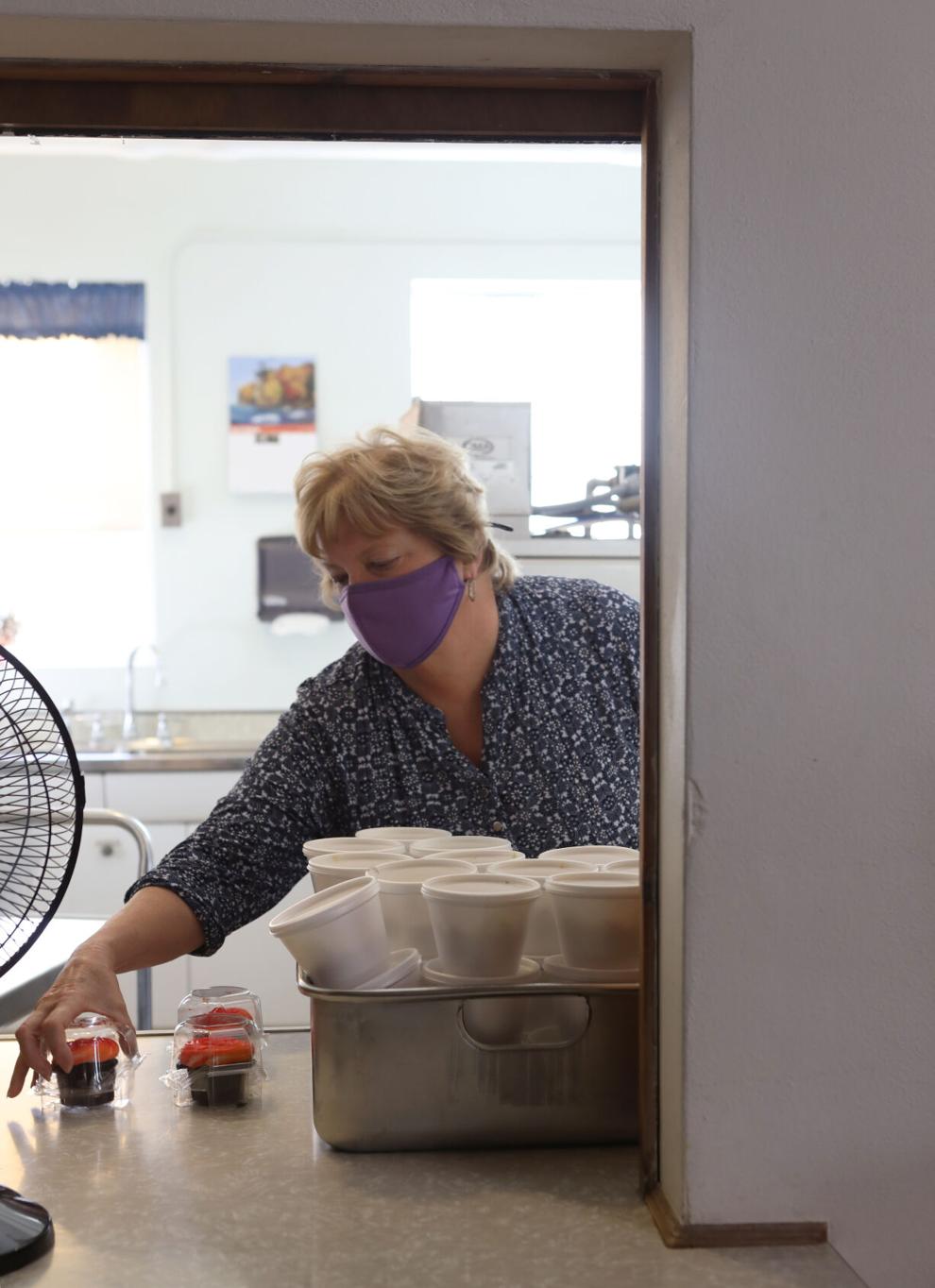 "Any time there is a need, someone steps up and the need is filled. The prayer is answered," Rembusch said. 
"During this pandemic I have found the spirituality of people and the goodness, it just overflows," Dawson said. "We're so lucky to live in this community where everyone is so generous." 
Harvest Table benefits from grants, too. One that Dawson wrote a few years back resulted in a large commercial freezer the group now uses to store food. The freezer, along with three others and a donated dishwasher, is kept at the church where the weekly meals are held.
The support of St. Peter's United Church of Christ also has been vital, Dawson and Clark said. The church has contributed kitchen space to the weekly meal and storage during the week for all of the Harvest Table's 10-year history. 
And until COVID-19, Harvest Table had only canceled two meals — both because of inclement weather. The virus, however, forced the group to cancel meals from the end of March through April. It restarted the program in May, with volunteers meeting patrons in the parking lot and providing boxed meals, which were purchased from area restaurants. The church is still not holding services inside, but it is now allowing up to four Harvest Table members inside to prepare the meal, which they then bring outside to people in their cars like a drive-thru. 
I Was Naked and You Clothed Me
Harvest Table now holds semiannual clothing drives, one in the summer and one in the winter, to benefit people who come in for the meal and don't have enough clothes. Last year the group collected and distributed nearly 300 winter coats.
At other times, a single volunteer has pulled out their own wallet to meet a need. When Payless shoe stores went out of business, one former volunteer at Harvest Table purchased dozens of the clearanced shoes to donate to people coming to eat at Harvest Table. 
Because helping people get back on their feet wasn't actually part of Harvest Table's official mission, Dawson and the other board members talked about how to best serve people needing that help. They decided to make Blessing Bags, small canvas sacks filled with toiletries and hygiene products, a new towel, water bottles and nonperishable food with a pop-top that could be eaten straight from the can if necessary. The Franklin County Health Department provided nutritional guidelines to make sure all the food would be high in protein and other filling nutrients. 
Some particularly impactful moments stand out in Dawson's memory over the past decade. Once, she recalls, a donor provided a family with a collection of sports equipment for the children to use. Another time, a police officer saw a couple walking toward the meal in the cold and offered them a ride.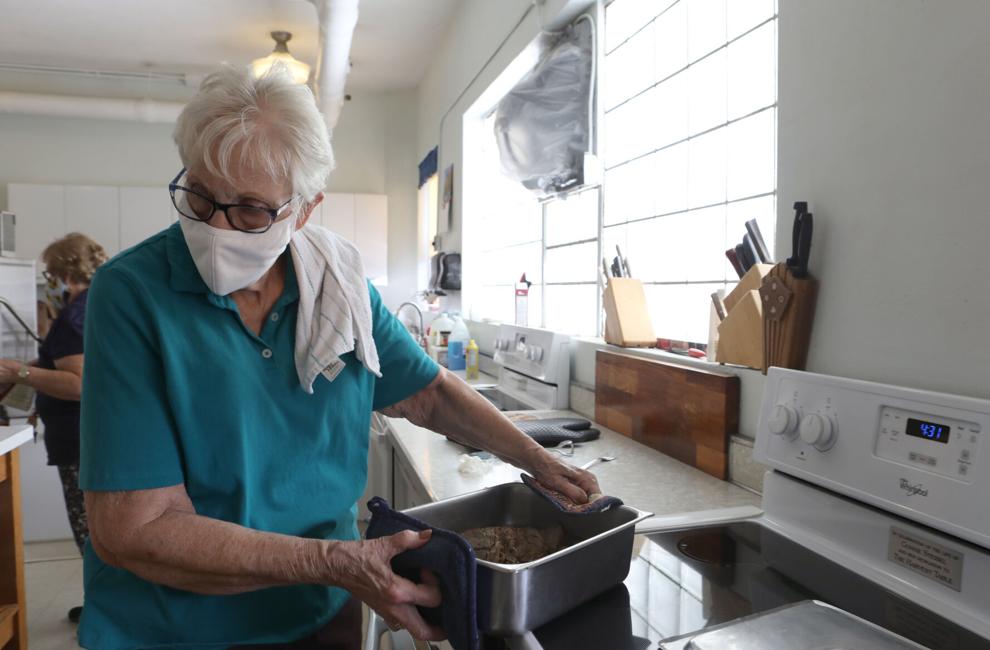 Perhaps her most touching memory, Dawson said, is the time a woman came in for a meal with no shoes on. One of the volunteers estimated she would be about the same size as the woman, and she took the shoes off her feet to give to her. The volunteer went home barefoot. 
I Was a Stranger and You Took Me In
Dawson recalls meeting a woman who had a job interview coming up but didn't have anything to wear or even a place to shower, as she was living near a dumpster. Harvest Table put her up in a hotel and gave her extra food and clothes for the interview. She got the job, and soon after her partner found one too. 
Once they were earning paychecks, Dawson helped them make a budget and start saving. Six months later they rented an apartment, which Harvest Table donors helped furnish. They've since moved to a bigger and nicer space. 
"We realized that sometimes all it took was showing somebody the right path," Dawson said.  
There are other elements people without secure housing struggle with, things people who have homes take for granted. Often people need a P.O. Box so they can have an address to send checks to when they secure a job. And before they can start working, they need to provide a copy of their Social Security card, driver's license and sometimes their birth certificate, which many people who don't have homes have lost, Dawson said. 
"Just re-establishing people's identity became a real learning curve for me," Dawson said. 
This increased involvement with people recovering from homelessness led some Harvest Table board members to form the Homeless Task Force. Since forming in 2016, Dawson said the group has gotten 18 people off the street and into homes, which the individuals pay for.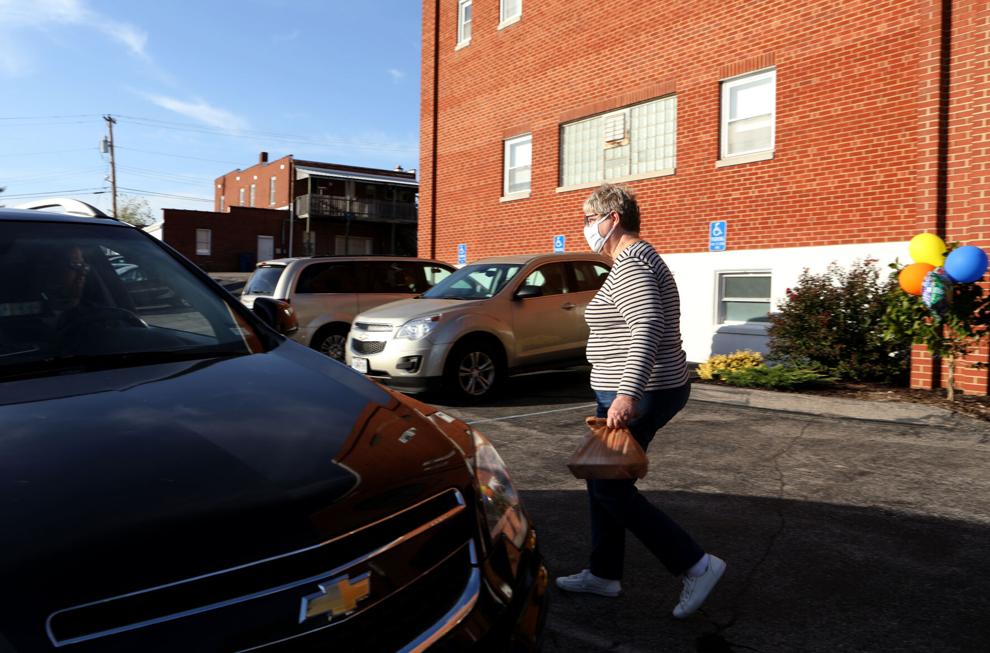 The key to this success, Dawson said, is to treat each person with dignity and respect, regardless of their housing situation. 
The group also has held voter registration and even offers help with taxes to any of its patrons who are struggling. 
I Was Sick and You Healed Me
Another service Harvest Table has added in recent years is free on-site consultations with a licensed nurse practitioner. Since May 2019, Leesa Richardson has been a regular attendee, offering everything from immunization shots to blood sugar checks. 
A huge part of what Richardson provides, Clark said, is simply education. Many of the people she sees don't have health insurance, so she can offer a brief consultation and let people know when an ailment will require further attention.
The Lions Club also has funded free eye examinations.
Dawson said if there's anything the Harvest Table can't provide outright, members do their best to connect people with a service that can meet their specific needs. The group knows that with the community support it enjoys, another 10 years is not only possible, but also probable. 
"We're proud of what we've done, but we don't take credit for anything," Dawson said. "Sometimes I'm in absolute awe of the people in the community. It's all a work of love."