When Megan Rhoades was a teenager growing up in St. Clair, she got a summer job giving temporary tattoos at Six Flags St. Louis. The park was a right of passage in her family. For years, she and her brother and sister had had season passes, and her parents had met while working at the park years earlier. During that summer of work, around 13 years ago, Rhoades learned how to use the airbrush for the first time.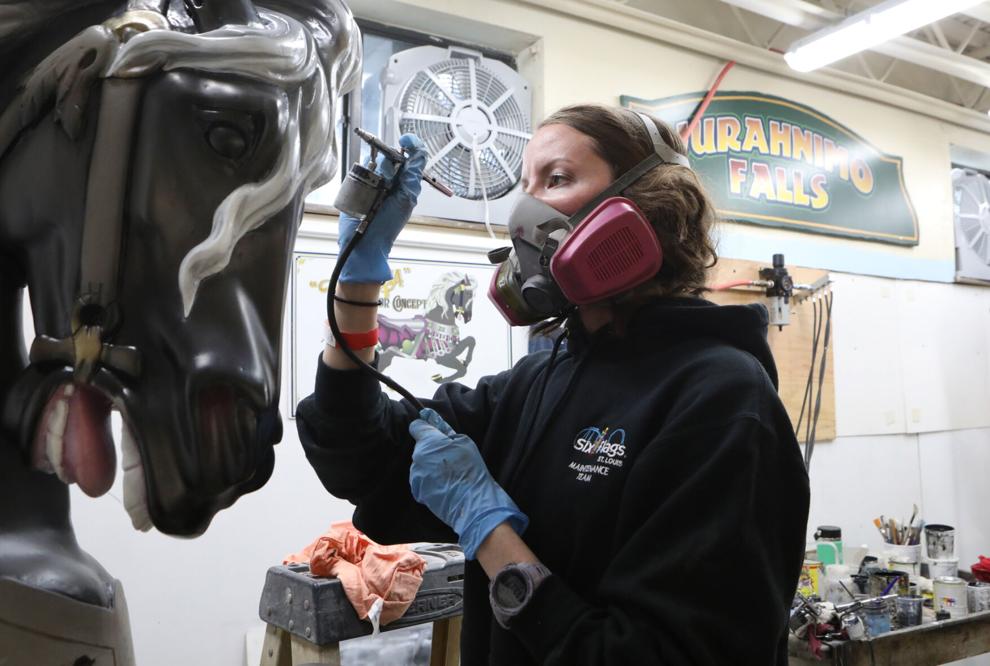 Today Rhoades is using the tool, as well as paint brushes and graphic design technology, to help refurbish all 68 wooden horses and two chariots on the Grand Ole Carousel at Six Flags. As an art and sign technician for the park, her role is to design a unique new look and personality for each horse and then carry it out with her paints. 
"This park is the reason for my existence, and coming here has always been kind of like a magical feeling — like it was like your own utopia," Rhoades, 31, told The Missourian from her workshop at the park. "Now working behind the scenes is kind of like, 'OK, let's make sure that we give that same experience to the next generation coming through.' "
By the time the horses are ready for Rhoades to paint, they've already traveled out of the state and back and undergone an intense stripping and rebuilding process led by longtime Six Flags maintenance technician Steve Read and his team. Read, 63, is also from St. Clair, and his sister is the one who introduced Rhoades' parents some 30 years ago. 
"I have known Steve since I was born," Rhoades said. "My dad worked here with both Steve and (Steve's dad)."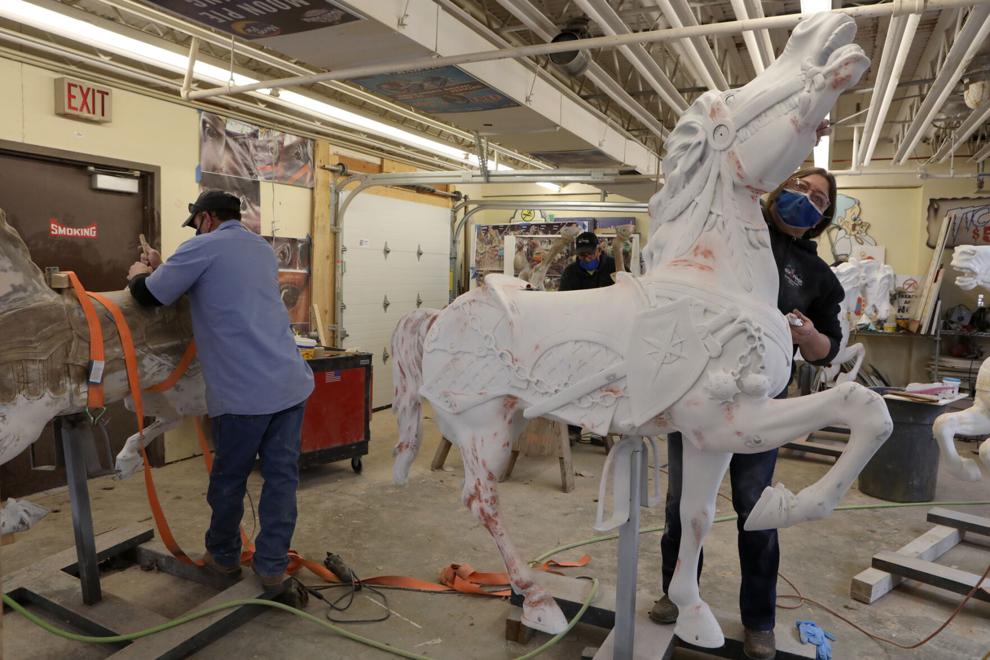 Read has loved carpentry for years and completed other pieces for Six Flags like an eagle above the amphitheater stage and decorative tiki heads at the water park, so he was excited to combine his hobby and job on this project. 
"We had to learn how the horses were put together," Read said. "To redo a horse is totally different than the mechanical part."
70 Unique Pieces
The team has completed two horses since beginning work in October and is close to finishing another two of the 70 pieces. About 26 of the horses have begun the long process. Before Rhoades and Read can start work, each horse is shipped to a facility in Oklahoma City to have the previous coats of paint chemically stripped off. Rhoades said sometimes up to eight pounds of paint are removed to get to the original wood base. Often the solution seeps into the cracks in the wooden horses, which are over 100 years old, and can erode the glue and cause limbs to fall off. 
Read and his team use cypress to carve missing hooves and appendages in the original style, which are attached with screws and glue. If the new piece isn't exactly right, he breaks it off and starts over. He spends up to two weeks working, usually on two or three horses at a time. From there, the horse is sanded and coated in a primer and a gray feather fill. This process repeats until each horse has a smooth finish. It then gets a base coat of paint, and from there, Rhoades paints her design onto it. She uses Adobe Illustrator to design each horse, and she makes large colorful posters to work from during the process. She also asks her sister, who used to always choose the horse with roses in its mane on the carousel and is now an equine veterinarian, for help making the details realistic. 
"I always send her pictures because I want it to be realistic," Rhoades said.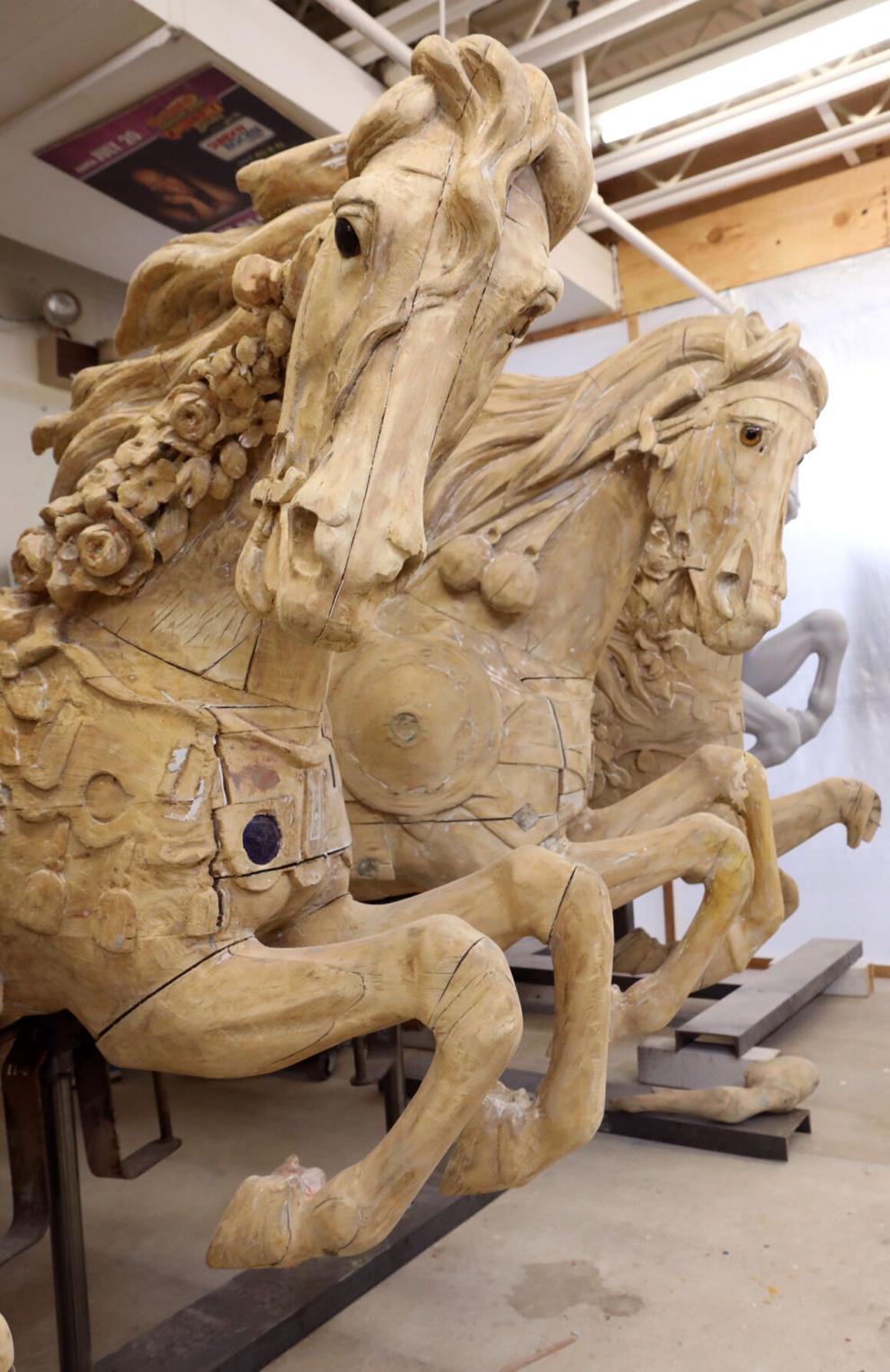 Unlike the carousel of Rhoades' childhood, when she and her sister would painstakingly select the perfect horse to ride from a row of almost identical looking pieces, each horse on the new ride will have a completely unique name, theme and color palette that complements the others around it without mimicking them. 
Osage, one of the reimagined horses on the carousel, conveys the strength and power of a Native American chief. Ophelia will sport detailed rose petals. Named for George Washington's horse, Nelson's burnt orange base shines under his red, white and blue flag and bald eagle saddle. Neptune will be decorated with fish scales.
The horses will also look different from any park-goers have seen before, Rhoades said. 
"That's why we're calling it a refurbishment, not a restoration," Rhoades said. "We can't know what the original colors were because they were painted over." 
The first completed horse, Abel, has been on display in the park since October and is the public's first taste of the refurbishment project. For the team, he has a special meaning.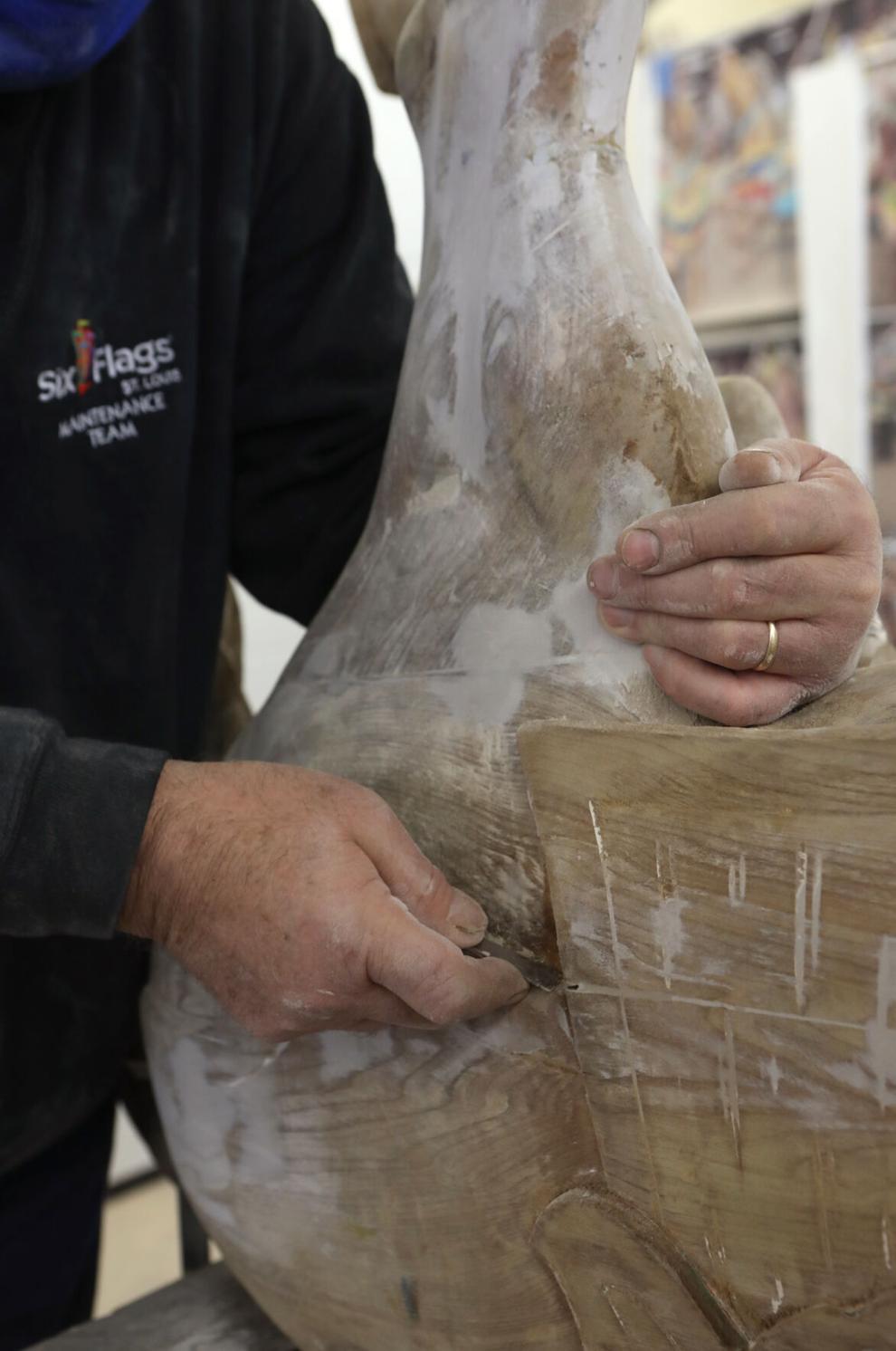 "One of our painter's sons named him Abel. He's pretty little and only knew a couple horse names," Rhoades laughed. "But I thought it was funny because Abel was the one where we asked (ourselves), 'are we able to do this (project)?' "
100 Years of History
The carousel is the oldest attraction at Six Flags St. Louis, purchased for just over $200,000, but it was still being restored when the park opened in 1971. It carried its first St. Louis passengers in 1972, about four years before Read started at the park.
The carousel's first passengers were able to ride the iconic ride in 1915, during a time known as the "Golden Age of Carousels." The ride, which was known as Model No. 35, was built by the Philadelphia Toboggan Co., one of the oldest roller coaster manufacturing companies still in operation. The company made more than 80 carousels from 1904 through the early 1930s, including ones for Hershey, Pennsylvania; Walt Disney World Magic Kingdom, Florida; Brooklyn Bridge Park, New York; and Six Flags Magic Mountain, California.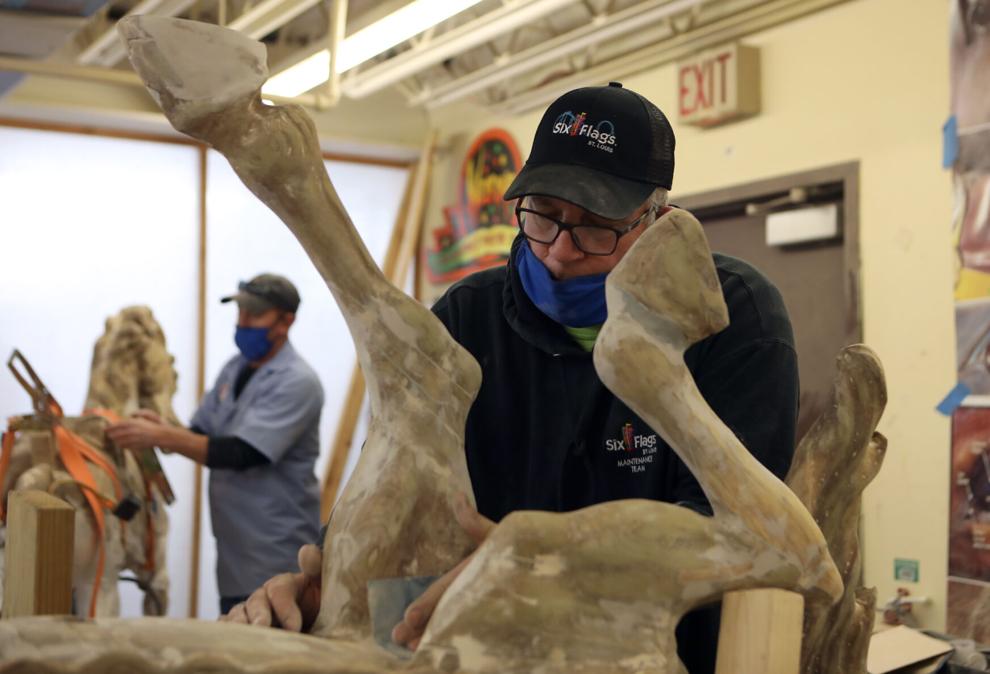 Trade publication Carousel News & Trader once wrote that it "is truly an outstanding accomplishment and engineering marvel that roughly half of these original carousels are still in operation, some after over a century of use." 
According to the Euclid Beach Park Now, an organization honoring the history of amusement parks in Cleveland, Ohio, the carousel was purchased by Luna Park in Cleveland and installed there until 1929, when a fire closed the park. The carousel was acquired by another Cleveland amusement park, the Puritas Springs Park, and operated there until that park had a damaging fire in 1959, according to the Encyclopedia of Cleveland History. 
It's next home was Indian Lake, Ohio, where it stayed until Six Flags bought it.
The story is one Rhoades has found herself fascinated with since starting the project. She's also gotten her parents involved in learning about the piece they used to walk by every day. She and her dad now watch YouTube videos together about carousels, and she has researched the history of this piece and the Philadelphia Toboggan Co. extensively.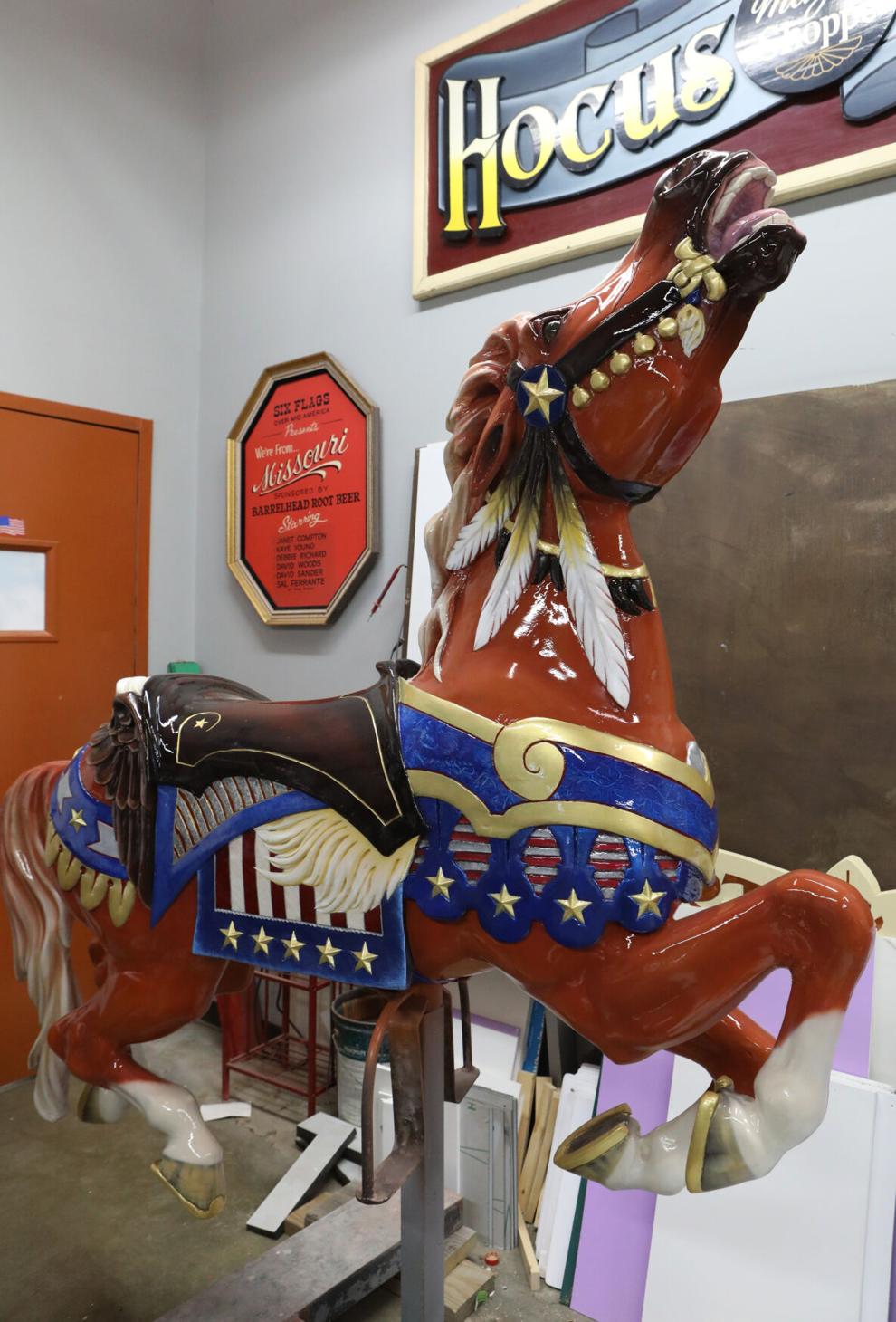 "It's kind of like an obsession now," Rhoades said. "You end up spending so much time with this piece of wood and thinking about how someone spent so much time carving it. It just feels special. That's why it's the heart of the park."