A few minutes before Maurice Gritzman casually mentioned he once worked at NASA, he jumped from his seat, walked to his high schoolers' tables and showed off the robots the students built. He was boisterous about them; the NASA info could wait.
There was an automatic marble sorter, built with VEX Robotics metal, criss-crossing wires and red Solo cups to form a Ferris wheel-like contraption. A rubber band-powered automobile, built as part of a regional competition, could transport medicine over a body of water. A mini drawbridge opened and closed by hand.
"Raise to let the sailboats go by," Gritzman said before moving on to his students' next machine, which likely won an award of some kind, considering his record with the school.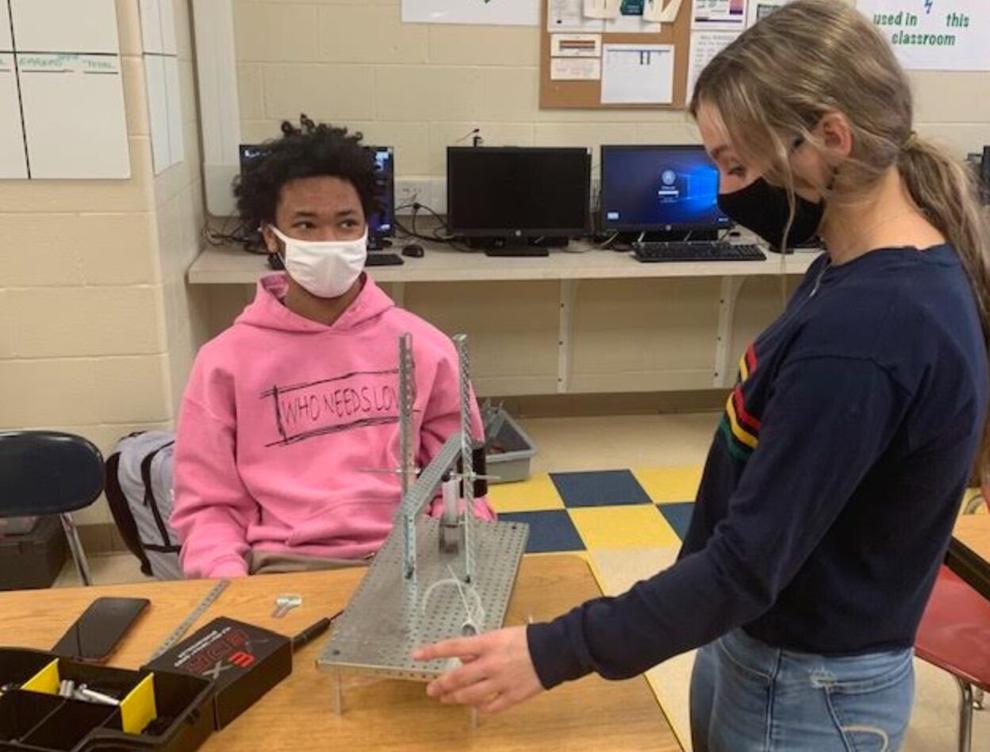 As the Project Lead The Way (PLTW) engineering teacher at St. Clair High School, Gritzman has spent the past three years bringing innovative engineering programming to the classroom to inspire his students, leading many to state and regional titles.
This year, after two years of preparation, he started the pilot program for St. Clair's PLTW engineering collaboration with East Central College. Founded in 1997, PLTW is a national nonprofit that offers hands-on computer science, engineering and biomedical science instruction — but Gritzman took it a step farther by providing instruction through the community college partnership.
"High schools just don't have a quarter of a million dollars for equipment in their schools," said Dr. Richard Hudanick, dean of the Career and Technical Education department at East Central College.
Therefore, seniors spent two hours a day at the college, where they designed and built snowboard bindings and staples using the precision machining lab's industrial-grade tools.
The pilot program was granted permission to continue, Hudanick said. Next year, a new component of the course will be added, in which students can spend the summer working in the field and getting paid for it. The class already has reached capacity with 12 enrollees, and ECC is looking to include other districts in the program as well.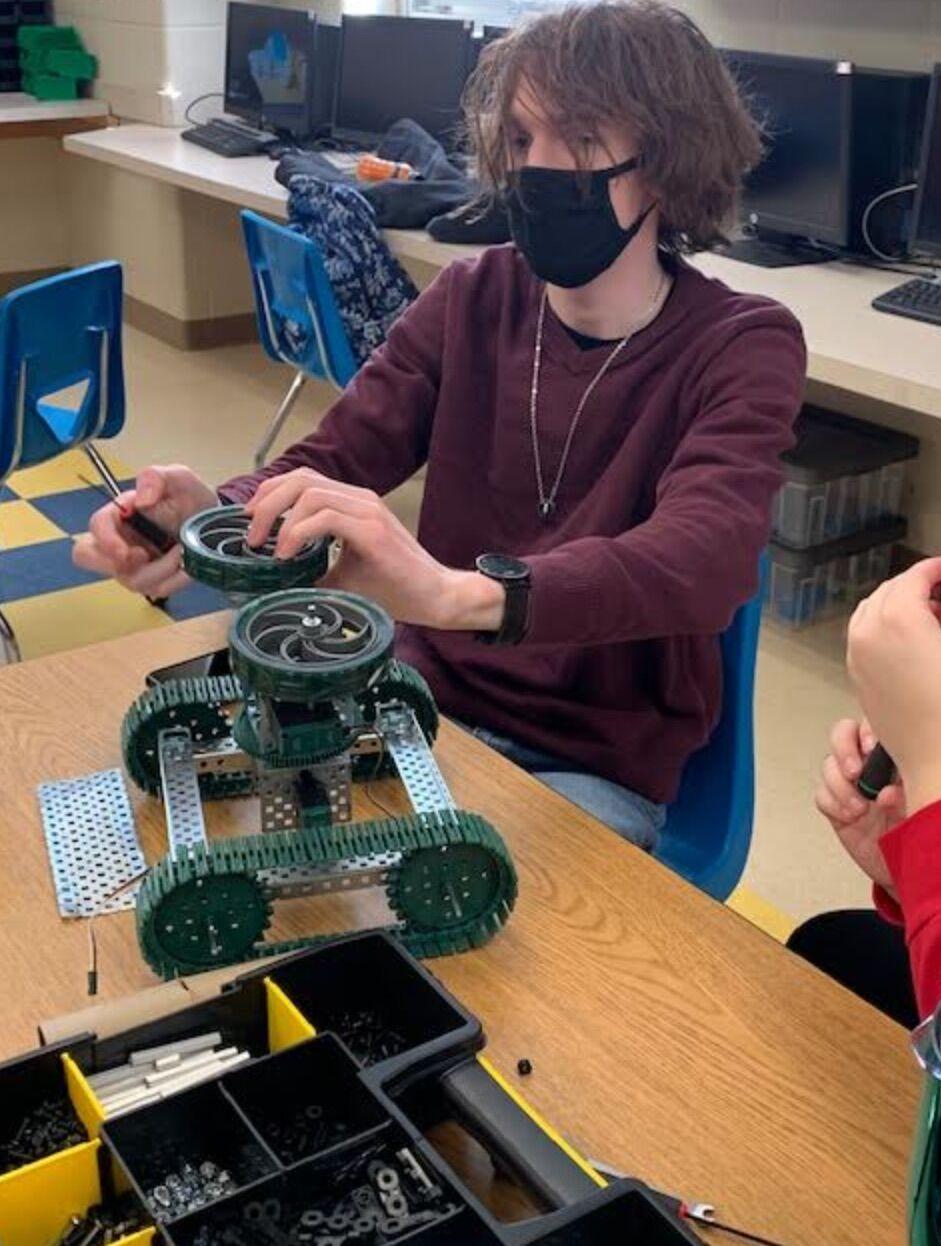 "I don't know of any community college that has crafted its Project Lead The Way engineering program, leveraged it, offered it to high schools, moved students to an apprenticeship model," Hudanick said. "I don't know of anyone doing it."
He added that "Maurice has driven the truck. Without Maurice being the linchpin, we couldn't do his. It really has to be driven from the interest of the high school to the college."
Up until three years ago, Gritzman was a retired senior executive. He became a high school teacher to "change the thought process of the students," he said, so they could surpass applicants in the field.
He has experience in aerospace and defense, electronic, mechanical, optical and medical product systems design and manufacturing. He had worked for the U.S. Department of Defense, NASA and the corporate sector. He also had a 25-year career in domestic and international business.
"At Texas Instruments, when I was there as a reliability engineer and later a manager, we were designing systems that would go on to bombs, that would be attached to a fighter aircraft flying at Mach speed, that could hit a target at Mach speed 0.99999 — really, right in the center of the rearview mirror almost 100 percent of the time," he said.
His career sprung from his bachelor's degree in electrical engineering, earned at Mississippi State University, and his master's degree in business from the University of South Florida. He is "just a few courses shy" of his master's degree in education in technology and engineering from Lindenwood University, he said.
Gritzman uses his experiences to inspire students, and he works hard when doing so, said Melissa Husereau, St Clair School District director of teaching and learning.
"Maurice goes above and beyond with anything and everything," she said. "He also spent a lot of time outside of his contract time with the school district, helping to make sure that (PLTW) was successful."
Gritzman said students learn best when they enjoy what they do, so he tries to add the "fun factor" to classwork. That's how he described the 2019 cardboard boat race.
Held at Rockwood Summit High School, area students vied to get to the end of a pool the fastest while riding their homemade cardboard boats. "There is a tremendous amount of math required for buoyancy," Gritzman said.
The students were competing against 13 schools. There were over 300 competitors and onlookers. And one of his students wore a full-fledged banana suit.
"We're all about fun," Gritzman said. "You've got to have a banana beat you."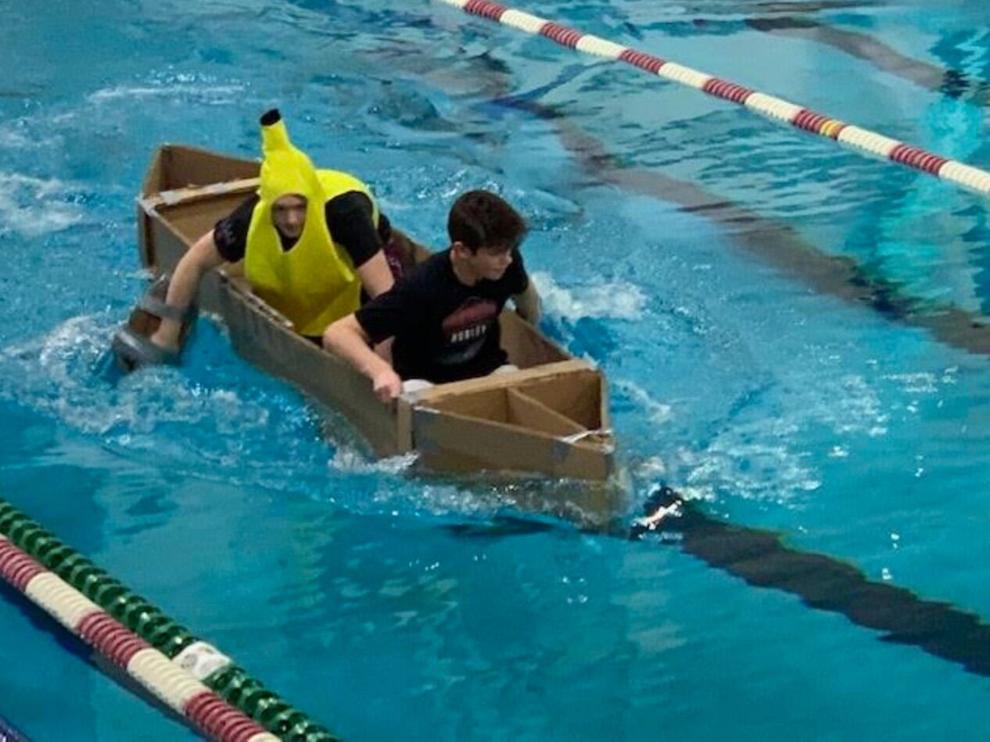 Beat them they did. St. Clair placed first.
"Now, when we go into competition, we don't go in to win," he said. "Isn't that crazy? We don't go in to win. We go in to compete. We just happen to win."
Terrell Heredia, who just finished his junior year, was on that winning team. He also will be one of the 12 students going to ECC as part of the PLTW program next school year. The 17-year-old will work on precision sim engineering.
He said he signed up because the course offers a hands-on approach and more freedom than a traditional classroom.
"When I think of an idea, if I can just go and do it, I can see why it doesn't work out," he said, "whereas just planning it out, it just doesn't come to me as easily."
After adding the PLTW-ECC partnership to the school, Gritzman said interest has expanded around the county. In March, ECC administrators reached out to him asking how he felt about adding more schools to the program.
It did not take him long to give a response. He told the administrators, "Why would Maurice care if you add more schools?"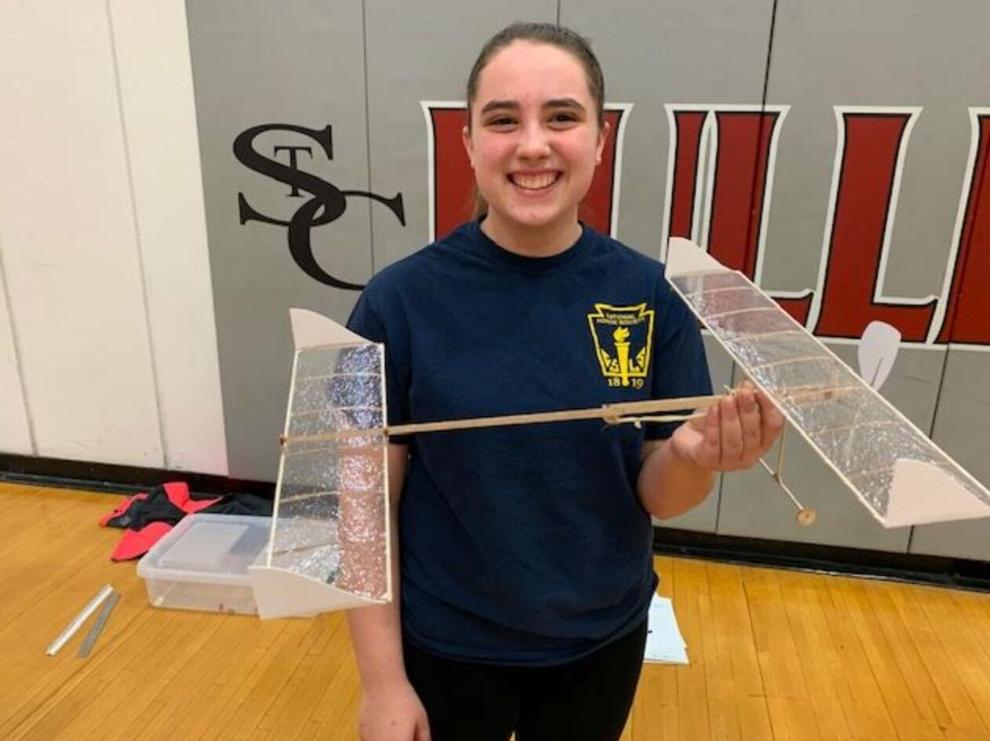 In line with his reasons for teaching and how he treats his students, he was looking ahead.
"Now if you're going to reach out to the community, and the community wants to reach out to you, the more the better," he said. "That means it is going to be harder for you to cancel the program."
Gritzman did not shy away from his "gift of gab," he said. He teaches his students that strong communication is important in the field but often an underrepresented skill. So when the ECC administrators said he just always knew just what to say, Gritzman was not meek.
Straightforwardly, he responded, "Yes, I do."