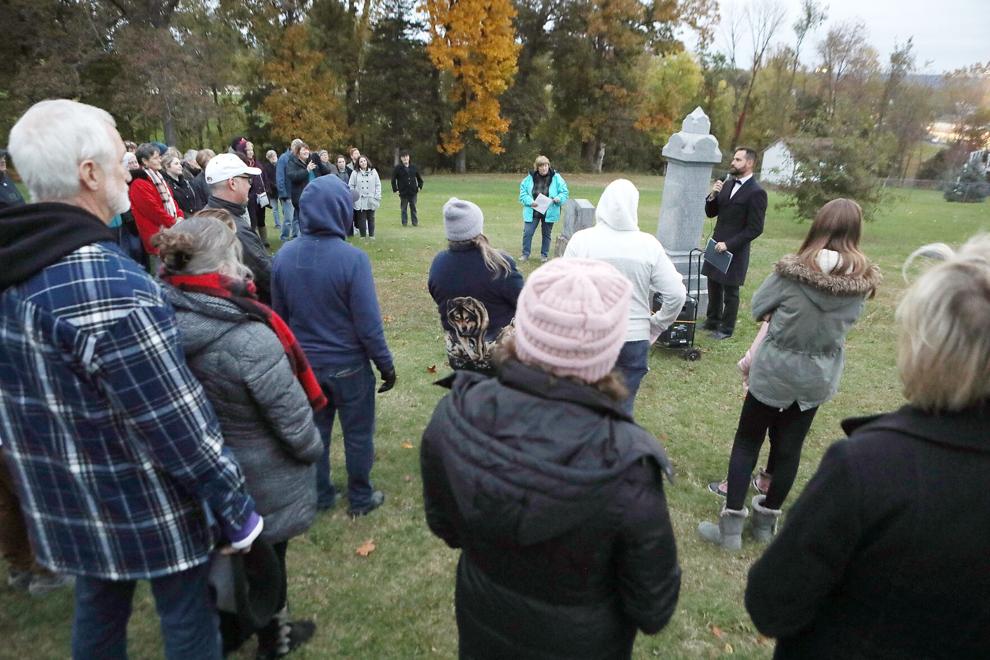 For one night every year, Wildey Cemetery in Washington, a place known for honoring and remembering the dead, comes alive with their stories. The Independent Order of the Odd Fellows welcomes the town to a living history presentation, where members of the Pacific Lodge in Washington don costumes and portray the characters of the city's past.
At this year's tombstone tour — held Monday night, Oct. 25, at 6 p.m. — the moon and several flashlights and lanterns were all that lit the faces of about a dozen Odd Fellows and other community members performing the short monologues they'd prepared. Around 100 people attended, a similar turn out to in years past. 
Among the crowd was father and daughter Stanley and Casey Campbell, who are involved in the VFW and are interested in the Odd Fellows' work with veterans' cremains. 
"I've been interested in the Odd Fellows for years, but I've never lived in a town where there was a chapter before now," said Stanley Campbell, who moved to Washington about three months ago. "I want to join."
Also attending was Jennifer Danz, of Leslie, who said that she wanted to support the Odd Fellows for their work with burying unclaimed and unidentified remains across the state.  
"I have a brother who's been missing for many years, so that means something to me," she said. "I like to think if his body was found somewhere there might be an organization that would help him."
The tour, which costs $8 in advance and $10 at the gate, is the Odd Fellows' only fundraiser each year. It was the 13th year for the annual event and the first without Odd Fellow and longtime organizer Marc Houseman, who passed away in May.  
"We've been working very hard to fill his shoes, and it takes a lot more people to fill his shoes," said Susan Woodcock, one of the event organizers. "Marc was always so deep in the community, and we want to carry that on. … We want to honor our dead and show people what the heritage of Washington is."
As a surprise 13th stop on the tour, the Odd Fellows honored Houseman by sharing the stories of how he impacted Washington much more recently than other characters.  
For several years before the event started in 2008, Houseman would privately give tours to anyone interested in the stories of the 1,200-plus people buried in Wildey Cemetery. As interest grew, Woodcock said the Odd Fellows wanted to share the knowledge with the community.
"I'm not from this area, and this is a great way to learn local history," said Odd Fellow Brenda Morman.
In addition to giving life to characters like Franz and Josephine Schwarzer and John and Antonia Busch, Woodcock said the tour also has people who lived ordinary lives, such as teachers and carpenters.
"They come alive again just for a few moments," Woodcock said. "I love that. They had a name. They had a life. They had an interesting story."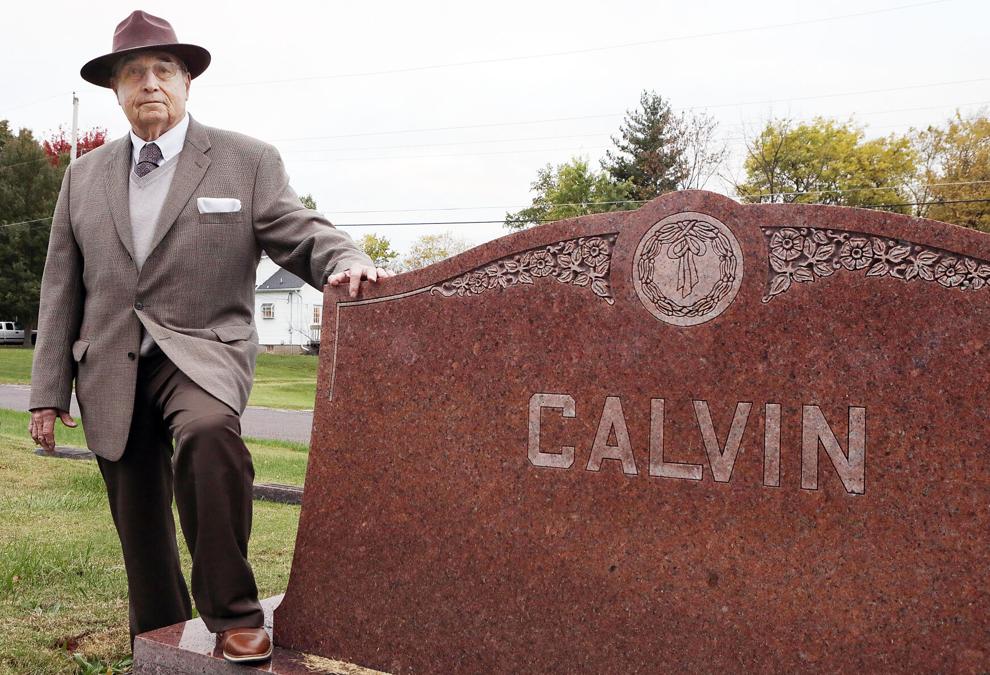 Roy Mormon as Jack Calvin (1865-1944)
Although his name is most recognized today as the title of the former Opera House — designed by one of the architectural supervisors of the Missouri State Building at the 1904 World's Fair — that now sits vacant on Elm Street, John Leslie "Jack" Calvin was in many ways the Benjamin Franklin of Washington. He was responsible for bringing several modern innovations to Washington at the turn of the century, including the motion picture, which he showed at the Calvin Theater. He founded the bus line from Washington to St. Louis that later became Mid-American Coaches, and he installed Washington's first sound film machine, according to the Washington Historical Society.
"Pretty much everything he touched worked," said Roy Morman, who has portrayed Calvin for two years. "He was a very successful wheeler and dealer."
One of Morman's favorite parts of the event is getting to share the lesser-known pursuits of Calvin, such as his love of baseball. Calvin played catcher for the St. Louis Browns briefly and was well connected with the players and coaches of the Browns and the St. Louis Cardinals. He also managed several local baseball teams.
Calvin was an active member of the of the Democratic Party, and his widow, Mrs. Frank Calvin, received a sympathy telegram from President Franklin Roosevelt himself when Calvin died at age 79 in 1944. 
"I think people don't realize all the things he was involved with," Morman said.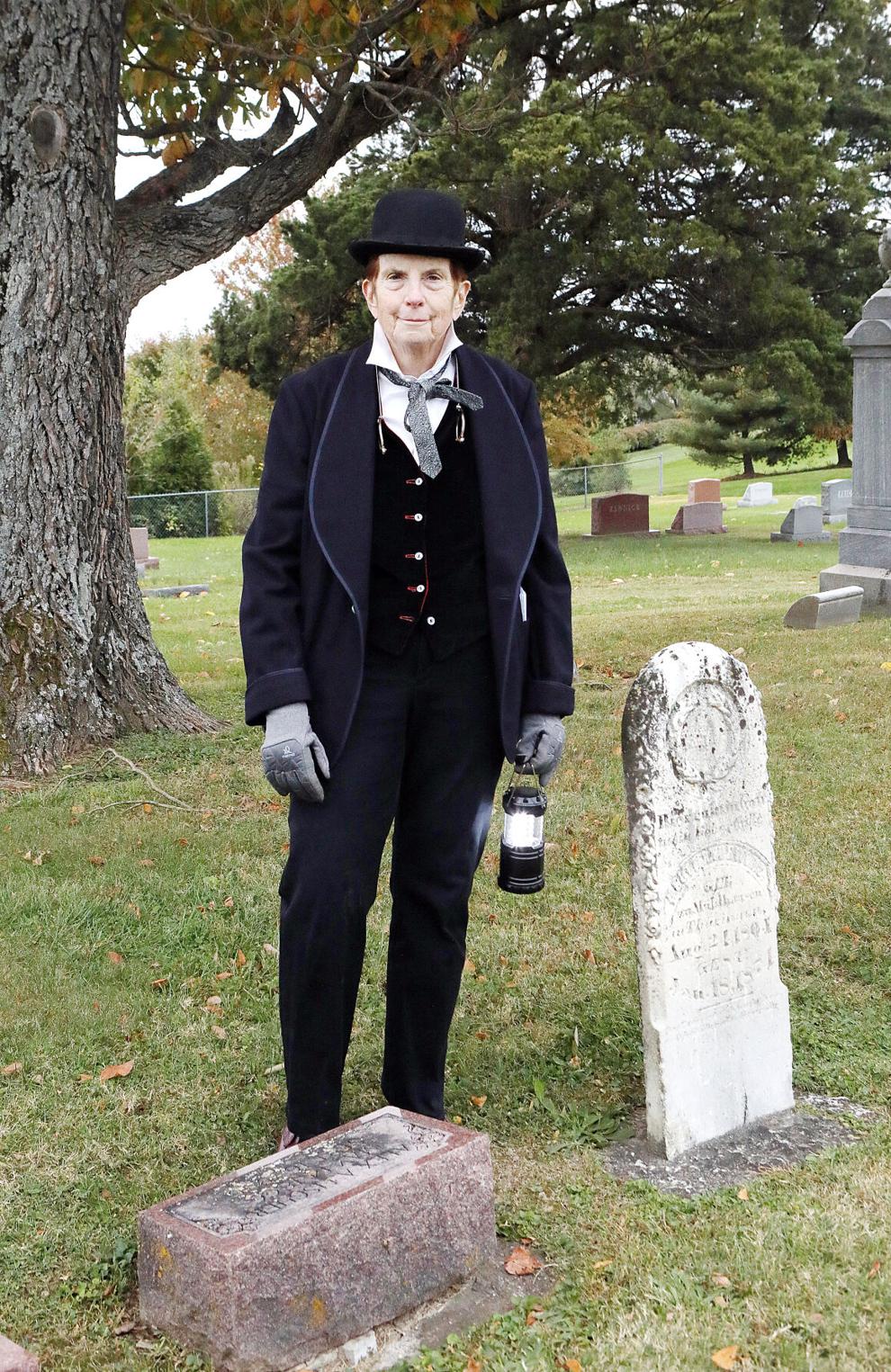 Penny Pitman as Fred Franke (1847-1912)
Penny Pitman glowed with excitement to talk about the character she has portrayed for several years, who she described as "the Forrest Gump of the Civil War." Fred Franke has long been included in the tour as one of Washington's most colorful characters.
Born in 1847, Franke believed himself to be the son of Austrian royalty and referred to himself in adulthood as Count von Liechtenstein. A manuscript he wrote that was found following his death in 1912 details his "story," in which he alleges that he popped up nearly everywhere important during the Civil War.
"He tells that he was on an Austrian town's general service staff, that he met (President) Lincoln twice, that he enrolled in the Union Army and was captured … that he was present at the surrender of General Lee," Pitman said. "The costume for him is pretty eccentric because he really believed that he was a count. It's a lot of military paraphernalia."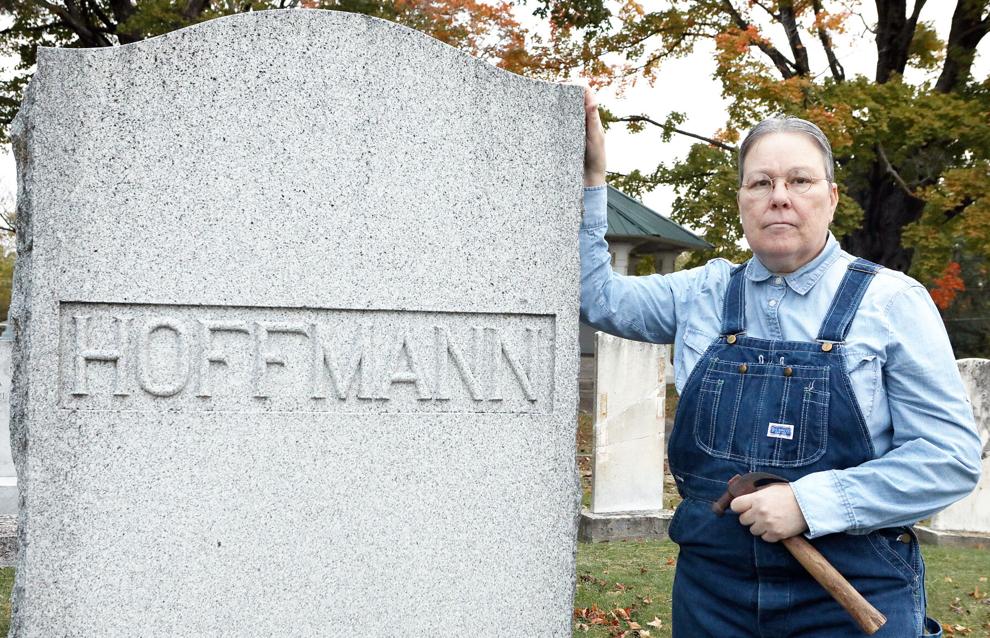 Sherri Jaundés as Judge Robert Hoffmann (1832-1918)
Robert Hoffmann is remembered today as the mayor of Washington from 1887 to 1892 and as a county judge from 1892 until 1903, but Sherri Jaudés was eager to share a side of him that not many know. Before entering politics, the German-born Hoffmann worked as a carpenter and was lauded as a master of the trade. He built the Warren County Courthouse and the Washington Grammar School — both since torn down — and several other commissions before his career was suddenly cut short. 
"He had a scaffolding accident. The scaffolding collapsed, and he pushed himself backwards to save himself, but he ended up having to have his leg amputated," Jaudés said. "So he had to change his career." 
Jaudés portrayed Hoffmann as he was before his accident, which included slicking back her hair to look the part.
"I think people have a lot of fun learning this way," she said. "You get to walk around in the dark with just your flashlight, listening to history."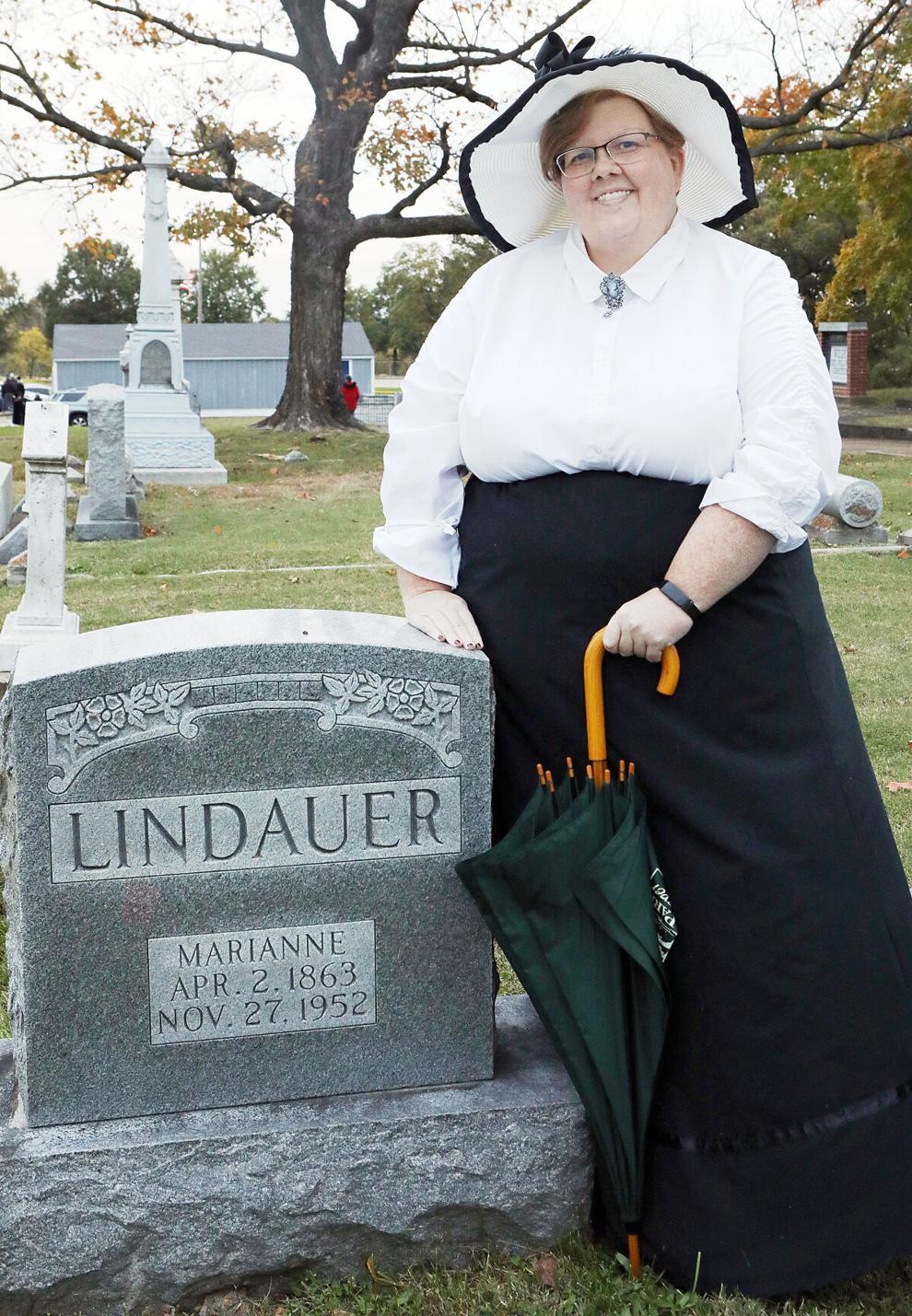 Danielle Grotwiel as Marianne Lindauer (1863-1952)
Offering a glimpse into how burial customs form and evolve in different cultures is Washington's Marianne Lindauer, who Danielle Grotewiel has portrayed for three to four years. The deceased in this area are traditionally buried with their heads facing west, and Lindauer is among the only people in the area whose head is buried to the north. As the last member of her family to be buried in the family's three plots, she didn't want to be buried next to strangers so requested in her will that she be buried sideways to cover all three plots, Grotewiel explained. 
Grotewiel joined the Odd Fellows in 2004 at the encouragement of several members, including the late Marc Houseman. 
"Marc destigmatized death for me. It's just another part of life. It's not something to be afraid of or talked about in hushed tones. It's a natural expression of the world," Grotewiel said. "That's one of the reasons I like the Odd Fellows ... Burying the dead is very serious to us, and we're also willing to share our knowledge."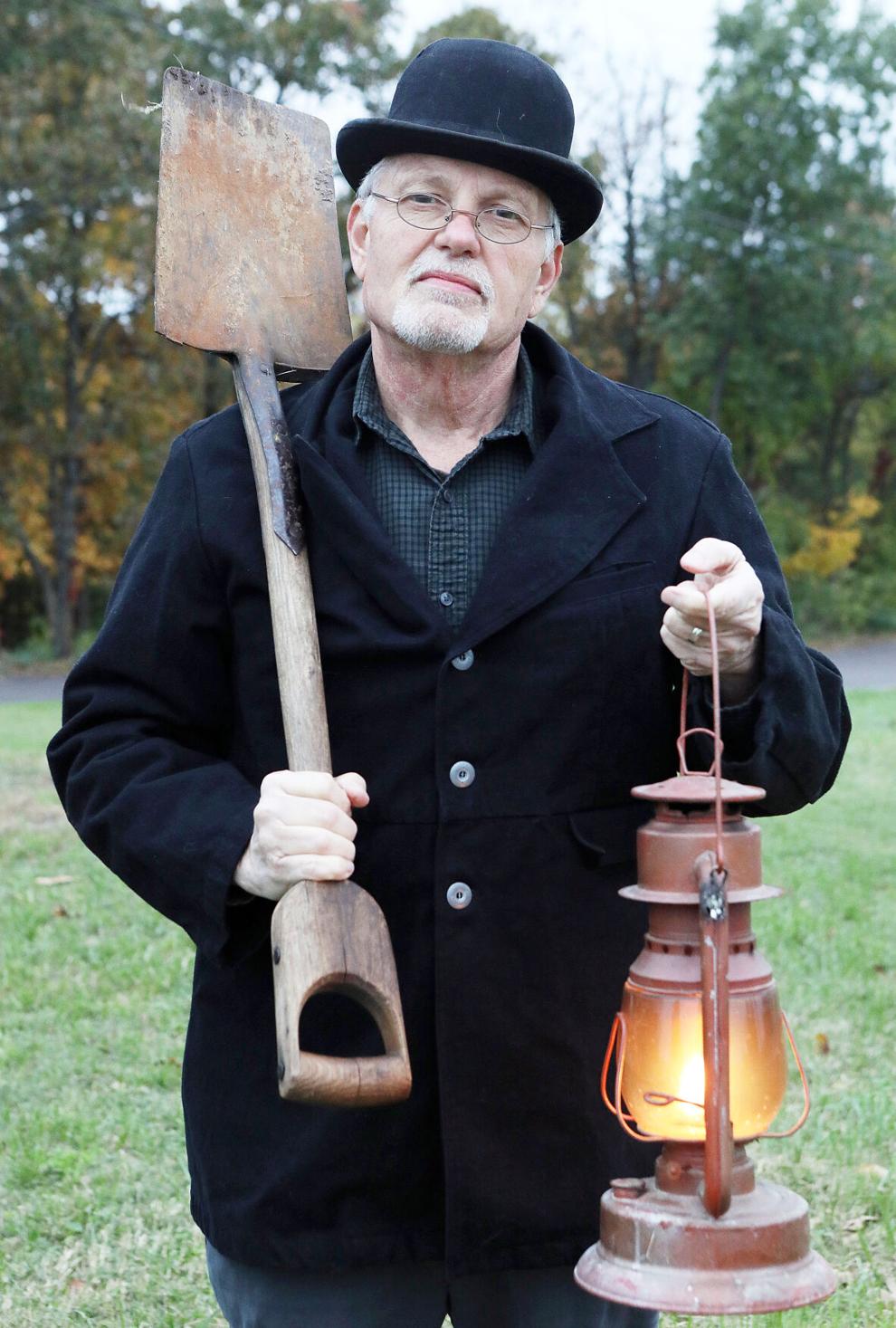 Paul Annable as unnamed pest house caretaker
Although their identities have so far been lost to time, Odd Fellows Noble Grand Paul Annable's character highlights the important work done by those who cared for the Washington pest house, which sheltered people who were sick with diseases such as cholera, smallpox or tuberculosis and not likely to survive. 
"People who had no place to go, no family around to care for them, they would go to a house over on the edge of the city cemetery, and they would go there to die," Annable said. "The caretaker there would feed them if they could eat, and when they died, he would bury them."
For Annable, the respect for the unnamed dead who the caretakers buried is something he relates to. He works with the national Missing in America project to identify unmarked remains of fallen veterans buried around America, and he has also helped maintain the Odd Fellows' columbarium, housing unnamed and sometimes unidentified remains. He said he believes strongly in the Odd Fellows' mission that every deceased person be honored with proper burial. 
"It's a caring thing," Annable said. "These are people who cannot do anything for themselves, so it's left up to us to care for them."