For Matt Brennecke, Augusta, with its rolling vineyards and historic winemaking, has always been home. The 47-year-old is production manager at Mount Pleasant Winery, where the view from his office window is a dramatic valley scene he's known well since boyhood. His first view of the wine-rich area was as a child riding on his grandpa's lap on the tractor through his grandparents' small vineyard in the area.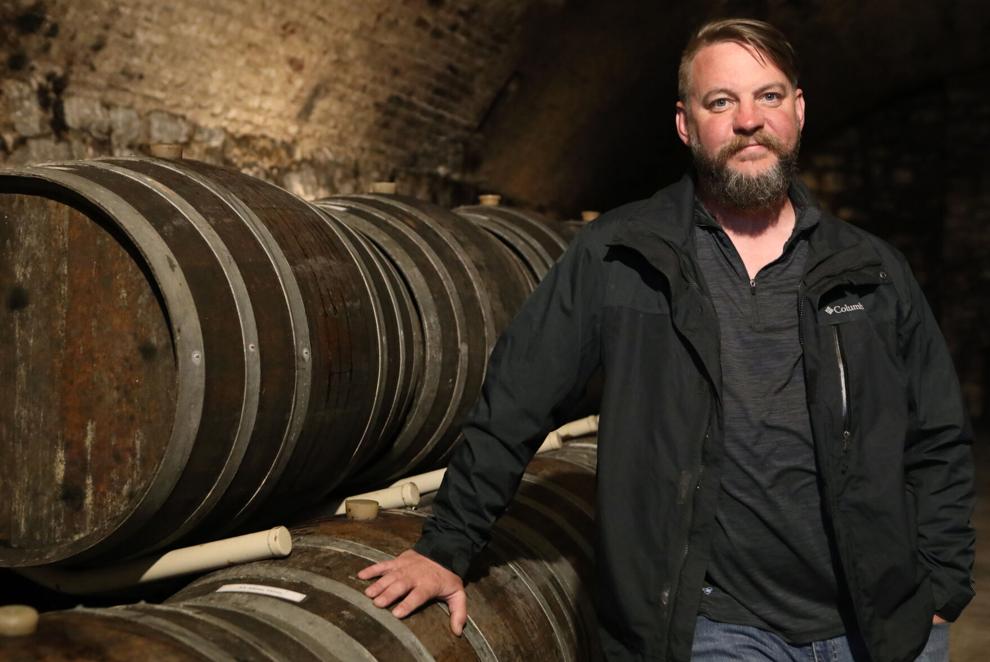 More than four decades later, Brennecke recently had two of his wines score a gold medal with "exceptional" distinction from the Beverage Tasting Institute, a national review company for wine, spirits and beers. 
The first was Mount Pleasant Estates' 2019 Vignoles, a fruity white wine that Brennecke crafted during an experiment trying to salvage an overly acidic crop of grapes. The bottle sold for $35 each, and there are none left.
"It had plenty of sugar, but the acids didn't mature in the grape," he said. "In managing that, we came up with a really brilliant wine that was a one-off we can't repeat. For that particular vintage, we had to pull a bunch of rabbits out of a hat to come up with it."
And last week, one of the Mount Pleasant team's wines received a 95 rating, the fourth-highest score ever given by the organization and the second-highest given in the past year. The Mount Pleasant Estates NV Tawny Port Library Volume XX is Brennecke's personal best and one of the highest-rated wines in the state. It sells for $58 per bottle. 
For Brennecke, the Tawny Port represents the teamwork that goes into winemaking.
"With that wine, we age it for six years, and then we blend it with all the Tawny Port we've ever made, and we bottle off a portion of that tank, and then all the wine goes back in the barrel," he said. "The one that got 95 points was the 20th blend of that group of wines. Some of the wine in those barrels — I'm not the only winemaker to touch that wine. Myself, Mark (Baehmann), all of us had something to do with the quality of that wine."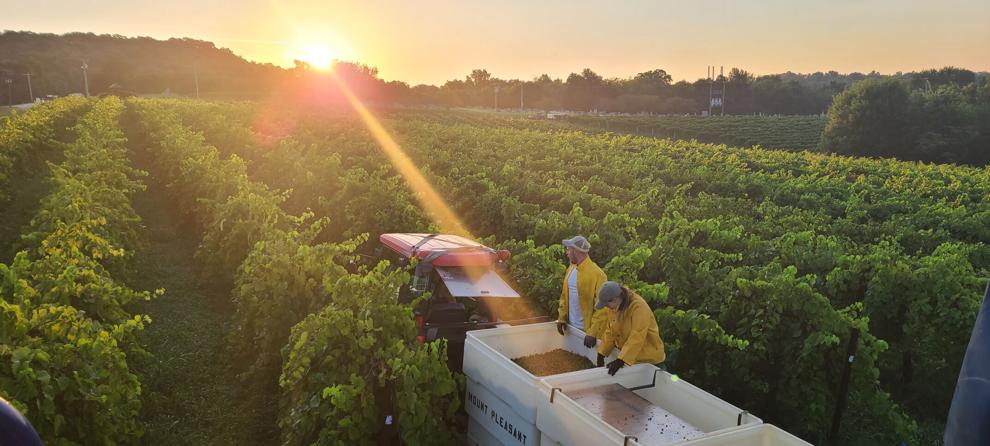 Brenneke's role as winemaker and vineyard manager means he is in charge of ensuring the quality of the wine "from grape to glass." The winery's largest tank holds 12,000 gallons, and each gallon can make about five bottles of wine, so it's no small task, he said. During the largest year he's been part of, the winery produced 60,000 gallons. 
Managing the team, particularly young people working in the vineyard, is a full-circle moment for him. His own journey into winemaking began as a way to earn cash as a 13-year-old. 
"At that age, the only job you could get was in agriculture, so I started working summers for Montelle. By the time I was 17, I was assisting in winemaking," Brennecke said. "I had worked consistently over the years in the vineyards, so when they needed help, they asked me."
At Montelle, Brennecke's boss was winemaker Mark Baehmann, who now owns Wild Sun Winery and Vineyard in Hillsboro. Brennecke remembers Baehmann encouraging him to stay on at the winery and learn to be a winemaker, but at that time he wanted to see a new place. He earned an art education degree at the University of Missouri-Columbia and got a job teaching art in Knox County. When his parents moved away from their Augusta home, he took the opportunity to move back and take over the home. When he heard that a position on the winemaking team at Mount Pleasant — which was now being headed by Baehmann — had opened in 2009, he jumped at the chance to apply.
"I was 17 the last time I had done winemaking, and now I was in my 30s," Brennecke said. "I'd had desk jobs, but my brain doesn't work like that. I need something that's really dynamic and keeps me busy. And winemaking is just so complex. It changes with the seasons."
Brennecke continued on the team and was cellar master when Baehmann left, and fellow winemaker Colin Pennington, who is now the winemaker at Augusta Wine Co. and Montelle Winery, took over Baehmann's role as winemaker. Brennecke also took over the role of vineyard manager, overseeing the crop each year.
"There was a learning curve to that because I'd never been responsible for the decision-making," Brennecke said. "Now I had to be the person who knew enough to say, 'Go do this, and here's why.' "
There also was a learning curve when Brennecke began leading the winemaking team. Everything from knowing the chemistry behind the wine to knowing how to operate equipment was a challenge at first and took months of on-the-job training.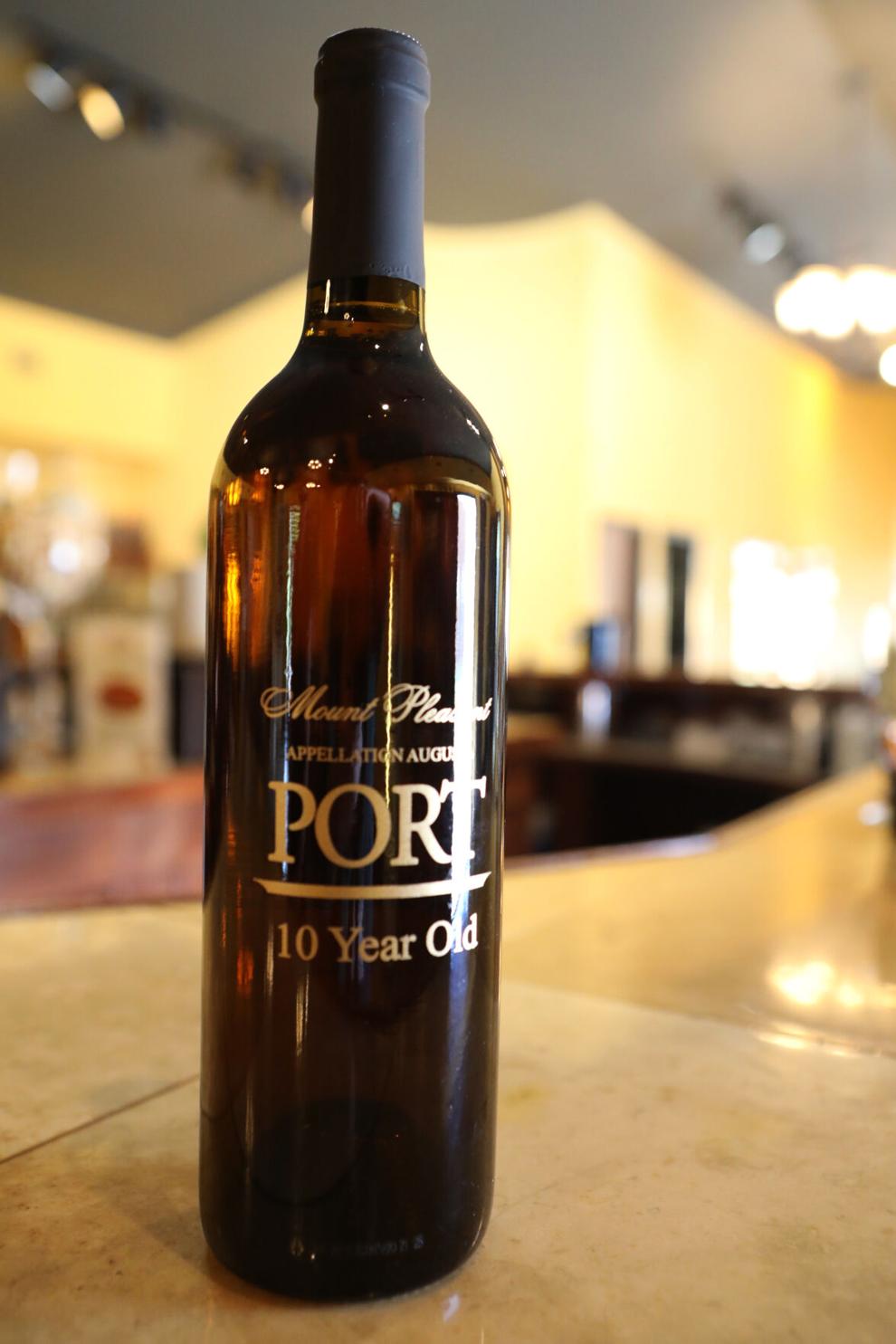 "I had just followed directions, but there's a big curve between understanding how to follow directions and knowing how to give the directions and knowing why you're doing it this way," he said. 
It wasn't until Brennecke's wines started getting positive reviews from Mount Pleasant patrons and raters that his "imposter syndrome" started to ebb away.
"I do remember the first time the wine was mine from grape to bottle. There had been wines I'd had my hands on as cellar master or I had grown the grapes as vineyard manager, but the first one that I made all the decisions for — seeing that well received was a big achievement," he said. "You know you've got the years of experience, but it's easy to discount that in your head. So that felt great to see customers enjoying it."
Mount Pleasant is open from 11 a.m. to 5 p.m. Monday through Friday and until 5:30 p.m. Saturday and Sunday. 
Brennecke will stay on as winemaker under Mount Pleasant's new owners, David and Jerri Hoffmann. The Hoffmanns also have purchased Balducci Vineyards, Montelle Winery, Augusta Wine Co. and several other vineyards and downtown buildings in an effort to make Augusta a national wine destination. He said he is eager for them to bring new technology that allows the winemakers to achieve the 95-point quality more consistently. But even with the opportunity to bring in new technology, Brennecke said he can't discount the importance of heritage in winemaking. At Mount Pleasant, which dates back to 1859 and is the oldest winery in the Augusta Appellation, the first government-designated historic wine region or AVA in the country, it's a heritage he says he can feel in the cellar walls.
"When you're down there in the cellar, you feel that tradition. You just imagine how many people have been down there working with the same purpose: to make the best wine possible with the fruit presented to them," Brennecke said. "There's a long tradition of people doing their best to make that happen. And having grown up in Augusta, it's an honor to get to carry that."