Imagine yourself about six feet off the ground, standing atop two horses, your knees slightly bent and one foot positioned on each horse's back, nothing to keep you up there but sheer instinct and a whole lot of practice. The draft horses you're standing on are imposing and brawny Clydesdales weighing in at around one ton each. You're in an arena, the horses trotting side by side beneath you, taking long laps in front of hundreds, maybe thousands of people.
What you're doing is risky, of course. You could fall and break a limb or, worse, be trampled on. But not to worry — you've done this countless times before; you make what's daunting look easy. Now, you signal the horses to pick up the pace. The crowd cheers and applauds — they love it! Look at you go!
This is one of the daring act that 22-year-old Michaela Redeker of Daredevil Drafts, in Catawissa, has been performing in front of crowds for the last five years. The particular feat of riding a pair of horses while standing on their backs is known as Roman riding, and those who can do it are few and far between.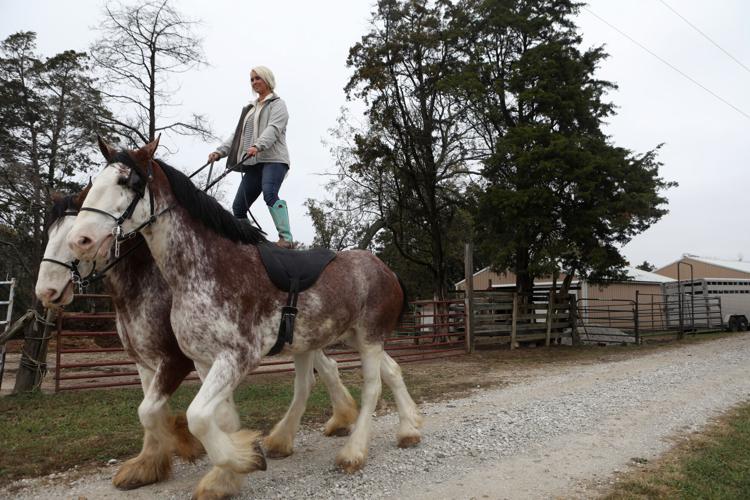 Redeker's longtime friend Kathleen Phelps, who has known her since she was born, said, "The control that she has of them (the horses) is just spectacular." Phelps, a Springfield-area resident who is an accomplished equestrian herself, said horses are Redeker's life.
"This is her passion. ... You can see it in her performances, and you can see it in her relationship with them."
It's no stretch to say riding horses is in Redeker's blood. Her dad, Jeff Redeker, grew up around horses and lived in Texas for a time. He has worked on ranches and ridden bulls and horses. These days, he's a farrier, trimming and shoeing horses' hooves.
Redeker's mother, Hope, had no animals while growing up but always longed to have a horse. Ultimately, she got a job as a veterinarian technician in an equine hospital in Glencoe. It was there that Hope and Jeff met.
"My mom thought, 'That's a cowboy!' and my dad was like, 'That's the most beautiful woman in the world.' So they dated and got married," Redeker says. "And, of course, they had to have horses."
Redeker grew up on seven acres in what she describes as "the middle of busy Wildwood, with a Starbucks right down the road and big fancy subdivisions all around us."
She played in the hayloft of the barn and had a pony named Snickers. "Every little girl's dream," she said. "I drug him all around the neighborhood and decorated him — miserable for the pony, fantastic for me."
Her parents had quarter horses and Arabians, which she relied on for trail rides.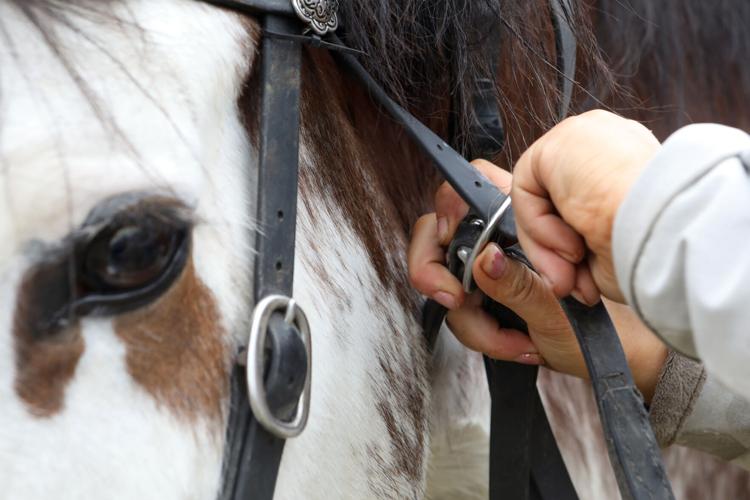 They also had Percherons, a breed of draft horse, which Redeker's mother raised and showed at competitions. As a little girl, Redeker sat on the Percherons for fun, but in her early teens, she began to wonder, "Why aren't we riding these things?"
She soon took it upon herself to give riding them a try. The problem was her parents didn't own saddles big enough for the noble beasts, so Redeker had to ride them bareback, and the horses often sweat. They sweat a lot, in fact, and, as Redeker knows too well, riding sweaty draft horses bareback is far from pleasant.
Soon enough, an alternate idea came to her: "What if I just stand up on these two horses at the same time and ride them?" She was 14.
Her initial attempts "were not great," Redeker admits. Nevertheless, she kept at it. In the beginning she managed to position one foot on each of the horses, while staying in a squat position. Soon, she was standing up in brief intervals. The prospect of falling off was nothing to her.
"If I fell or just decided to get down, the horses were so big that I would just land on the horse," she said. "Then I could sit on the horse again and get back up there and try again to stand up."
For a while, Redeker was teaching herself the art of Roman riding after getting home from school and before her parents arrived home from work. Sometimes she took videos of herself to mark her progress. Eventually, she shared them with her parents. "Look what I did today!" she said to them. Redeker's mother was nearly beside herself. "You did not do that!'" Redeker recalls her mom saying. "'What if you fell, what if they stepped on you?!'"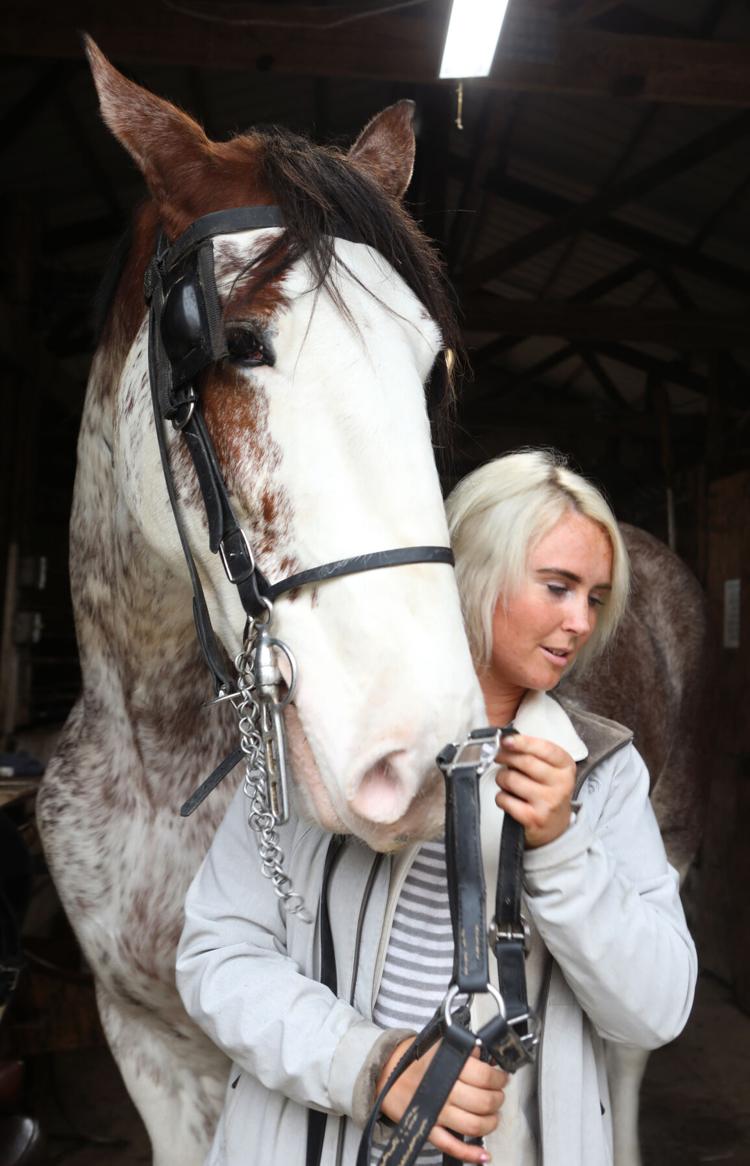 "That never crossed my mind," Redeker says now.
As for her dad's response at the time? "My father saw it coming," Redeker said. "He was just like, 'Yeah, that's my child.' "
A Hobby Becomes Something Bigger
By the time she was 17, the teenage girl, who was "just out there being wild with the horses," as Redeker says, became so good at Roman riding that invitations started coming in for her to perform in front of crowds with the promise of a paycheck at the end.
Daredevil Drafts came to be.
Today, Redeker lives on a horse farm in Catawissa, complete with a house, barn and arena set on 12 acres, which she currently shares with her parents, along with three dogs, 18 chickens and, naturally, draft horses.
Redeker has eight draft horses: five Percherons (a breed that originated in France), two Clydesdales (a breed from Scotland) and one Belgian. Two of the Percherons, named Jetty and Marmalade, and the two Clydesdales, Jordy and Hef, are the ones that Redeker takes on the road for performances.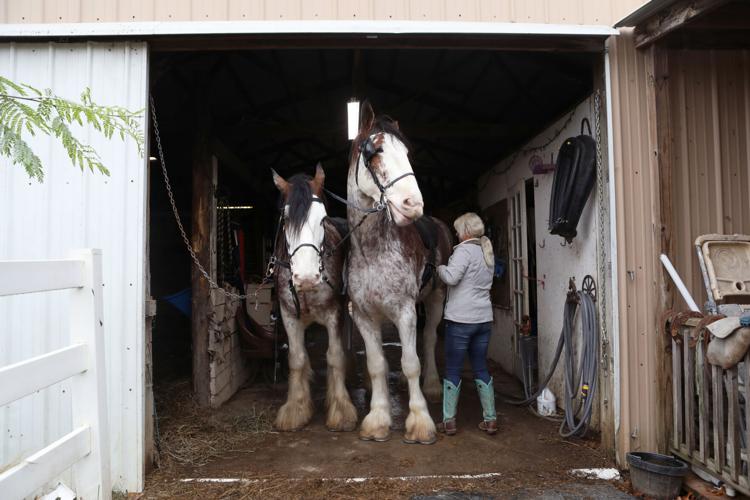 Recently, she and the two Clydesdales were featured in an opening ceremony at the Georgia National Fair Draft Horse Show. It was the second year in a row that Redeker was invited to perform at the October event, which occurs annually in Perry, Ga.
Standing astride the pair of horses, Redeker entered the arena, decked out in bell-bottom jeans and a top emblazoned with shimmery stars and long fringe flowing from her sleeves. As the "Star-Spangled Banner" played, she rode atop the horses, circling the arena and carrying the American flag.
"It was absolutely glorious," said Andrea Eubanks of Warrior, Ala., who, with her husband, Dallas, helps run the Georgia draft horse show. Eubanks said there are others across the country doing Roman riding like Redeker, but more often the performers are men, she said. "Then there's this pretty, young girl (Redeker) who's clearly not afraid of anything. ... She's kind of the cowgirl I always wanted to be."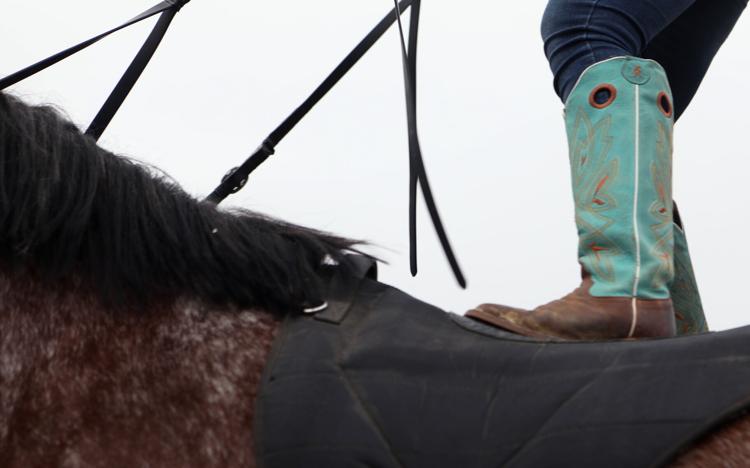 Over the years, Redeker has performed Roman riding in multiple parts of the country, as well as in Canada. Her first public performance of Roman riding was at the Mid-Missouri Horse, Mule & Ox Farming & Historical Craft Days in 2014. In recent years she has performed at the 2018 World Clydesdale Show, held in Madison, Wis., that year; the 2018 World Percheron Congress, hosted in Des Moines, Iowa; and the Breeds Barn Show at Kentucky Horse Park, in Lexington, among many other events. She also often appears at rodeos. 
Following in her mother's footsteps, Redeker also has participated in countless competitive draft horse shows — often at state fairs — and over the last decade has taken top honors in a variety of classes, such as bareback, ladies' cart, halter and log skid, which involves a draft horse weaving through a course while dragging a log. The size of the prize purse can range from $100 to $15,000 depending on the show.
Redeker also is the ambassador for the Missouri Draft Horse & Mule Association. In that role, she interacts with spectators after performances or shows, answering questions and letting it be known that draft horses can be more than just burly work horses plowing fields or pulling wagons.
Taking a Second Path
It's hard to imagine that Redeker would have time these days for anything other than horses, but she also is enrolled in welding school at the Four Rivers Career Academy, through East Central College.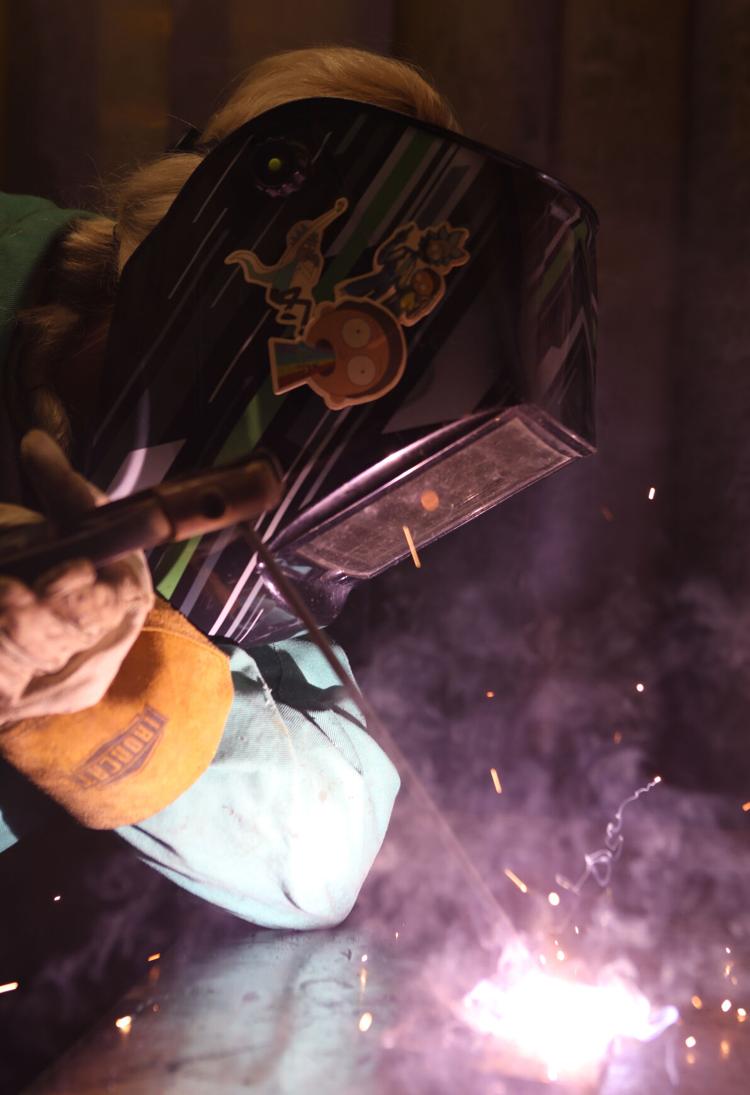 Redeker has no plans to abandon the equestrian world, but a couple years ago she began contemplating her financial security and need for a retirement plan. Redeker also knew that performing on draft horses could eventually take its toll. "My body will not be able to do this when I'm getting older," she said.
Since Redeker couldn't imagine herself stuck inside all day, working an office job, her mom suggested she give welding school. "I was hooked," Redeker says. "It's something I could see myself doing for the rest of my life." She will graduate from the two-year program in the spring.
Her hope is to get a job working on an oil pipeline in South Dakota or Texas. The work is hard, but the money is good, Redeker says, and a pipeline job would allow her to work six months out of the year, then return home to her horses for the remainder of the year.
"My goal is to work on the pipeline for at least three years and make as much money as I can, then either come home or settle down somewhere else and get an easy welding job, maybe in a shop, and then have more time for the horses."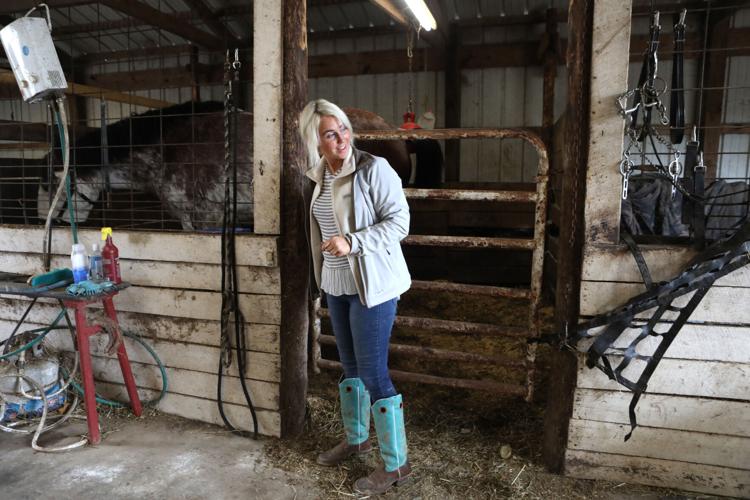 To learn more about Redeker, follow her on Facebook (Daredevil Drafts), TikTok (@michaelaredeker) and Instagram (daredevil_drafts or michaelas_the_winner).