Those who listen to the music of the pipe organ at Immanuel United Church of Christ in Holstein, or any pipe organ anywhere, can't help but be mesmerized by the magnificent and joyous tones. The sound transfixes, inspires and brings about powerful emotions.
Linda Earney, who plays the pipe organ most Sundays at Immanuel, says she cannot imagine worshipping without music, and many in the faith feel the same way. Earney shares the bench with Mary Ruth Schomberg, who plays one Sunday a month. The organists provide an unusual skill to members of the congregation in the small community. Few churches have access to an organist — let alone two — as the number of organists in the U.S. has been declining and now stands at just over 14,000.
The biggest reasons for the downturn are that fewer Americans are religious, and those who do attend religious congregations are getting older. 
Twenty-eight-year-old Washington native Joseph Eckelkamp is an exception to the trend. 
"I love the organ as the first instrument that I discovered and knew about as a very, very young child, and it still is something special, being able to sit in the organ console and play," he said.
After he was introduced to the pipe organ while attending St. Francis Borgia School, Eckelkamp said he couldn't get enough. He studied music theory and piano performance in college. He apprenticed at Quimby Pipe Organs in Warrensburg, continuing to learn about the huge and intricate instrument, and now works as an accompanist in the Lincoln County School District. He is also the head organist at St. Vincent de Paul in Dutzow and assistant  organist to head organist Lucy Tobben at St. Francis Borgia.
He said he works mostly in a teacher-support role and as a pianist for ensembles, but he has done lectures about different musical styles and instruments, including pipe organs. Because he cannot bring a several-ton organ into a classroom, Eckelkamp said he uses computer software to showcase the different sounds that a pipe organ can make, and he uses old pipes to show the variety of shapes, sizes and materials.
Eckelkamp said music, specifically organ music, is central to worship, and parishes with organs require a musician skilled in playing the instrument. At a glance, an organ looks similar to a piano but with more layers of keyboards. Learning how to play the piano is a good start, Eckelkamp said, but to master a pipe organ, a musician also must learn to use his or her feet to play pedals and adjust volumes. An organist's hands also aren't restricted to the keyboard. There are buttons to push and stops to pull, all to make sure the sound is appropriate for the piece of music.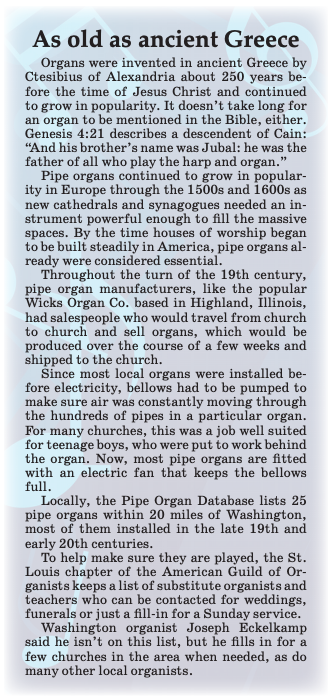 Mary Ruth Schomberg, who, like her counterpart Earney, learned to play the piano before the organ, said the pipe organ also has a different feel to it than a piano as an organist has to hold the keys just a split second longer than a pianist might.
Because pipe organs have so many pipes, sometimes over a thousand, they are capable of generating an impressive range of sounds. According to Eckelkamp, that's what makes organs so special. 
"It has the widest dynamic range of any instrument," he said. "It can be quieter and louder than any other non-amplified instrument. It also exudes a sense of power whenever you play. The sound itself — it's kind of all encompassing. It doesn't necessarily come at you from one direction. It kind of embraces you."
A pipe organ can mimic the sound of a flute, horn, clarinet and many other individual instruments, but most of its allure comes from its unique ability to complement congregational singing. From booming base to shrill trebels, every press of a key plays a dozen or more pipes. With a few keys pressed by hands and a couple more with feet, those pipes quickly add up to produce a rich and grand sound. Because of the use of air and vibration, musicians say the tone mimics the mechanics of a human voice.
Despite its majestic sound, a new phenomenon began to take place in worship music beginning in the late 20th century. Pop and contemporary Christian music began to make its way into services across America. Guitars became more culturally popular, and many churches saw benefits in its use. They are portable, easier to learn and are significantly less expensive than pipe organs, making it way easier on houses of worship to have bands rather than organs. Megachurches took the movement to a new level. 
Earney would rather stick with the traditional music, however, saying Immanuel UCC's sound system doesn't come close to her pipe organ or piano. Some of her favorite hymns include "It Is Well with My Soul" and "I Need Thee Every Hour."
David Schomberg, Mary Ruth's husband, agreed with Earney. "I've been listening to it for at least 75 years, and it still brings a tear to my eye," he said in Immanuel's sanctuary. "I sit right over there and honor it. I just enjoy it so much. I'm so proud we have it because it's one of a kind."
"It's amazing that little, little Holstein has something like this," Mary Ruth Schomberg added.
David Schomberg scoffed at the memory of someone trying to pay $5,000 to have the pipe organ at Immanuel UCC removed in favor of an electric organ around 50 years ago, because it's been valued recently to be worth around a quarter of a million dollars, up from the $1,440 the church paid in 1909.
There is no one solution to the problem of dwindling organists, but Mary Ruth Schomberg has an idea of a place to start. She said that kids just aren't being introduced to church music anymore. She and a few friends who teach piano have noticed that children and teenagers are focused more on sports than ever and less on music.
Eckelkamp has noticed, too, but the students he works with give him some optimism.
"There is a lack of understanding of what an organ is and its importance, but I will say again, the fascination with the instrument is still there." he said. "So it's kind of a problem that they're not being exposed to it, but whenever they will learn about it, they think it's really, really interesting and cool. So how that will translate as far as the church goes down, I'm not sure, but I don't think it's completely disappearing anytime soon."