Larry Davis remembers the day clearly — even if it was about five years ago. 
The 86-year-old was at his home near Union. It was in the morning when the kitchen phone rang.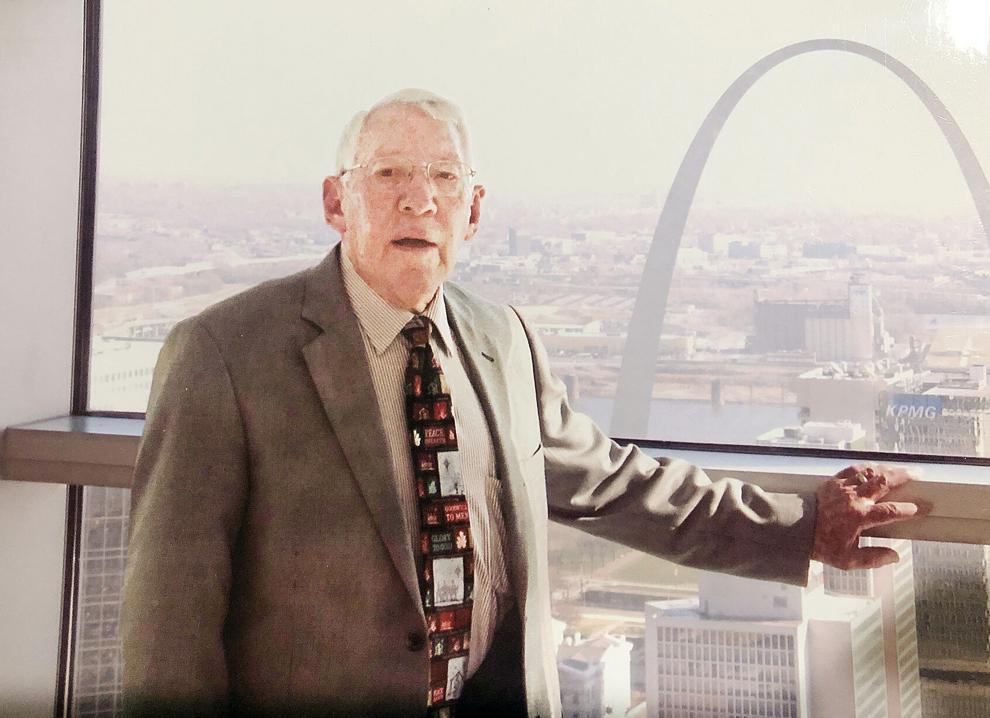 Jennifer Hope, former assistant superintendent of Union R-XI School District, was on the other end of the line. She wanted to come by and talk about an idea she had. She'd already talked with Sheriff Gary Toelke and Franklin County Commissioner Ed Hillhouse, she told him, and they loved the idea.  
"What idea? What do you want to talk about?" he asked her.
"I'll tell you when I get there," Hope replied.
"Well, I love mysteries," Davis said, recalling that day in a recent conversation with The Missourian. "And when she told me who was in on it my interest piqued up because I thought she must really have something." 
The idea is now disheveled earth at an in-progress construction project in Stanton, where more than a dozen local contractors led by Bob Loughman of Jasper Builders, Union, are at work building Hope Ranch of Missouri. The ranch will be a 7,700-square-foot, family-style home and school available to children in the foster care system in Franklin County and will cost $4.2 million to build.
When Hope and Dr. Lee Parks arrived at the home that day, Davis remembered thinking that throughout his 40-year career in public law he and other judges often had nowhere to put children and little to offer them during the difficult situations that can arise during court proceedings. Hope and other organizers say Davis has been instrumental in making the idea a reality. 
"I knew it was something we really needed," Davis said.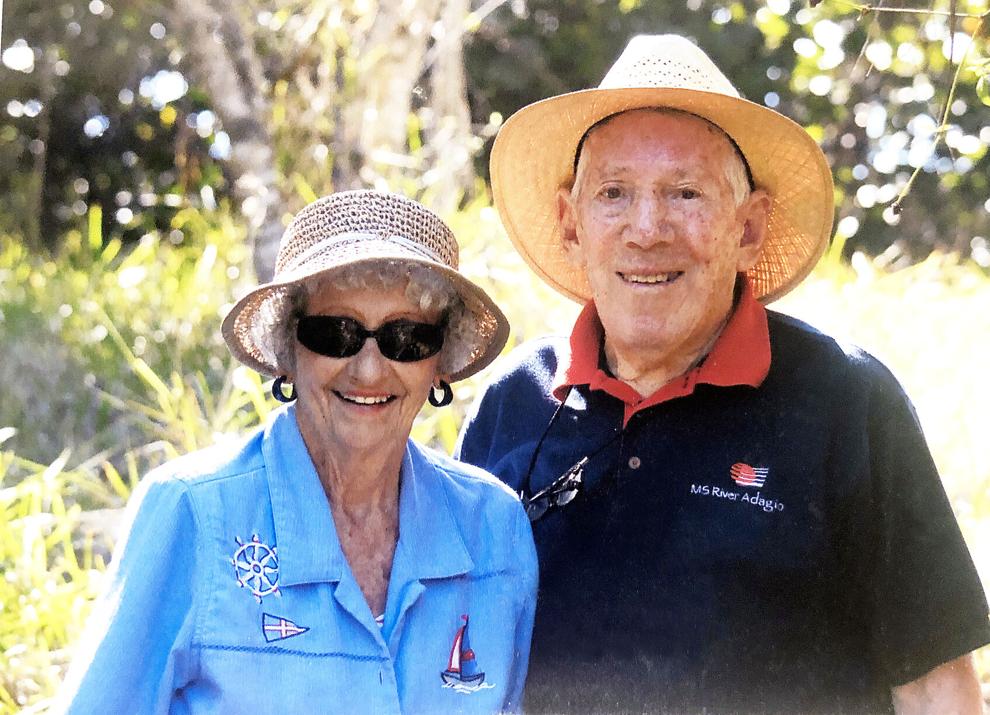 Putting Down Roots
The site of the construction, where a groundbreaking was held Dec. 12, 2020, is a special place for Davis.
"I've been acquainted with Stanton ever since I worked there as a cave guide at Meramec Caverns," he said. "It was fun, like a summer camp. I celebrated my 16th birthday there."
Davis' mother had encouraged him to try the job, hoping it would cure him of his shyness, but she didn't anticipate how it would change his life.
"As I would go in the cave every day, I would see this little brown-eyed beauty in the booth selling tickets," Davis remembered. "So I started winking at her. And I decided I'd go back the next year, and by golly, she was winking back at me then." 
"That's true!" laughed Elaine Davis as she passed him in the living room of the home they've shared during their 63-year marriage. Elaine (nee Dill) Davis' father, Lester Dill, owned the Caverns. Larry Davis returned to work there each summer for seven years.
"I was kind of like Jacob in the Bible," Davis laughed. "I say I worked seven years for my wife's hand in marriage."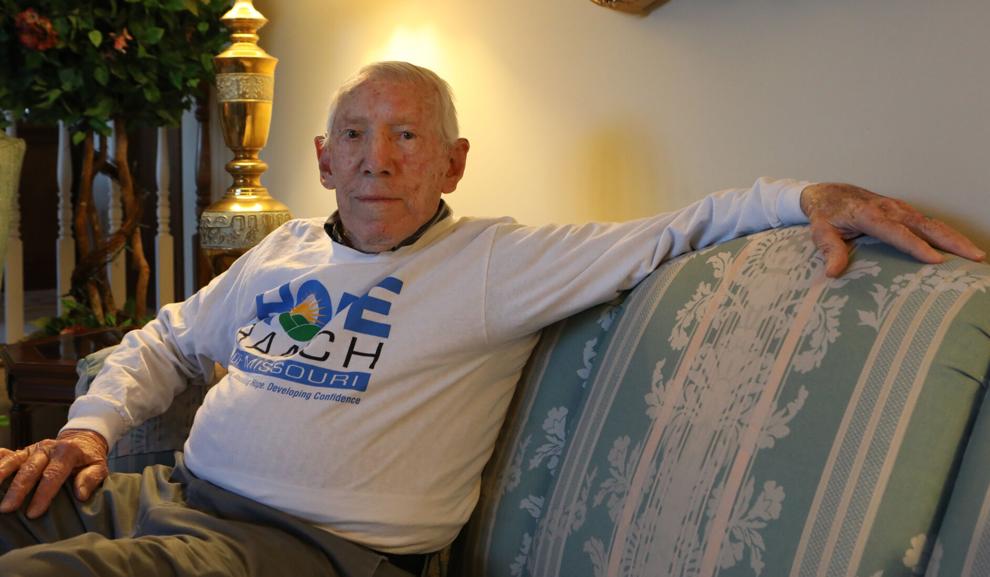 At that point, traveling north to work in the Caverns was one of the most memorable experiences of Davis' life. He'd been the baby of the family, with one brother, Bill, and three sisters, Peggy, Dorothy and Helen. They grew up on a farm north of Aurora in southwest Missouri. The family owned a worldbook encyclopedia, which introduced Davis to places around the world he hoped he'd someday visit. He remembers having no electricity, running water or indoor plumbing until the family moved into town when he was in seventh grade.  
"We lived in the country, and that contributed more to my education than many schools," he said. "You were independent. You weren't trying to impress people."
During his years at the Caverns, Davis also started college at Drury University in Springfield. Elaine graduated from Sullivan High School in 1952 and started at Stephens College in Columbia. Wanting to be closer to her, Davis transferred to Rolla School of Mines and Metallurgy and later to the University of Missouri-Columbia.
"My love, really, was engineering. Working with your hands," Davis said. "I just loved stories about engineers and all that stuff."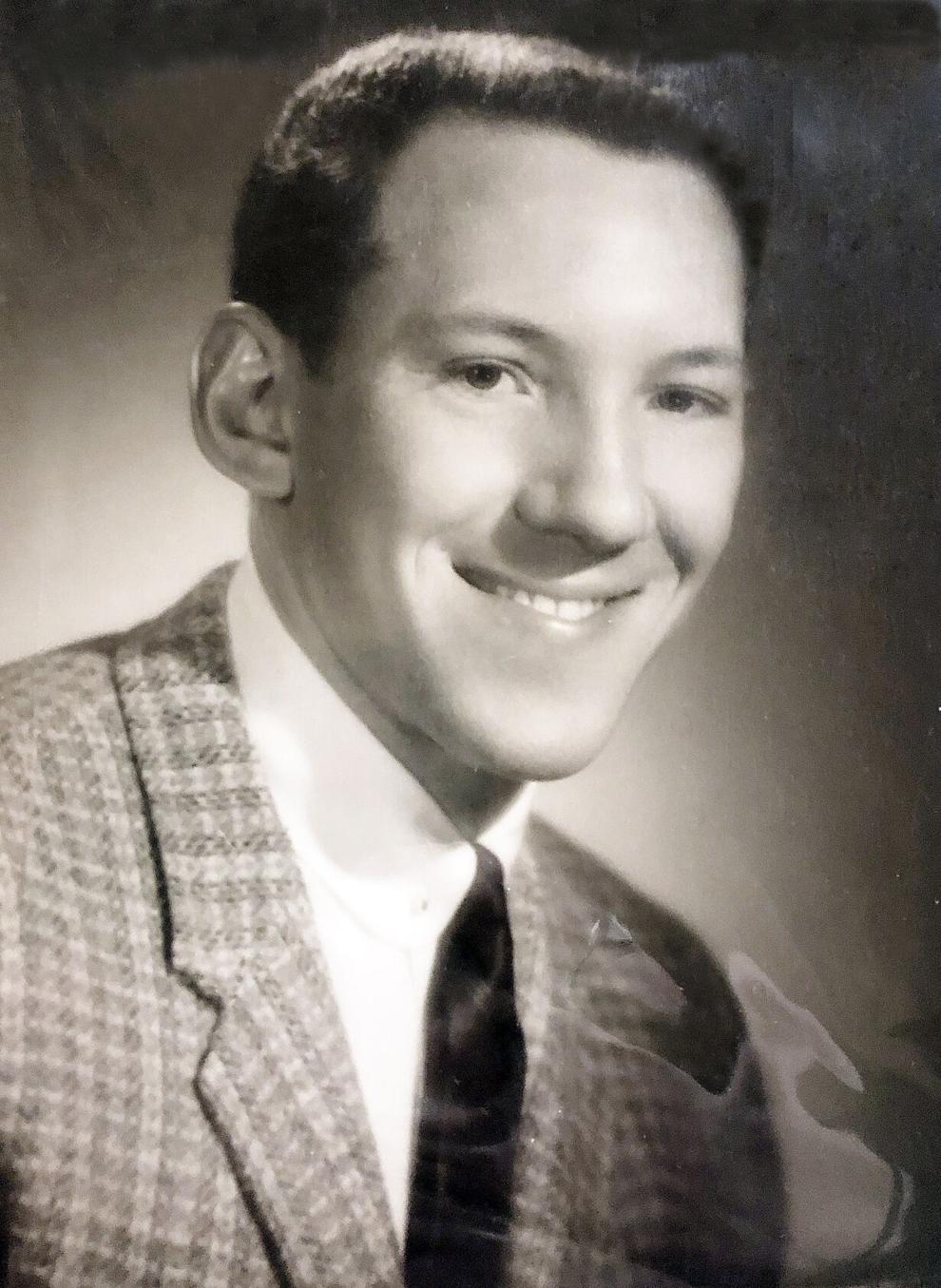 Even as a college student and throughout adulthood, Davis said he adored his late brother, Bill. He was 11 years older and had enlisted in the Air Force following Pearl Harbor. He became a fighter pilot, flying over Germany for much of the war. Davis, who was around 11 at the time, can still recall clearly the story of Bill's plane getting shot down and his hiding from German forces for several days in a hay wagon with the help of some Belgian resistance fighters who saw him parachute out. 
"He was my ideal," Davis said of his childhood hero. "He was my god with a small G."
And it was his brother who initially planted in his head the idea to go to law school instead of becoming an engineer.
"He told me, 'Larry, you haven't been around as much as I have, but I've noticed that lawyers on average have bigger homes than engineers. I think you ought to transfer out of engineering and become a lawyer,' " Davis recalls. "I said, 'OK, Bill, if you say so.' People say, 'That's crazy, you didn't want to be a lawyer and you became one.' Well, it's because of my brother." 
So Davis enrolled in law school at Mizzou in the fall of 1955. In 1956 he finished a math degree. He and Elaine married Sept. 6, 1957, at Sullivan First Baptist Church. He had just earned his law degree in 1958 — and been admitted to the Missouri Bar on his first wedding anniversary — when he was served a draft notice to enlist in the Korean War. Once again, he turned to his older brother for advice.
"Let me check it out and talk to some people," Bill Davis told him. And a few days later, he spoke the words that would determine the next three years of Larry Davis' life: "The Air Force has a program where if you have a law degree, you can get a direct commission as a first lieutenant into the military. You have to serve three years. You could be a judge, or advocate or general officer, and you might learn something."
"I said, 'Sounds good to me, Bill,' " Davis remembered. 
After completing a three-month officer training program at Lackland Air Force Base, Texas, Davis called his brother again and learned he had made friends with the officer at the Pentagon who was responsible for assigning judge advocate officer posts. Following his brother's advice to wear his best uniform and "make damn sure (he) got a haircut," Davis left Missouri for the second time in his life and traveled to Washington, D.C., for a meeting. He had his choice of posts — Thule, Greenland; Karachi, Pakistan; Hawaii; and the place where he and Elaine called home for the next three years: Ashiya Air Field on the southwestern coast of Japan, across the Sea of Japan from Busan, South Korea.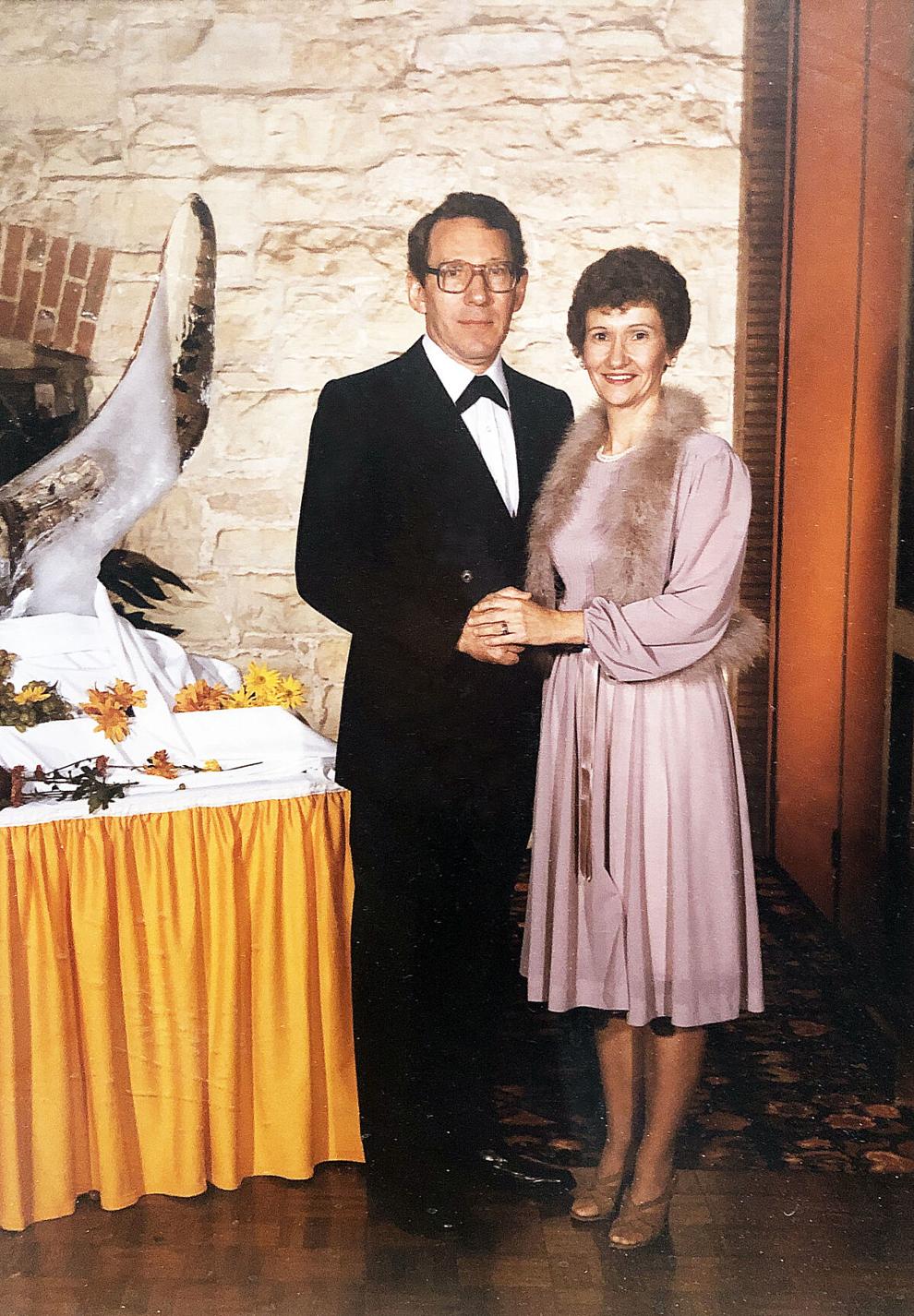 When they returned to the U.S., Davis joined a law firm in Springfield, earning $400 a month. There the couple welcomed a son, Stewart. They moved to Franklin County a couple years later, where they welcomed a daughter, Laurie. Davis went to work for lawyers James Cole and Frank Jenny, earning $800 a month. 
"They said, 'Anything you can earn more than that by practicing law and handling cases, I'll let you keep it,' " Davis said. "So, man, I went to work."
All Rise 
Davis landed his first elected office one year later, when in 1966 he ran as a Republican and beat popular Democrat incumbent, Bill Kimme, to become the prosecuting attorney. 
He credits the victory to his wife, who composed campaign jingles and shared them around town.
"In those days there was a parade almost every Saturday, so they'd get somebody to pull a trailer with a pickup truck and put a tape recorder in there and sing as the trailer drove around town," he remembered.
From the corner, Elaine Davis smiled warmly and without hesitation started singing, "If you want the best, vote for Davis ..." 
Near the end of his second two-year term, Davis said he was telling the sheriff about something the Franklin County judge had done that had aggravated him. The sheriff said, well if you don't like it, why don't you file for office.
"I said, 'Well I might do it if I could raise, the filing fee. I was just joking because the fee was $25," he laughed. But the next week, he received a glass pickle jar with $25 crammed inside. Friends and strangers at an area barber shop had raised the money to encourage him to run. 
Davis won the election, and served as magistrate judge of Franklin County until 1975, when he was elected circuit judge at the state level. In 22 years as circuit court judge, Davis was only reversed by the St. Louis Court of Appeals five times. 
He remembers the years of service as rewarding and oftentimes demanding. There was humor too — he loves telling about one case where a man bought topsoil that had termites in it, and he was suing for the cost of removing the termites.
"I said, 'A termite exterminator is a lot cheaper than a lawyer. Why don't you guys get your heads together, shake hands and leave here happy?' And they did," Davis recalled. "I tried to get people to settle cases if it could be done fairly."
Some cases were easier for him emotionally than others. He enjoyed human interest cases, but he never liked divorce proceedings because children were often involved. His secret to approaching cases was to keep an open mind and servant's heart.
"I tried to always look at both sides," he said. 
His track record was one of the things that got him noticed for a higher office in 1992. 
"Elaine and I were sitting here eating breakfast, and we got a phone call from a sergeant in the Marine Corps. He said 'President George H.W. Bush would like to talk with Judge Davis.' I kind of jokingly said, 'Well I'll see if I can find time.' He laughed, and then we had a conversation with George Bush," Davis explained.
Bush was calling to ask Davis if he would serve on the federal court. He agreed and was offered the job pending confirmation by Congress. Later that year, however, Bush lost the re-election to Bill Clinton, and his nominated judges, including Davis, were not appointed. 
The District Court for the Eastern District of Missouri was familiar with Davis even before Bush had flagged him for the job. Led by now-retired Judge Edward Filippine, a Democrat, the court was impressed by Davis' record and appointed him as a federal magistrate judge. During the week he was sworn in, he and Elaine welcomed a granddaughter from each of their children.
"That was a busy week," Davis laughed. "I went to the hospital and from there straight to the airport to go to Chicago to learn how to be a federal judge."
He served eight years, driving to St. Louis each day to his office in the Old Courthouse across from the Gateway Arch. Three months shy of retirement, he moved offices to the new Thomas F. Eagleton U.S. Courthouse on S. 10th Street, where he and his colleagues loved spending part of their lunch breaks riding up and down the glass elevator outside the building.
"When I sat on the federal bench in St. Louis, I would see these lawyers with $500 suits and diamonds and all that stuff," Davis remembered. "They spoke so eloquently. And I would just sit there and say, 'How in the hell did a barefoot kid from the Ozarks with two pairs of shoes and a pair of overalls get from there to here. It had to be God.' "
Closing Remarks 
With the exception of a couple trips to Mexico, Larry and Elaine Davis had not traveled out of the U.S. since they lived in Japan nearly four decades prior. So when Davis retired from the U.S. District Court in 2001, they did exactly that. In 20 years, the couple traveled to more than 50 countries, including China, Australia, New Zealand, Norway, Sweden, Denmark, Germany, Luxembourg, Austria, Italy and Croatia, just to name a few off the top of their heads, they said. 
"Travel broadens your mind, and you see things you've never seen before," Elaine Davis said. Her husband added, "We could be classified as world travelers. We've been to every continent except Antarctica." 
They've also enjoyed spending time with their five grandchildren and one step-grandchild, and in December 2020 they became great-grandparents with the birth of Walker Vemmer. They also have two step-great-grandchildren.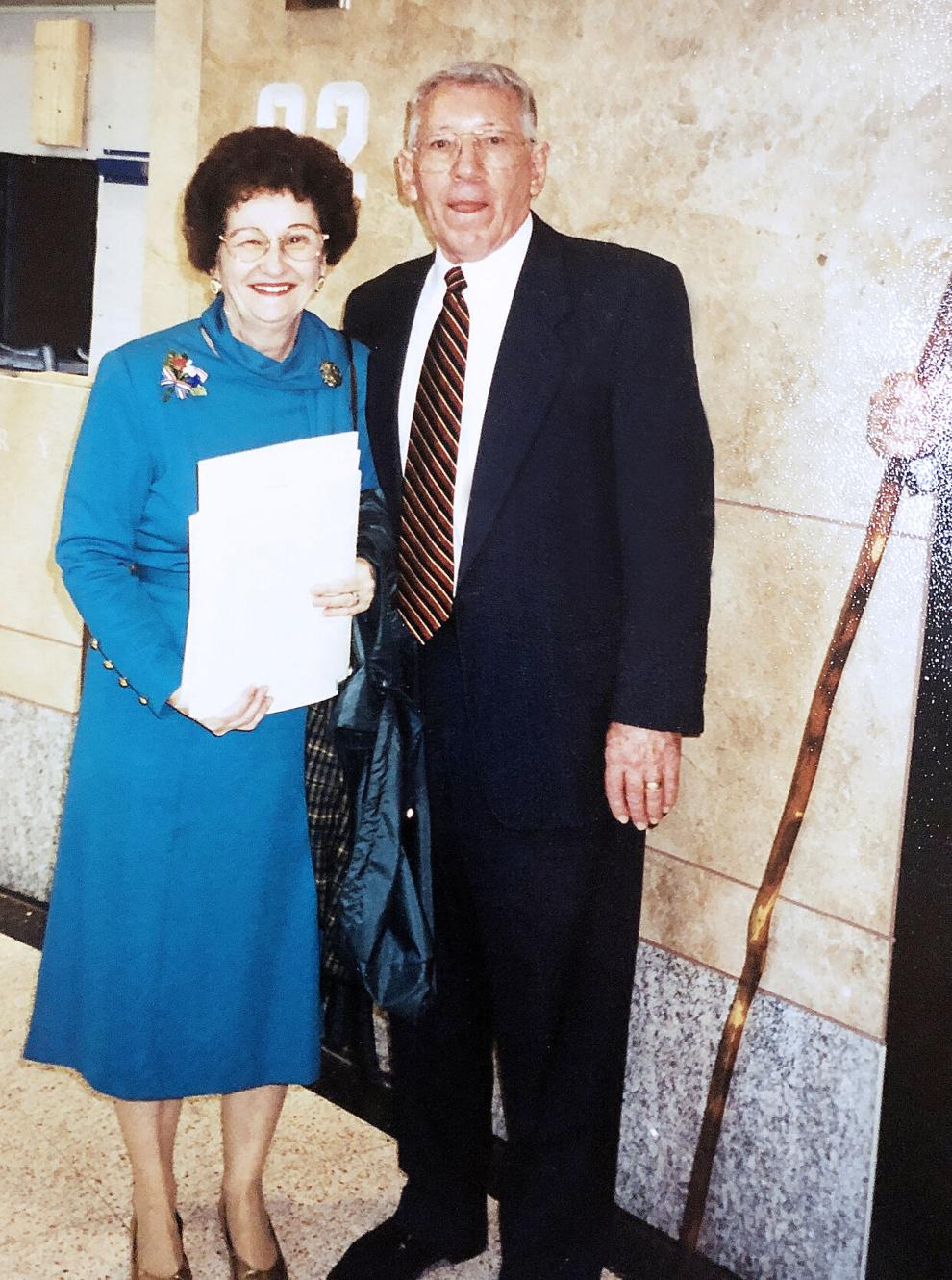 When he wasn't traveling or spending time with his family in the last 20 years, Davis was volunteering. He's an active member of The Ridge Church in Villa Ridge. He's been involved with Rotary, American Legion and Lions Club. And he is a co-founder of the Franklin County Honor Flight, which flies U.S. veterans to Washington, D.C., to see their memorials. Since its inception in 2007, the group has sponsored around 50 missions, altogether carrying more than 2,000 veterans and at least 1,000 guardians.
"That's one of the best things I've ever been involved in," he said. "I was on the board 10 years. I spoke with 200 to 300 veterans, and each one had a story." 
Another favorite organization, which he and Elaine have served for 30 years on the board of directors, is Walk in the Light Ministries, a Washington-based nonprofit supporting orphanages in Romania. 
Most pressing now is Hope Ranch, which is preparing to welcome its first 12 children in the fall. Hope told The Missourian that Davis' experiences with juvenile courts has been a huge asset to the team.
"He's so protective of not just the kids but also that we take care of the community," Hope said. "He pushed to make sure we kept it in Franklin County. He wanted to make sure we're fiscally frugal and making good decisions. Wisdom and humility, that's how I'd describe Judge Davis. I really look up to him." 
The two stood together at the Hope Ranch groundbreaking Dec. 12, Davis proudly holding a gleaming white shovel in the crisp morning.
"We'd been looking forward to that for close to five years," he said. "That was an exciting day for everyone."