Before August and Katelyn Horstmann have even turned around, their dogs Kona and Fly hop into the small bed of a muddy UTV, their tongues lolling and tails wagging excitedly. To the right is a picturesque white farmhouse and to the left a vibrantly red painted barn. A friendly pig named Babe looks on as a baby goat named Dexter hops confidently onto a tree stump to await the Horstmanns return. Goats Norman and Pancake watch from afar.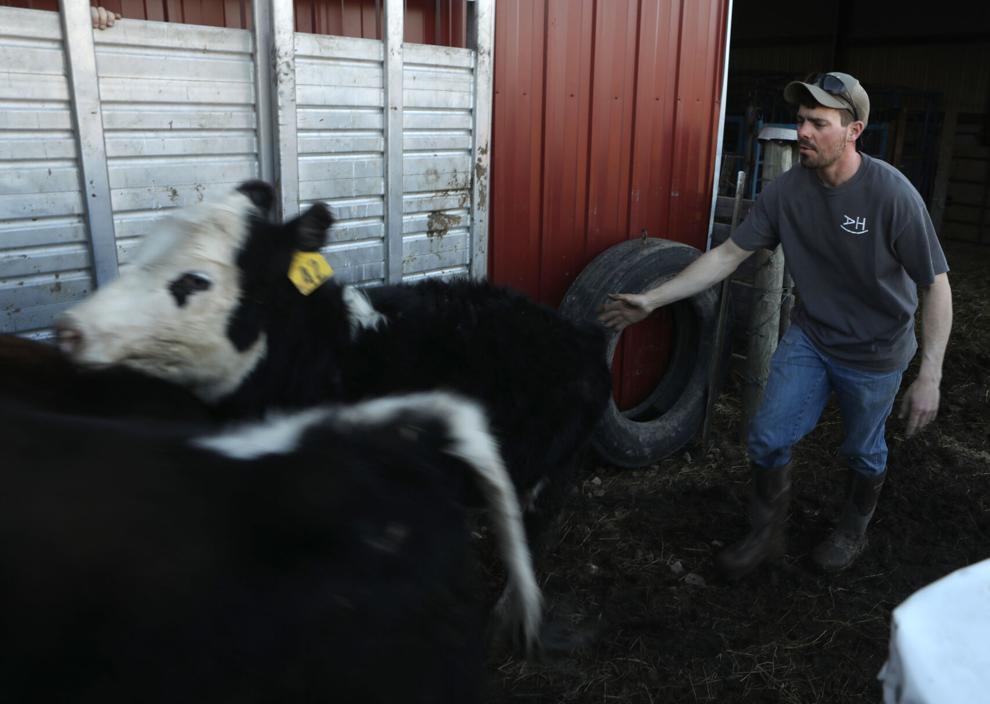 The dogs moan in excitement as the vehicle travels over grassy farmland to a field full of British white, Corriente/south poll and commercial angus cows grazing. Black, tan, white, cream and gray cows turn their heads as the caravan arrives. As August Horstmann reels in the wire separating two grazing pastures — the one where the cows stand and an empty one next to it — and watches his herd of 260 cows sprint into the fresh field to eat, he says he knows that his peers say this way of cattle farming isn't feasible. 
"It's different from what their grandparents did, their dad did and now they do," Horstmann, 27, said at his Owensville farm Sunday, March 7.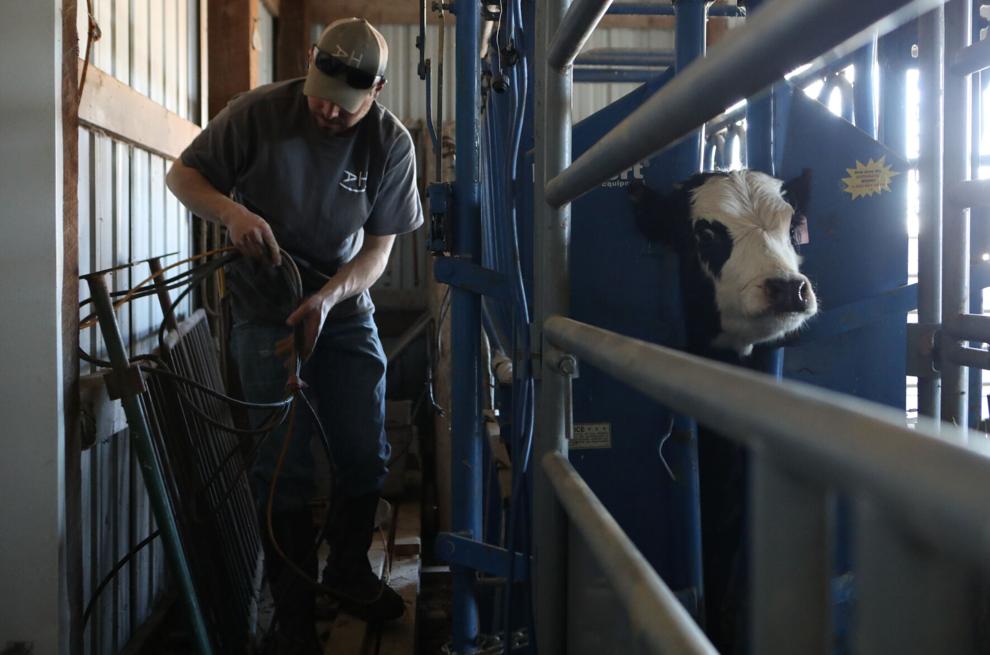 He and his wife, Katelyn, run a 1,000-acre regenerative farm, meaning their cattle are grass fed with no added hormones, supplements or antibiotics, and the couple focus on using the animals to build a healthier soil. The couple's cows, 11 hogs and 160 chickens are kept in fields as opposed to pens. Every 12 to 24 hours, they rotate the cows to a new section of their land for grazing, leaving behind the animals' manure and no other fertilizer to regrow the grass. 
"It's just emulating nature," August Horstmann said. "We (keep) it very simple."
Growing up in St. Louis County, August Horstmann remembers spending every weekend traveling to his grandparents' farm — the land he currently works — and running through the grass barefooted with his cousins and spending time with his grandparents. 
"I always loved the cows, and I loved how free you are here," he said. "Since I was a kid I didn't want to do anything on the weekends except come to the farm." 
August Horstmann always knew he wanted to be a farmer like his grandparents, Lee and Jessie Horstmann, and enrolled in animal science classes at the University of Missouri-Columbia. He started the Horstmann Cattle Co. his first semester, fall 2012, and returned to Owensville almost every weekend while in school to put his new knowledge to use.
"There was a class one semester fully dedicated to nutrition — what feeds would produce the results you wanted, feeds being corn, gluten or byproduct like ethanol byproducts or distillers grain — and nothing about grass or grazing," August Horstmann said. "Everything was focused on prescriptions and formulas, which is what most people are focused on."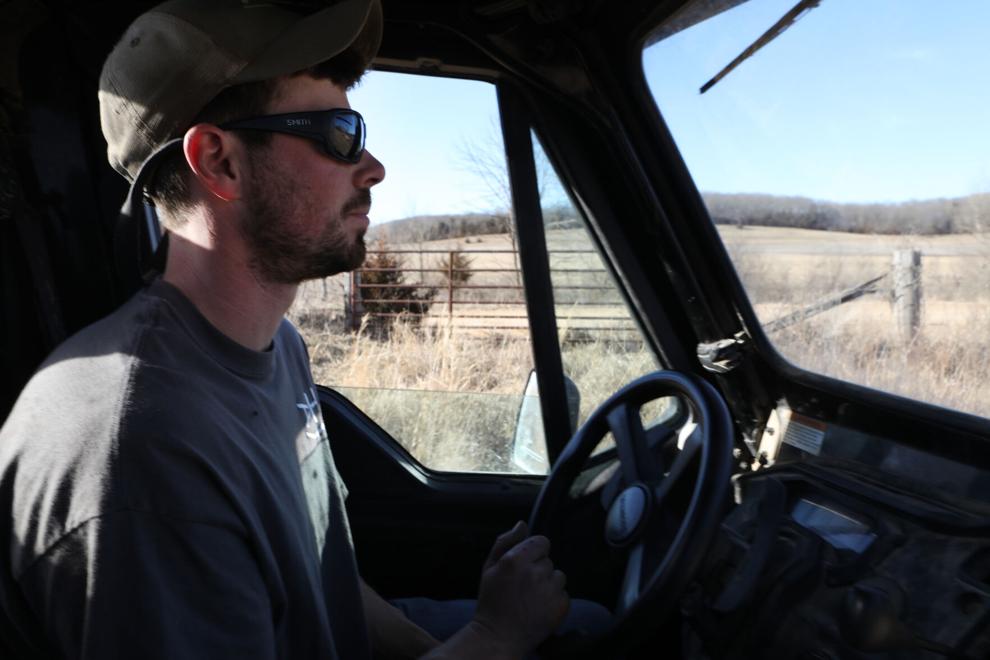 After graduating in 2015, Horstmann was feeding about 65 animals up to 300 pounds of protein every day. He said the added costs of feed, supplements, antibiotics and fertilizer soon forced him to get a second job, which "felt like a slap in the face" after his work to earn a degree to be a full-time farmer. He found work with a farm-equipment dealer and continued scraping by, at one point buying feed on credit and using his personal savings to fund checks that had bounced on his farm account.
In October 2016, he and Katelyn married. She had grown up on a farm in Rosebud and spent her whole life wanting to move to a big city.
"I met August and then wanted to be on the farm," Katelyn, nee Robertson, Horstmann said. "Every day out here is like one big petting zoo."
In April 2017, Horstmann was running about 80 cows and doing mostly grazing on the land his grandfather owned and additional land nearby that his dad had purchased when he started working as a district technician with the Gasconade County Soil and Water District, which is where he first heard about regenerative farming and started learning from YouTube videos. The Rodale Institute, which coined the term, describes regenerative farming as farming practices that replenish topsoil that has been lost and says the method can contribute positively to the climate crisis because it traps carbon in the soil instead of releasing it into the air. More carbon in the soil also can help offset methane emissions from cows. Researchers say the replenished topsoil can create a more biodiverse pasture and nutrient-dense foods. The United Nations estimates one-third of the world's topsoil is gone already, and the rest will follow within 60 years.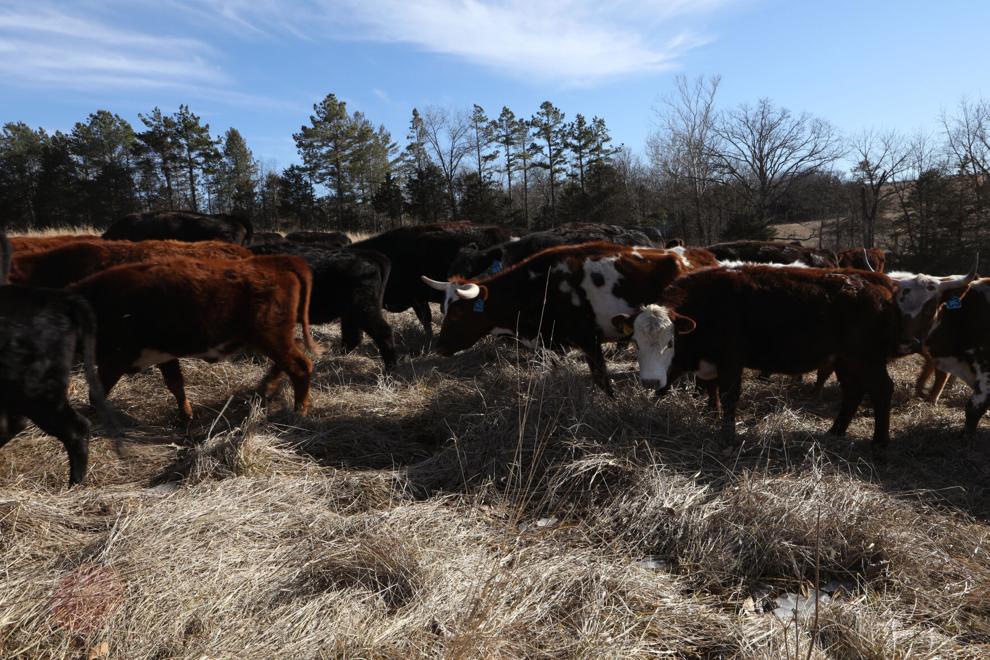 The farming method has received some mainstream attention when applied to crops. A 2018 study cited by the U.S. National Institutes of Health found that regenerative farming of corn results in 29 percent less yield but 78 percent more profits than conventional farming, and food companies such as General Mills have publicly encouraged U.S. farmers to shift to regenerative practices. 
Day to day, the Horstmanns said going regenerative on their farm has resulted in far less labor. The farm has 46 pastures ranging from two to 200 acres that the couple rotates the animals through. Moving the cows is more hands off and takes five to 10 minutes. The pastures' parameters are maintained with a wire running through metal stakes in the ground. The wire can be electrified to keep cows from trying to jump the fence, but August Horstmann finds that even on days he doesn't turn the electricity on, the cows stay put. 
The couple guides chickens and pigs to file into a trailer truck to ride to a new part of the farm every few days, and the couple rolls up the wire fence and replaces it at their new spot. At most, the Horstmanns say this takes 30 minutes to an hour. These animals, particularly the chickens, receive a supplementary non-GMO grain to add to their diet of grass and plants, and the couple checks each day that they have fresh water. If an animal is sick, Katelyn, a former veterinary assistant at Sullivan Veterinary Hospital, will usually care for it. In a medical emergency, Horstmann said they will give an animal antibiotic medicine but added they will then sell the animal to a conventional farm.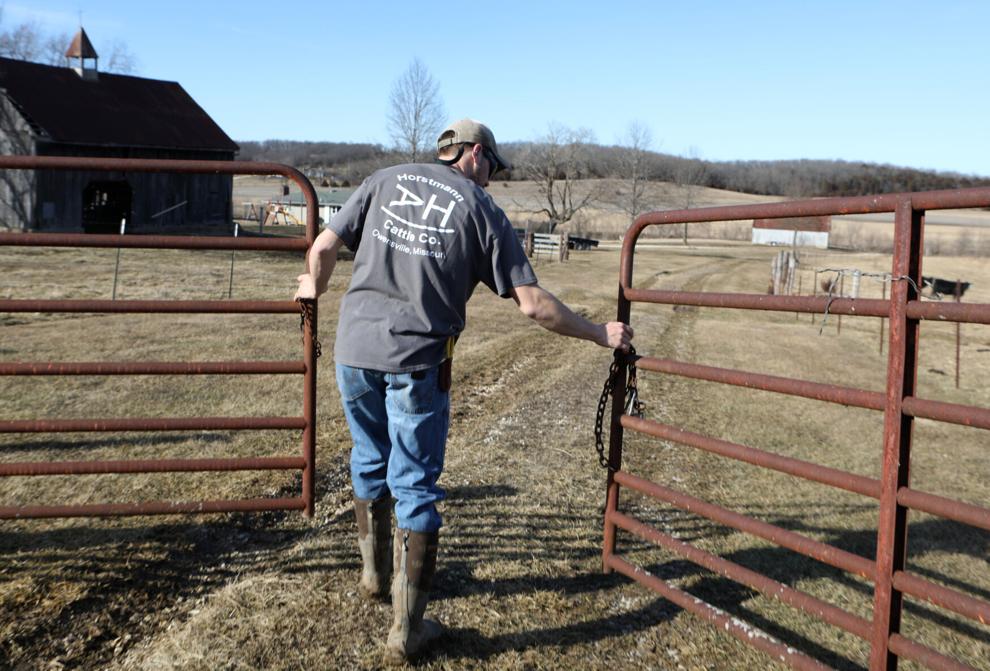 Although the practice has gained attention when applied to crop farming, the Horstmanns said regenerative farming hasn't been as quick to catch on with beef cattle. August Horstmann said he hears common critiques that regenerative farming is too hard to scale or takes too much time. 
"The biggest misconception we hear is that you can't feed the world farming the way we farm," he said. "I'm convinced this is the only way to secure feeding the future. In what other business do you continue to lose money, do it the same way over and over again and expect different results? So we're doing things differently."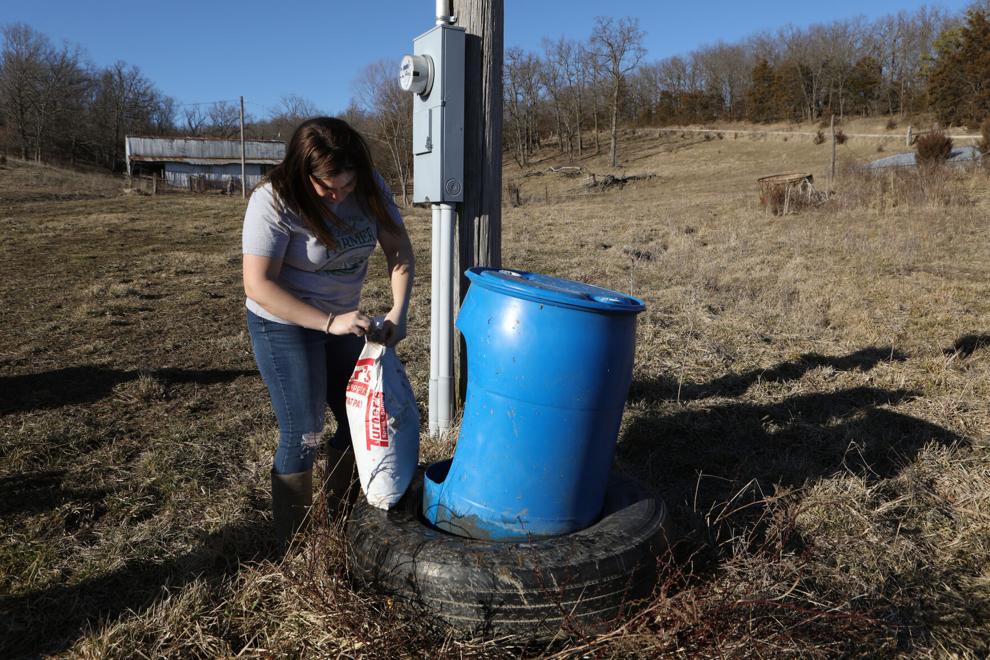 The Horstmanns said their cattle take twice as long to reach a finishing weight as cattle raised in a feed lot and that their cows also often finish at smaller weights than conventionally farmed cows who receive growth hormones, but the couple added that they make up for it in number of cows moved each year. 
"We're focused on pounds per acre, not pounds per cow," Katelyn Horstmann said.
This year the pair will butcher 20 steers, 27 pigs and 100 chickens and will sell 20 to 40 steers to butchers and meat processors. They sell directly to consumers through their website, horstmanncattleco.com, with prices ranging from $5.25 for a dozen eggs to $450 for a one-eighth beef box, more expensive than in a store. 
Katelyn Horstmann also runs the farm's social media on Facebook and Instagram @horstmanncattleco. 
August Horstmann also feels the regenerative method's environmental strengths are key to keeping the beef industry providing food as the effects of climate change, including topsoil erosion, become more pronounced.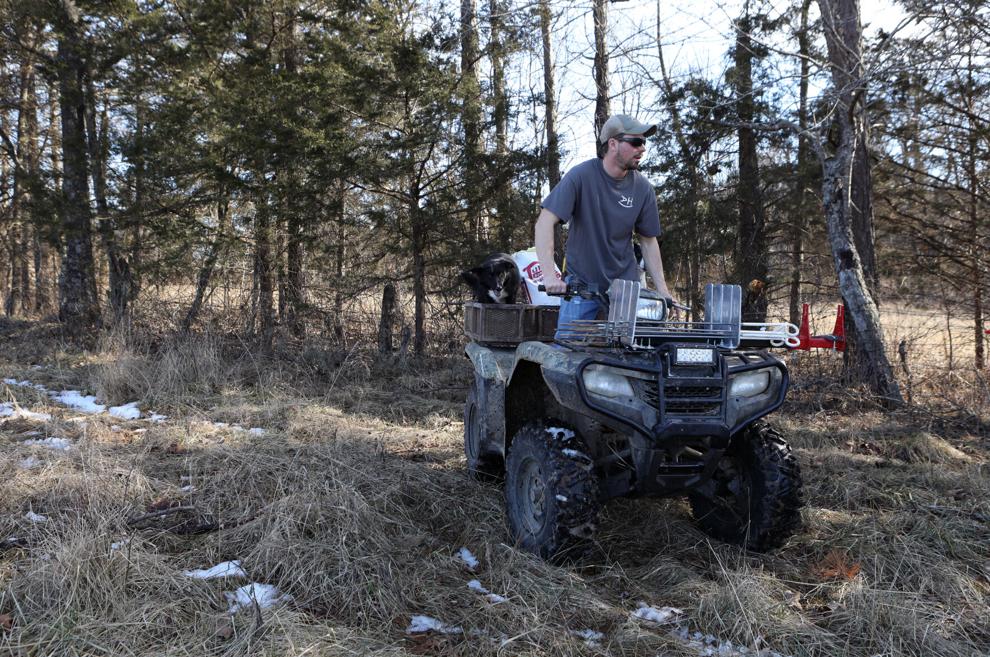 "We hear all about sustainable farms," he said. "Well, why would you want to sustain a degraded soil when you can regenerate and build healthier soils?"