The continuously flowing waters of the Missouri River have been the backdrop of daily life in Missouri's Rhineland region for more than a century. But now, thanks to a recently launched art exhibit at the Hermann Branch of the Scenic Regional Library, the 2,341-mile-long river — along with the Gasconade, Meramec and other rivers — is getting its chance to move from backdrop to focal point.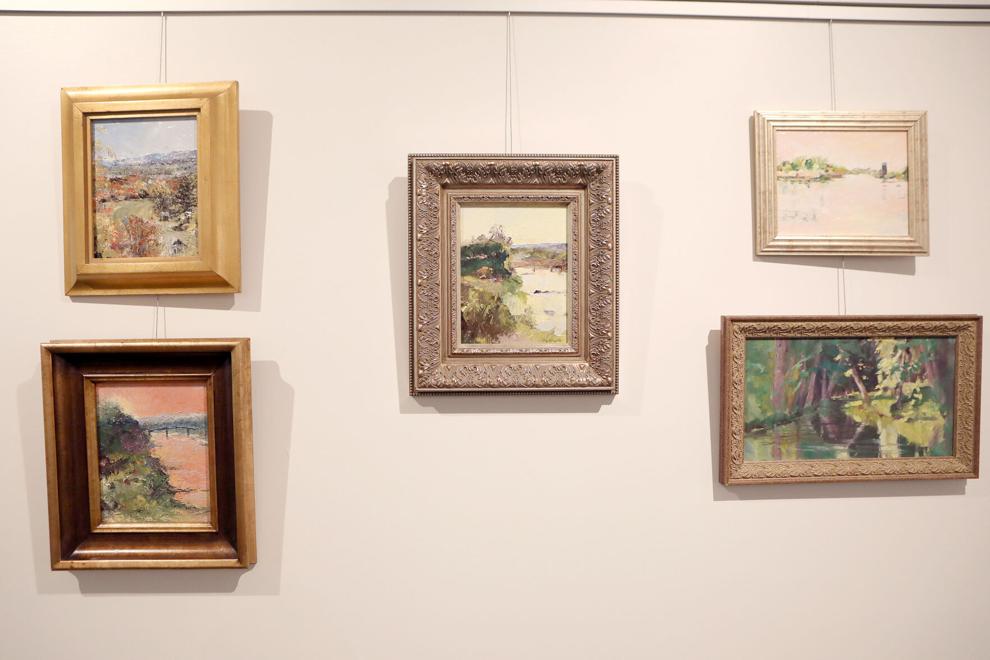 The art exhibit, which is called "Rivers," features 80 different pieces of art from 25 different artists who come from throughout the region. The majority of the artists are from the St. Louis area. The exhibit is housed at The Gallery at the Library, a 2,000-square-foot community art gallery located inside the library branch.
This is the second time that the library branch, which opened back in July, has hosted a large-scale art exhibit.
The gallery's inaugural all-media art exhibit, "Sense of Place," drew around 145 visitors a week and was considered an enormous success by organizers. Gallery and library officials are hoping to replicate that success with "Rivers," which officially opened to the public on Friday, Nov. 4. The exhibit will stay open until Saturday, Jan. 21. The Gallery is open Monday, Wednesday and Friday from 9 a.m. to 6 p.m., Tuesday and Thursday from 9 a.m. to 8 p.m., Saturday from 9 a.m. to 5 p.m. and closed on Sunday. The goal was to have 150 people at opening night, and then 150 viewers a week for the next three months.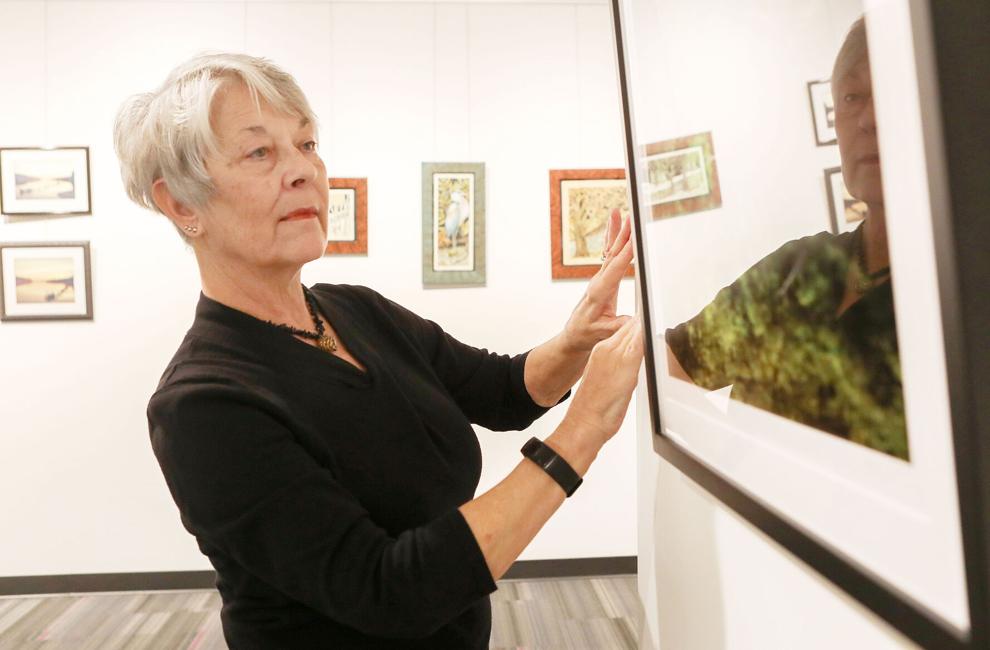 When it came to creating this new library, Scenic Director Steve Campbell looked at the library's history with Sheri Hausman, art gallery manager.
"Sheri had regular art receptions in the library which was relatively small compared to what we have now," said Campbell. "The receptions would draw over 100 people every several months. We had the history of doing them and they were highly popular."
Campbell also recognized that Hermann has a lot of culture and a strong artist community, as well as a big tourism market.
"We're not just appealing to the locals," he said. "With Hermann, there's so many people coming there for the wineries, the distilleries, the bed and breakfasts, there's an additional audience. So, we're not just trying to reach out to the local community but also the tourists."
Since the 1970s, the Hermann library branch has a history of creating space for artists to showcase their work. When the library was located on Fourth Street, the library would host pop up art shows every couple of months to try and highlight someone who had a "regular job," but who has a passion for art. The library continued to host artists when it moved next to Hermann Lumber around 2004.
The library's new location in Barvarian Hills Plaza provided the inspiration for Campbell to create a permanent space for an art gallery inside the library.
The former Alco building, gave Campbell and Scenic a blank slate with ample opportunities. "There were a few people critical of the library being outside of town," said Campbell. "But we did it because that's where the land is. The building was reasonably priced, it had high ceilings, grass for a patio, room for tenants, it didn't require a of demolition, and it was cheaper to renovate a building then to build from scratch."
As Hausman prepared for the first invitational show for outside artists, the question of "what should the next theme of our show be?"
"Julie Wiegand said rivers, because it should be as simple as possible and people can respond to that," said Hausman. "And everyone did. They looked at their own mediums they were working in, and they did something in that based on their personal perception of what rivers meant to them."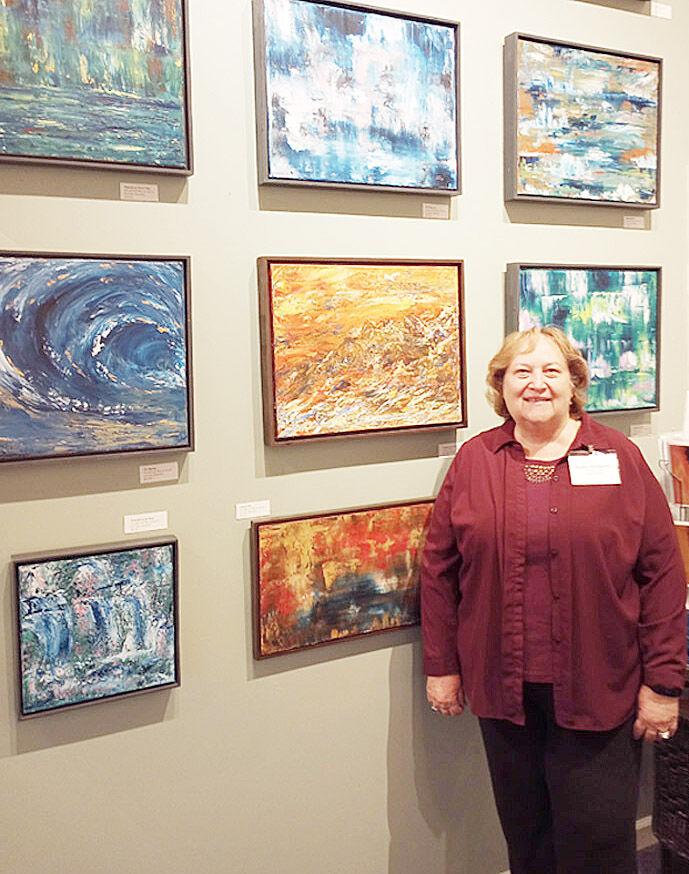 Linda Abernathy, a part-time accounting instructor at Fontbonne University and Jefferson College, had two pieces selected for the exhibit.
When she saw the announcement, it was too late to create anything new, so she turned to her extensive collection of oil and acrylic paintings. "I looked at my work to see what would match the theme the best," said Abernathy. "I picked out several pieces and two got accepted. One is very abstract and all about the colors and textures, and it shows water flowing. The other is a heavy textured painting based on a photograph my step father took in Branson of the river."
Abernathy moved to Hillsboro from Iowa about 10 years ago to be closer to family. Though she went to school for accounting at St. Ambrose University, she spent 10 years in the accounting field and 25 more years teaching accounting, art has always been something she loved.
"I've always dabbled in it a little bit," she said. "I've always had that desire to get more into painting, and as I started retiring, I started having more time. So, I've really started focusing on it the past five years."
She started painting when she was just 9 years old. She asked her father for a paint set, an easel and some canvases. Since then, she's explored new techniques and found her specialty – mixing cold wax and oil paints to achieve vivid colors and textures.
"I like a lot of abstract art," said Abernathy. "I do mostly landscapes and abstract landscapes."
Painting has helped her release emotions by focusing her energy on blending colors directly on the canvas or panel. She is inspired by the work of the German visual artist, Gerhard Ritcher. Her art has also been a part of the Missouri Art Show: Show Me State Bicentennial Art Exhibit, Tanglefoot Art Gallery, Soulard Art Gallery, and many more.
"We're building an art platform here," said Hausman. "We feel like we are establishing ourselves and it gives us the opportunity to not only show art and to show peoples' art and to be a destination in the middle of the state for art galleries, but also it gives us a chance to educate people about the ways people interpreted the theme."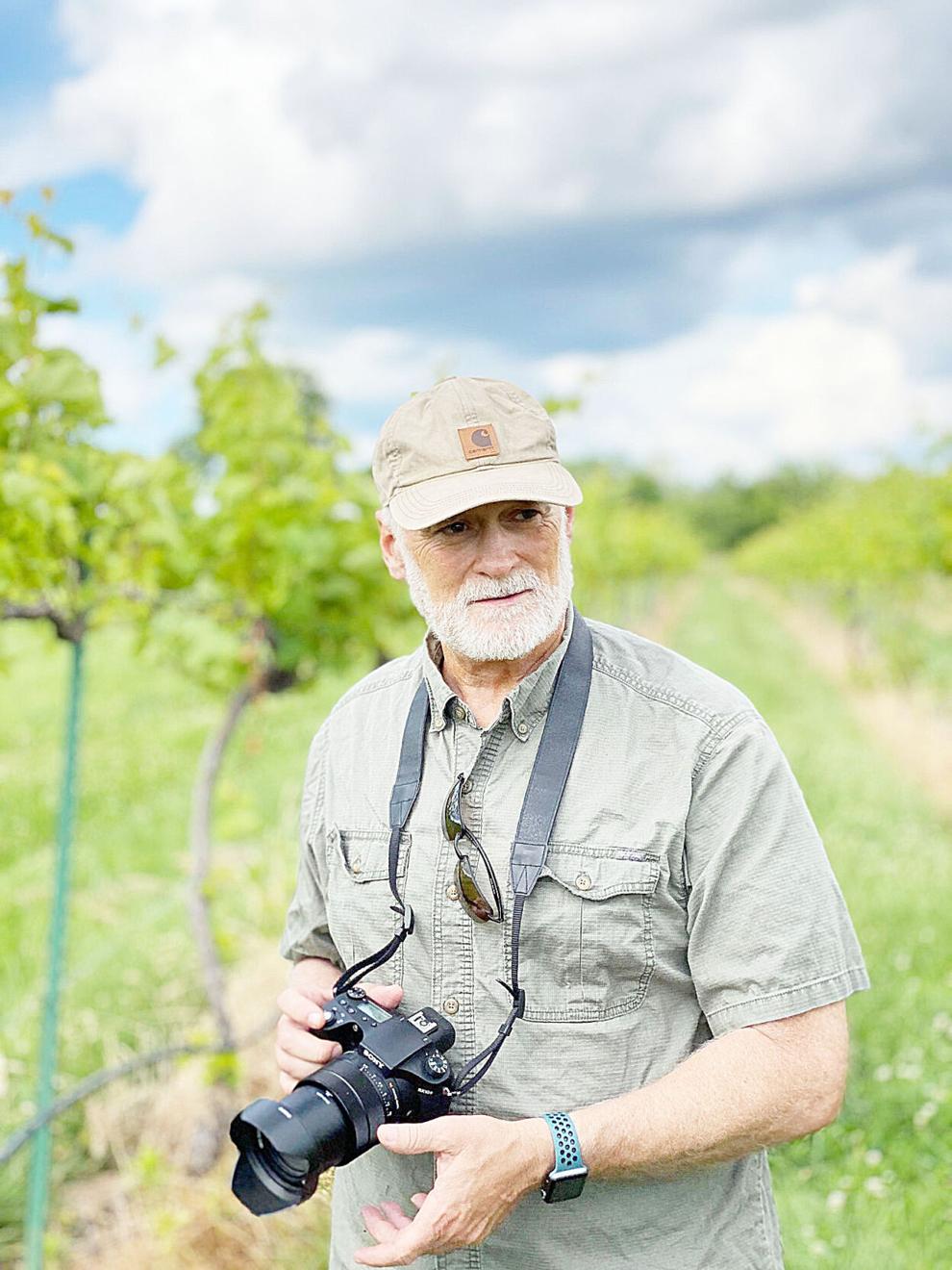 Tony Carosella, a photographer from New Haven, also had two pieces accepted.
"I was encouraged by Sheri Hausman," he said.
One of his pieces was shot with a drone and is of the fog in the Missouri River Valley. The other was shot with a long telephoto lens during the Missouri River 340 race back in July. It's of a participant sitting down on a bucket on a stand up paddle board while he's heading into the sunrise.
Carosella went to Washington University's School of Fine Art with the intentions of getting an art degree, but ended up quitting his senior year.
"My senior year I went to work for my filmmaking teacher," said Carosella. "And then I've been doing commercial and fine art work from then on."
From 1992 to 1996, he and Barry Mandel started The Center of Photography, a fine art photography gallery. It was located where the current Duane Reed Gallery is today in the Central West End in St. Louis. He has also taught all the Adobe Creative Suite programs at St. Louis Community College - Meramec for the last 13 years, and currently serves as the editor at the New Haven Independent News.
Carosella's fascination with the Missouri River began when he moved to New Haven 18 years ago. But the encouragement from Gary Liebman and Gary Rice is what really helped Carosella "get out and do art on the river."
When it came to deciding what artists to pick and what pieces of art to include in the exhibit, Hausman said it was a team effort. But from her perspective, she was looking for art that not only was well done, but also would complement the other items selected for the exhibit.
"The thing is, I think a lot of people are ready for this kind of exposure to art, and also the way it's displayed and brought to them." said Hausman. "They don't have to travel to St. Louis or Columbia or a regional art center, because we can become a regional art center and that's what Scenic Regional has allowed us to do here."
Artists in the "Rivers" exhibit include; Alice Calhoun, Michael Mahoney, Catherine Mahoney, William Fields, Joey Los, Lou Ann Branz, Jane Mudd, Harold Ostergaard, Martha Daniels, Lindsay Van Deursen, Don Melsha, Dolores Jensen, Linda Abernathy, Bridget McDermott Flood, Deanne Row, Mike Langille, Daniel Barton, Tony Carosella, Jan Trager, Susan Moore, Janet Moore, Julie Wiegand, Carole Behrer, Susan Rogers, and Deborah Williams.
The gallery is free and open to the public, and all artwork on display is for sale. A percentage of every sale benefits the gallery.
"When I saw the invitation, I was like that's such a great idea," said Abernathy. "It supports the library. So, if anything sells, a percentage of the sale goes to the library, which I like. I like being able to do something with my artwork; to be able to support different causes."