Daniel Feth said he was leaving a Cardinals game about two years ago when he first saw him. A man dressed as an exact replica of the famed DC Comics superhero with a red and blue suit. He dubbed himself St. Louis Superman. Feth started talking to the man, and he told Feth he frequently visits hospitals in costume to put a smile on people's faces.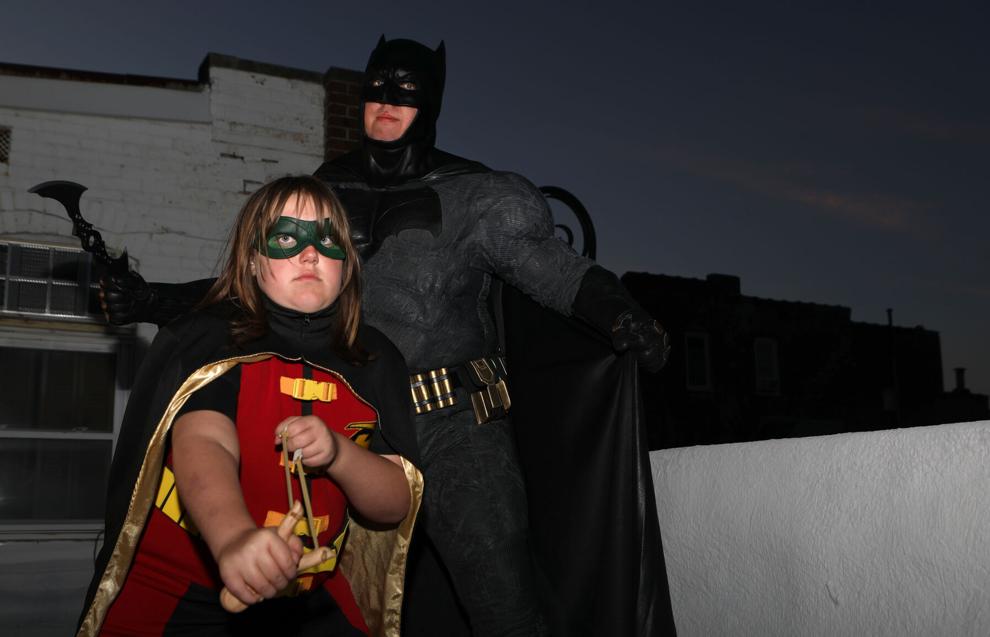 "That got stuck in my head," Feth said. "I'd been looking for something to do for the community because my dad was a volunteer firefighter, and now that my daughter is getting older I wanted her to see me doing something to give back." 
Feth set out to pull together a professionally made, high-quality Batman suit. He and his wife, Patricia, got individual pieces from prop builders and found online a man in Illinois who sewed the muscle suit. The costume has three layers and a leather cape. 
His first outing in costume was to a toy store opening in St. Charles, just to make sure the costume worked and he felt comfortable.
"I figured, if I end up hating it, I'll have one heck of a conversation piece," he said. "And almost immediately I'm standing outside the store, and this little boy sees me and takes off down the sidewalk running toward me. He jumps on me and does not let go. That completely warmed my heart. I fell in love with doing this after that."
He found a St. Louis-based group called Gateway Superfriends, with members who dress as Spider-Man, Wonder Woman, Deadpool, Captain America and more and attend big events in costume to spread joy. He soon found himself attending fundraisers, 5Ks and charity events and making visits to hospitals.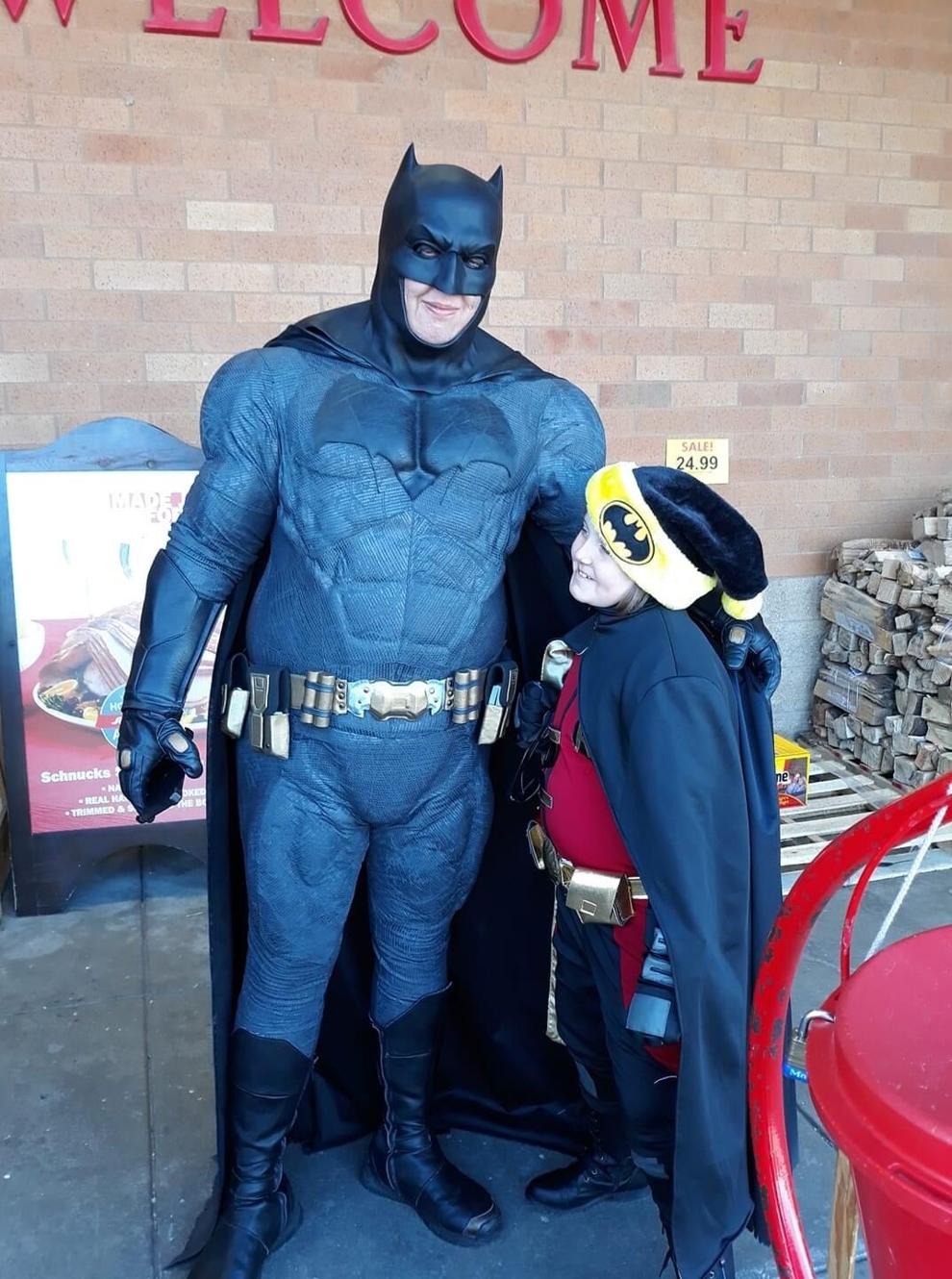 Feth travels up to an hour and a half away from his Beaufort home to make in-costume appearances. Locally, he's visited the Franklin County Back to School Fair and rings Christmas bells for the Salvation Army. Last week, he visited residents at a nursing home. 
His choice of costume is one of the most easily recognized superheroes in American pop culture. The DC Comics character first appeared in print in May 1931, and the first edition of "Batman" was published in the spring of 1940, containing in it the characters Catwoman and the Joker. The comic continued running throughout World War II and in 1943 became a successful newspaper strip. A well-watched TV show in the 1960s further popularized the character, and the first successful film adaptation came in 1989 from director Tim Burton. 
Thousands of comics in the Batman universe have been released in the decades since. The original Batman comic closed its volume 1 in 2011, and volume 2 ran from 2011 to 2016. The original Batman and Detective Comics series began volume 3 in 2016. 
Creating the identity of one of the most famous characters of all time is no easy task. A special battery-operated microphone allows Feth to talk in Batman's voice while in-costume, and children he visits with soon find he's not so scary, he said. 
"With my size and my costume, some kids are intimidated at first, so I get down on their level, on my knees, and say, 'Look, you don't have to be scared, these are just some pajamas,' " Feth said. "Just the way you talk to them and those little mannerisms really help." 
Feth has attended DARE events with Officer Burke in Washington, as well as dozens of events for childhood cancer. He estimates he's pushing 100 events attended since he started in 2019, and that's counting almost a full year off due to COVID-19.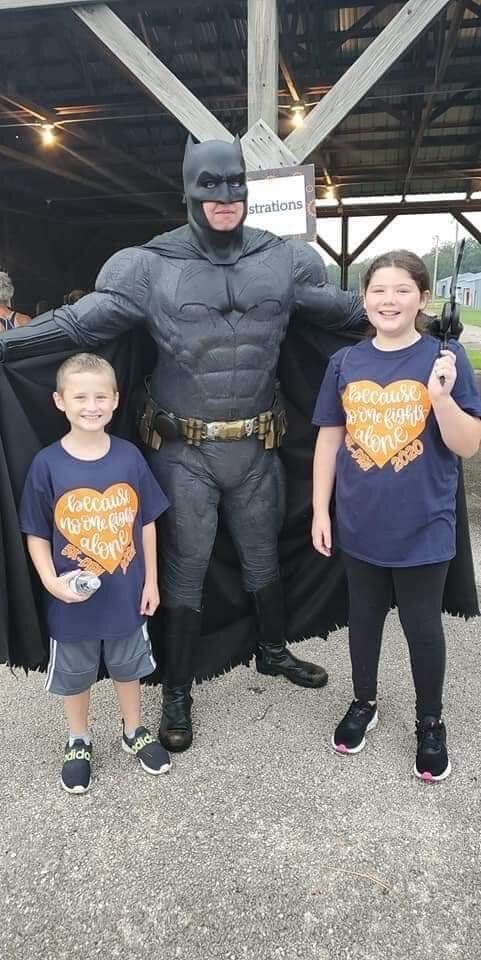 The events usually last about two hours, and the thick and heavy costume gets physically demanding to wear, but Feth has made appearances that last up to five hours.
"You feel like a trainwreck the next day," he said, laughing. "That (Batman) suit really takes it out of you."
He once was asked to officiate a wedding as Batman, a small ceremony at the couple's — who were strangers to him — apartment, which he said is one of his best memories in the costume. His worst was attending the funeral of a little boy whose families had requested superheroes come because "the boy had died being a hero."
His most frequent events are in coordination with Gateway Superfriends and, before COVID-19, involved two to four "heroes" visiting treatment centers such as St. Louis Children's Hospital.
"We'll wander around and spend extra time with anyone who we notice is in bad shape," Feth said. "I don't know how to describe it, but some of these kids that are possibly in a terminal situation, their attitudes are amazing. … There's a spiritual feeling in that situation. They're very resilient, but it really tears you up (to see)."
Although Feth's free time quickly filled with volunteer appearances as Batman, there were some instances where another Batman in the St. Louis group would fill the need. As having two would ruin the illusion for small children, he said, Feth started looking for another costume to have for those instances. He chose Green Arrow, another DC Comics superhero who first appeared in 1942 and has inspired several modern series and spinoffs. However, Feth noticed the response was not the same.
"After doing Batman, which everybody recognized, and always getting such a great reaction, being a lesser known character just wasn't the same," Feth said. 
His next costume acquisition was not a superhero but a popular pop culture icon that adults could get as much of a kick out of. The costume cost $800, and he is still slowly upgrading pieces here and there. Still, he is instantly recognizable as Darth Vader from the "Star Wars" film series.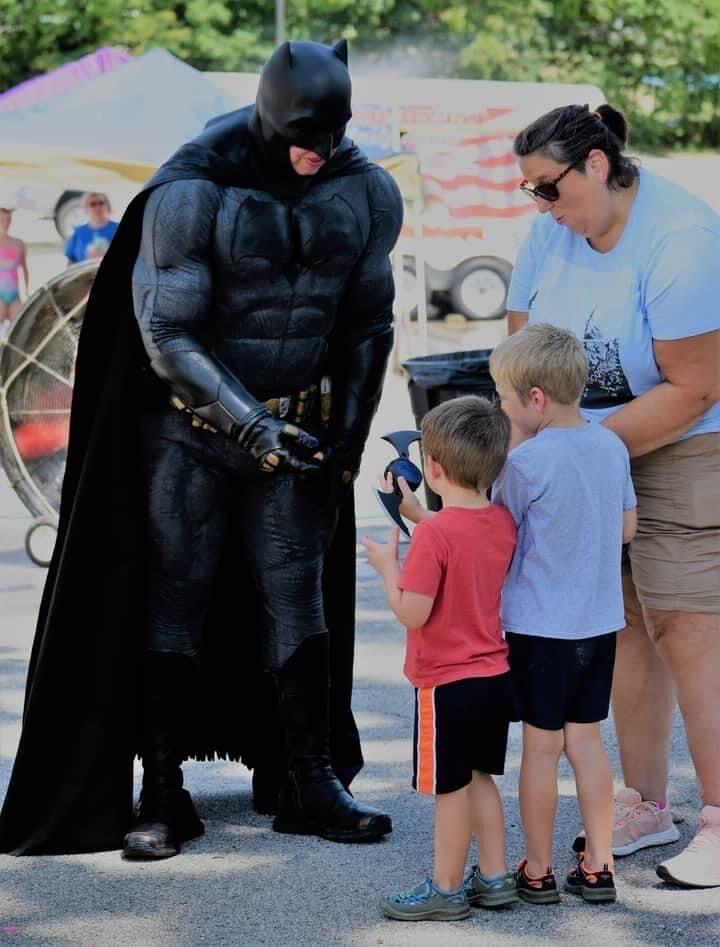 He wears that costume often to events with more adults. 
Feth said he tries to avoid private paid appearances, and if he does book one, he prefers payment in the form of a charitable donation. He said he doesn't want the role to ever feel like a job.
"This is fun for me and gives me an excuse to get out there and do something," Feth said. "It's not as much fun if it's a job. I don't want that experience." 
Nonprofits, schools and other organizations interested in having Batman and Robin attend their events can reach him at Facebook.com/MidwestBatman.
At several of the children's events he's attended such as Trunk or Treats, Patricia Feth said the couple's 9-year-old daughter, Rei, would sometimes feel left out watching dozens of kids come up to her dad. Wanting her to get involved in giving back, too, the couple got her a costume to play Robin, Batman's longtime sidekick. She eagerly interacts with people in costume, doing particularly well with the smallest children who find her less intimidating, Patricia Feth said. 
Daniel Feth said she took to the character right away, bonding with children and enjoying making people smile. 
"We thought it'd be good for her to learn how to interact with people because she's very shy," he said. "And now she's come a really long way." 
Another favorite costume of hers is an inflatable Pikachu of the Pokemon franchise. The cute yellow mouse-like character is a favorite of small kids at the events.
But Feth finds most older children up through adults love best the classic team of Batman and Robin.
"I think he's just been such a big pop culture icon for so long. Everybody has some kind of memory with him," Feth said. "Most people can connect him with something, so he just speaks to everyone."