"The Empress and the English Doctor: How Catherine the Great Defied a Deadly Virus" by Lucy Ward
For Adult Non-fiction Readers
Review by Erica Mosley, Scenic Regional Library Branch Manager in Owensville
In 1768 the famously unconventional Empress of Russia, Catherine the Great, took a calculated risk most people of that era considered absolutely insane: she infected herself with smallpox. On purpose.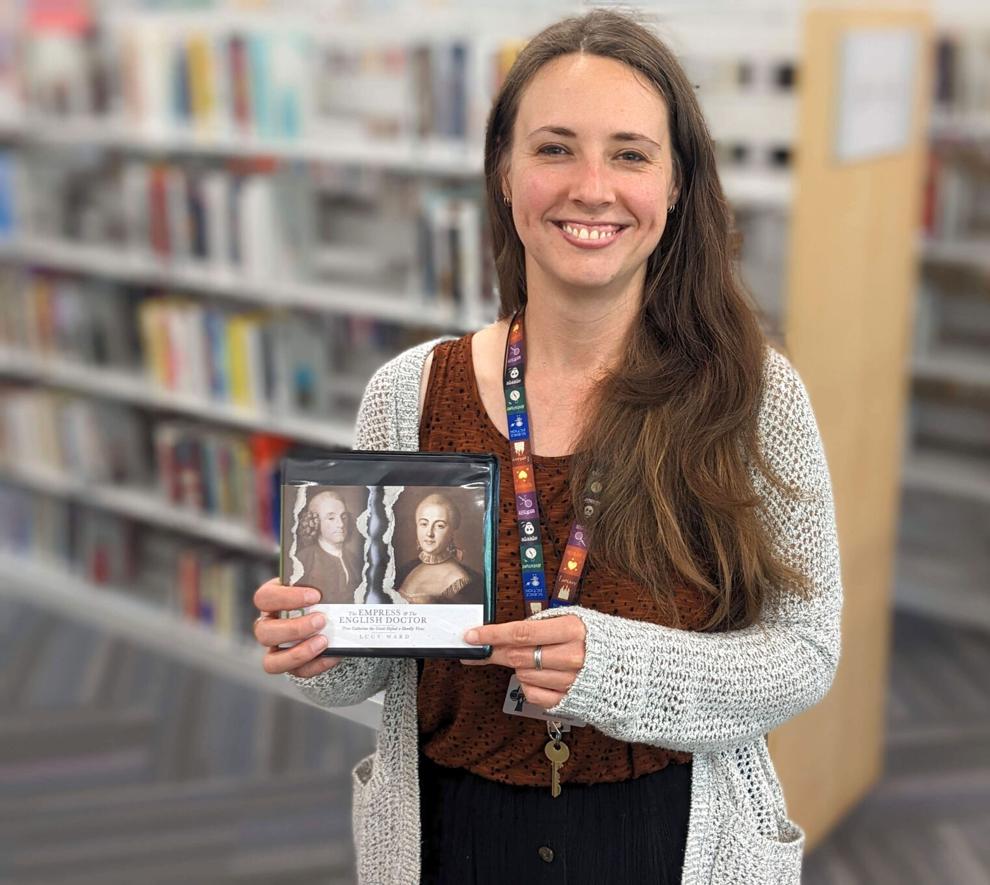 She had watched the virus kill 400,000 people every year, just in Europe alone. It was gruesome and painful, and no one was safe. Smallpox struck down peasantry and royalty alike. Only one in five survived, and those who did were blinded for life or disfigured by scars.
This was a century before germ theory. Western doctors, armed only with leeches and smelling salts, were no match for a highly transmissible virus.
There were, however, a few pioneers.
The humble Quaker doctor Thomas Dimsdale did not discover inoculation.
(There are records of elderly women in Turkey successfully inoculating village children by pricking the skin with needles dipped in smallpox pustules they preserved in walnut shells). But he helped refine it and devoted his life to spreading the gospel of inoculation. Catherine, after much research, sent emissaries to England to bring Dimsdale to St. Petersburg. She herself would be inoculated, using her own body as a test tube to convince the Russian people inoculation was safe.
My favorite parts of this book were glimpses into the personal lives of the key players.
Catherine was an adrenaline junky who built and rode one of the world's first roller coasters. She loved dogs. Muddy footprints sometimes appeared on Catherine's correspondence. They belonged to her Italian Greyhound, Zemira, who sat on the Empress' lap while she wrote. 
Dimsdale inoculated Catherine at great personal risk. If it went badly he could be executed, and Russia could attack England if it interpreted Catherine's death as an assassination. Catherine knew these dangers. The inoculation was done completely in secret, and she arranged for a carriage to rush Dimsdale to the Russian border under cover of night, if anything went wrong.
But nothing did. Catherine experienced only the mildest symptoms, the sign of a successful inoculation. Dimsdale went on to inoculate her son and her court, then trained Russian doctors to inoculate the Russian people. History would celebrate Catherine as an Empress who knew how to lead by example, rather than by force.
I listened to the audiobook version during my daily commute and very much enjoyed narrator Malk Williams' stately British voice. If you like science, history or both, pick this one up.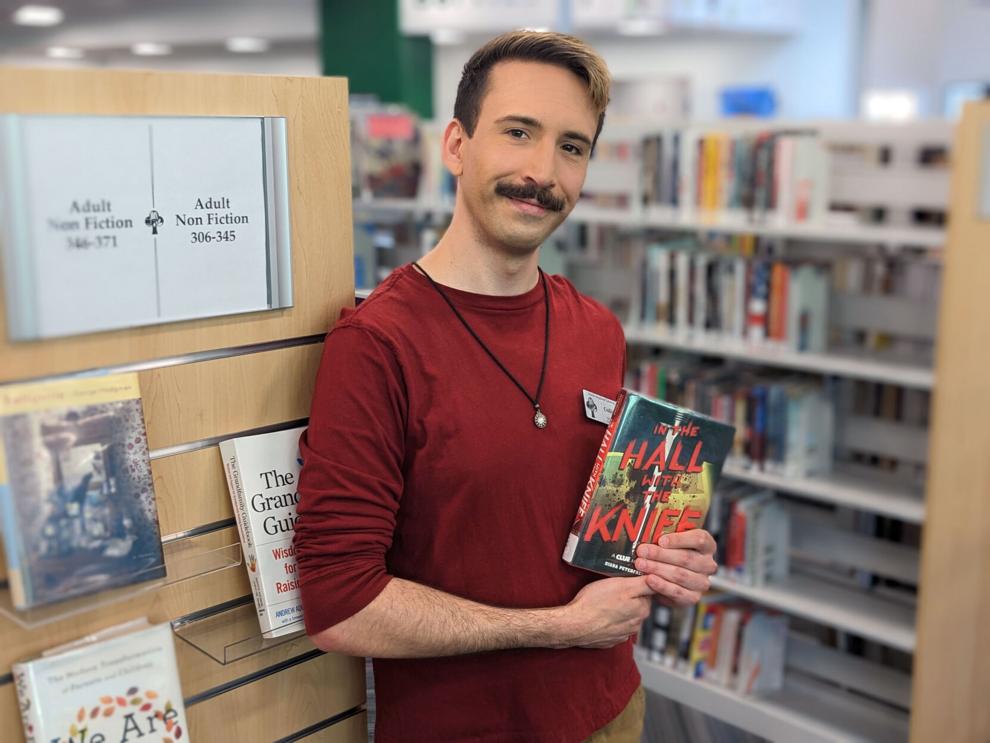 "In the Hall with the Knife" by Diana Peterfreund
For Young Adult Fiction Readers
Review by Colin Robinson, Scenic Regional Library Assistant / Floater in Union
It was Scarlet, in the library with the revolver! Or was it Mustard, in the conservatory with the lead pipe?... Everyone's a suspect in Diana Peterfreund's "In the Hall with the Knife;" the first entry in a young adult trilogy based upon the characters and themes of the classic murder mystery board game Clue.
The novel is set at the prestigious Blackbrook Academy; a secluded boarding school located along the coast of Maine. It begins right as most of Blackbrook's students have fled campus for the holidays, when a catastrophic winter storm suddenly rages through the area. While flood waters wipe out all modes of transportation and communication between Blackbrook and the outside world; remaining residents are forced to take shelter inside an old mansion serving as the girl's dorm building — the historic Tudor House. Among the colorful cast of strandees are Headmaster Boddy, the dorm proctor Mrs. White, custodian Rusty Nayler, and students Orchid McKee, Phineas Plum, Beth "Peacock" Picah, Vaughn Green, Scarlet Mistry, and Samuel "Mustard" Maestro — all of which are aptly named after iconic Clue characters. Awakening after their first night riding out the storm, the group is horrified to find one of Tudor House's residents dead — a knife pierced through the victim's heart. With suicide being ruled out, everyone quickly realizes that someone — possibly one of the residents — is to blame. As tensions rise and secrets begin to surface, it becomes evident that many within the house carry a motive for murder.
Will someone be able to pinpoint the killer before the secrets hidden within Tudor House trap another soul inside its icy halls?
"In the Hall with the Knife" is a murderously entertaining novel that Clue fans young and old alike will surely delight in. I personally loved the contemporary prep school spin on the classic Clue narrative, with Blackbrook Academy serving as a perfectly moody backdrop for a murder mystery geared towards young adults. The characters were quite engaging, and faithfully depict younger, more modern versions of the iconic Clue suspects. Peterfreund has done an excellent job of crafting a well-rounded story based upon the popular franchise (keen fans may even recognize a few nods to the 1985 Clue film!), yet one that Clue-less newcomers can also plunge right into. If you enjoy a good mystery, be sure to give "In the Hall with The Knife" a stab!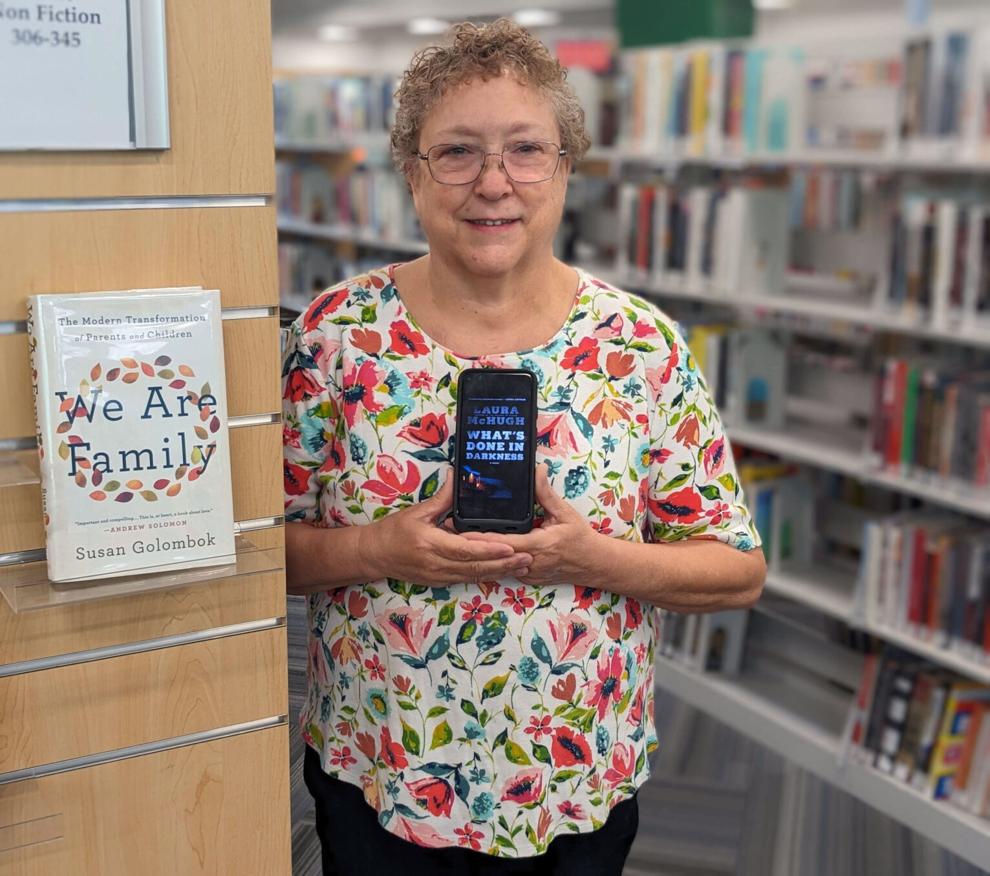 "What's Done in Darkness: A Novel" by Laura McHugh
For Adult Fiction Readers
Review by Lori Jane Perdew, Scenic Regional Library Branch Manager in Pacific
"What's Done in Darkness" is a fascinating look inside a tight-knit religious community and what sometimes happens when a person doesn't conform to the norms established by the church sect.
Seventeen-year-old Sarabeth longed to escape the drudgery of living on a small dirt-poor farm in the Ozarks in Wisteria, Arkansas. She remembered when they used to live in town and had TV, drank Cokes and wore jeans. Now she must work in a field with a long-sleeved, floor-length dress on and her uncut hair pulled up in a bun. She was always getting into trouble and defying her parents' rules. Sarabeth's mother informed her that she would be getting married soon to a man she didn't know and she felt totally alone—suffocated by her life.
One day as she worked her parents' vegetable stand, a man abducted her. Her ambusher captured her, hog tied her, blindfolded her and took her to a dark place. After a week, she was taken back to the cornfield and released. The police, community and her family didn't believe that she had really been kidnapped. They figured that she ran away but came back. Eventually, she left and created a new life. It wasn't exactly the life she had hoped for and she still had emotional scars, but she was free.
Five years later, an inspector comes to see her. He believes that her abduction was part of a series of abductions of young girls from similar situations. He needed her help to figure out who was taking these girls and what happened to them.
Now, Sarah is caught up in the nightmare of her past as she searches for answers to help other young girls like herself.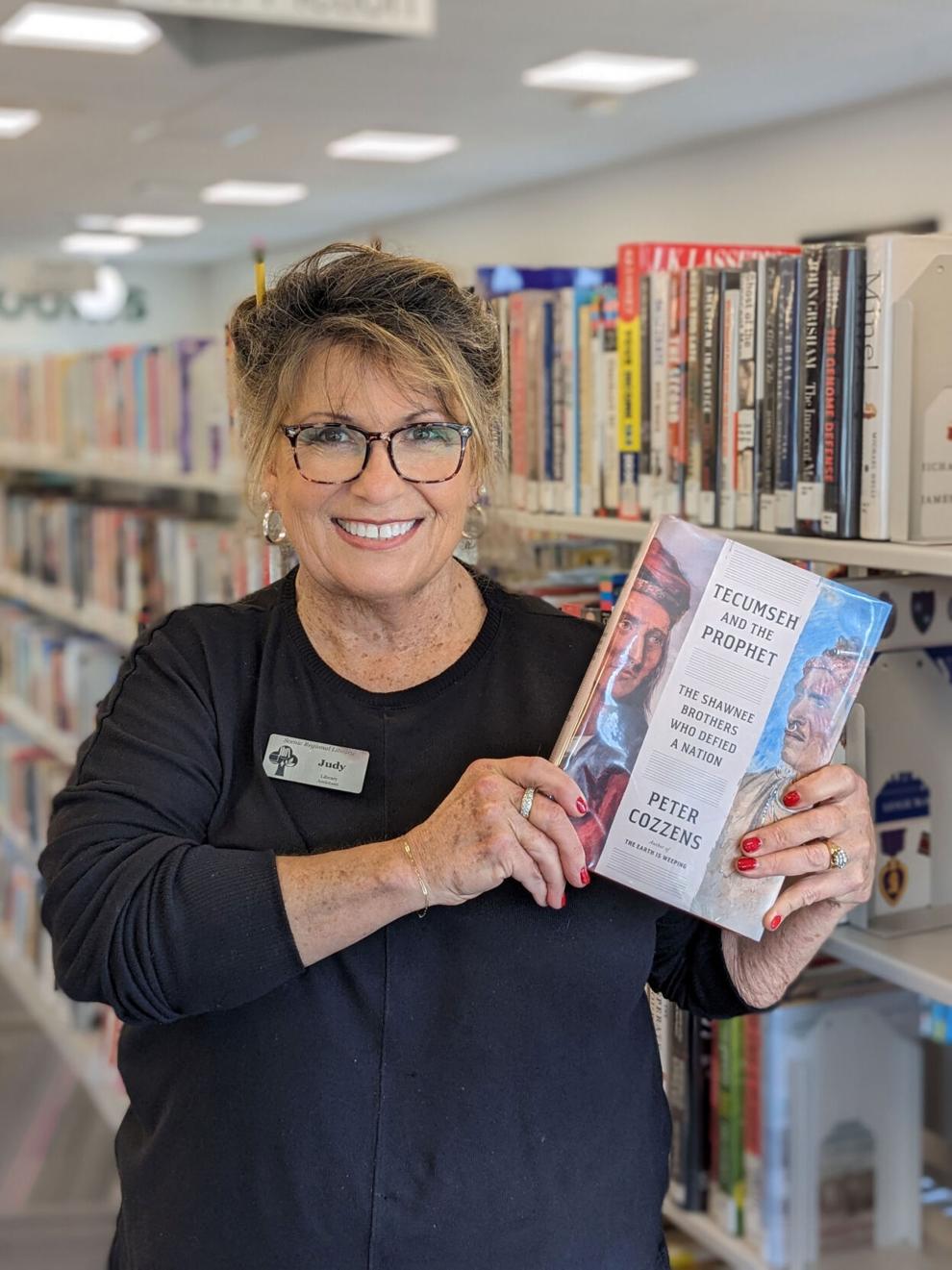 "Tecumseh and the Prophet: The Heroic Struggle for America's Heartland" by Peter Cozzens
For Adult Non-fiction Readers
Review by Judy Walter, Scenic Regional Library Assistant in St. Clair
Peter Cozzens, is an award-winning author of more than a dozen books featuring the American Civil War and the American West. Retired from the U.S. Department of State, Cozzens served as a Foreign Service Officer. This offering was published in October of 2020, winning the Western Writers of America Spur Award, and was a finalist for the George Washington Prize.
In this double-feature biography of Tecumseh and his mostly-unknown brother Tenskwatawa, also known as The Prophet, I found Cozzen's writing to be that of a passionate researcher, and gifted and compelling storyteller, who can draw you into the struggle experienced by the Native American brothers and their people. The 24-page bibliography is testimony to his extensive research.
The brothers were overshadowed in history by the likes of Sitting Bull and Geronimo, or at least that is the case in most textbooks and folklore. But these two Shawnee leaders, and the confederacy they spearheaded to resist American Expansion north of the Ohio River, and east of the Mississippi, was so powerful and impressive that, at their height of power, "they mustered twice as many warriors as Chiefs Sitting Bull and Crazy Horse would three generations later at the Battle of the Little Bighorn." That's pretty impressive.
The Shawnee brothers are finally given their due as the leaders of the Shawnee Nation, who devoted their lives to slowing down, and repelling the American expansion into northwestern Ohio during the late 1700s and early 1800s. Forced west with the signing of treaties, including one signed on the banks of the Auglaize River in my hometown of Wapakoneta, Ohio.
Many crossed the Mississippi near Cape Girardeau, with some staying, and others moving on to the Shawnee reservation in Oklahoma. A relatively small faction ended up in Franklin County, settling on the banks of the Bourbeuse near Union, and some settled on the very land I find myself living now, between Union and St. Clair.
We learn that a capable, but minor Shawnee village chief rose to lead thousands of warriors, and that an alcoholic, who shot himself in the eye with his own arrow, became a respected, and charismatic prophet, heard throughout the Midwest and into the South.
I believe my next read on this subject will have to be Cozzen's, "The Earth is Weeping: The Epic Story of the Indian Wars for the American West", published in October 2016. The title, alone, grips my heart.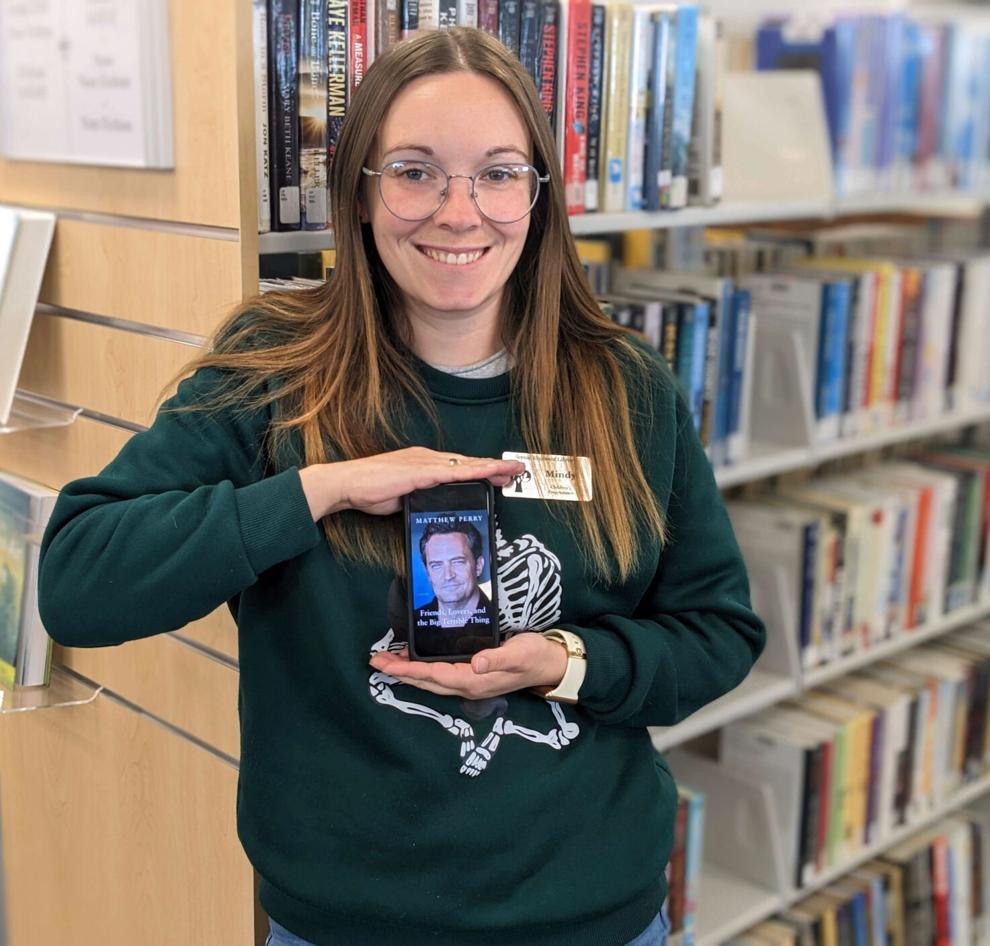 "Friends, Lovers, and the Big Terrible Thing" by Matthew Perry
For Adult Biography (on audiobook) Readers
Review by Mindy Myers, Scenic Regional Library Children's Programmer in St. Clair
A very raw, honest memoir by the amazing Matthew Perry. If you are any kind of fan of the character Chandler Bing from "Friends," the TV show, this is a must read. Or a must-listen I should say. I felt it was necessary to hear Matthew Perry tell his memoir to me, because he in fact reads his memoir in the audio version.
Now I say if you're a fan of Chandler Bing you should listen to this actor's story, not because it's hilarious and witty just like Chandler, but because it's astonishing what this man went through during his time on the show. Addiction to drugs of some kind or another, alcoholism, fear of commitments, he lays it all out for us. How he made horrible decisions, was the cause of broken relationships, and caused severe, unrepairable harm to his body. It's absolutely heartbreaking to hear how he desperately wanted help, sought out help, wanted it deep inside, but failed time and time again. He literally had no control over his addiction, pills and alcohol controlled him.
With the heartbreak, there is also light. I was pleased to find out that Matthew Perry is literally Chandler Bing. They are like the same person and that made my "Friends"-loving heart so happy! I loved his quotes he carried over from the show into his memoir: "Could I be any more … ?" Insert random adjectives. He also spoke about how he found God, and how God helped him get through his life as well as helped him forgive himself. He was not always following through with his promises but he absolutely tried and used his faith to help him cope.
This was honestly a very heartbreaking read, but I admire his courage to tell his story. To use his platform to bring awareness to drug addiction. That others are not alone. That you're not a failure when you fail. That spirituality can be a light in your healing. And that drug addiction is not merely a choice, it's an illness and a struggle that's life long. I gave this story four out of five stars.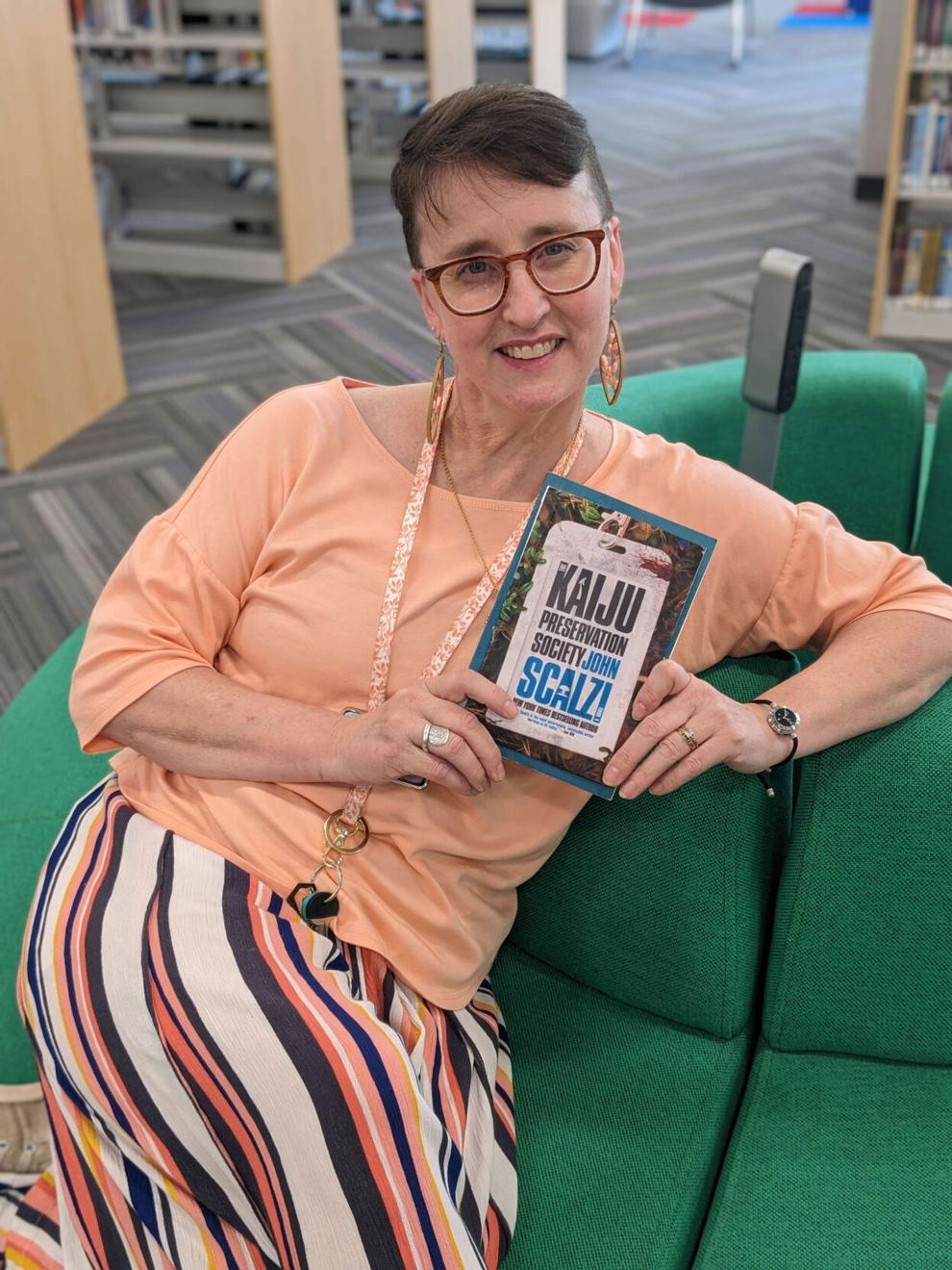 "Kaiju Preservation Society" by John Scalzi
For Adult Fiction Readers
Review by Christy Schink, Scenic Regional Library Associate Director of Youth and Outreach Services Librarian
This exciting fast-moving sci-fi novel is "Pacific Rim" meets "Stargate!" When Jamie gets fired from his cushy job for a big tech company (think GrubHub) during the COVID-19 shut downs, he ends up humiliated doing food deliveries for this same company. During one of these deliveries, his quirky friend Tom offers him an opportunity to do grunt work for an "animal rights organization" in Greenland. But Greenland is just the first stop on the way to somewhere "out of this world." On Kaiju Earth, an alternate dimension Earth, Jamie meets and befriends several scientists on his team.  It turns out that the animals they are protecting are Godzilla sized creatures called Kaiju from another world. Did you ever wonder where the Godzilla craze came from? The explanation is one of my favorite parts of this book. Jamie has to learn to work in and survive on this alien planet, where it appears to be like our Earth, but the flora and fauna are huge and deadly. When Jamie's jerk of an ex-boss, Rob, travels to the Kaiju world, things get really complicated and dangerous. His family has been involved with the Kaiju Preservation Society from the beginning but their motives have always been less than noble. Rob thinks he's finally found a way to capitalize on the Kaiju who create and exist on nuclear energy, by bringing a Kaiju and her egg to our Earth. But he may end up killing millions here in the process. Can Jamie and his new friends save our world and save the Kaiju by stopping him? This book is a quick fun read for those who love to escape reality. And if you enjoy "Kaiju Preservation Society" you can find many more sci-fi books by John Scalzi including one of my favorites, "Redshirts."