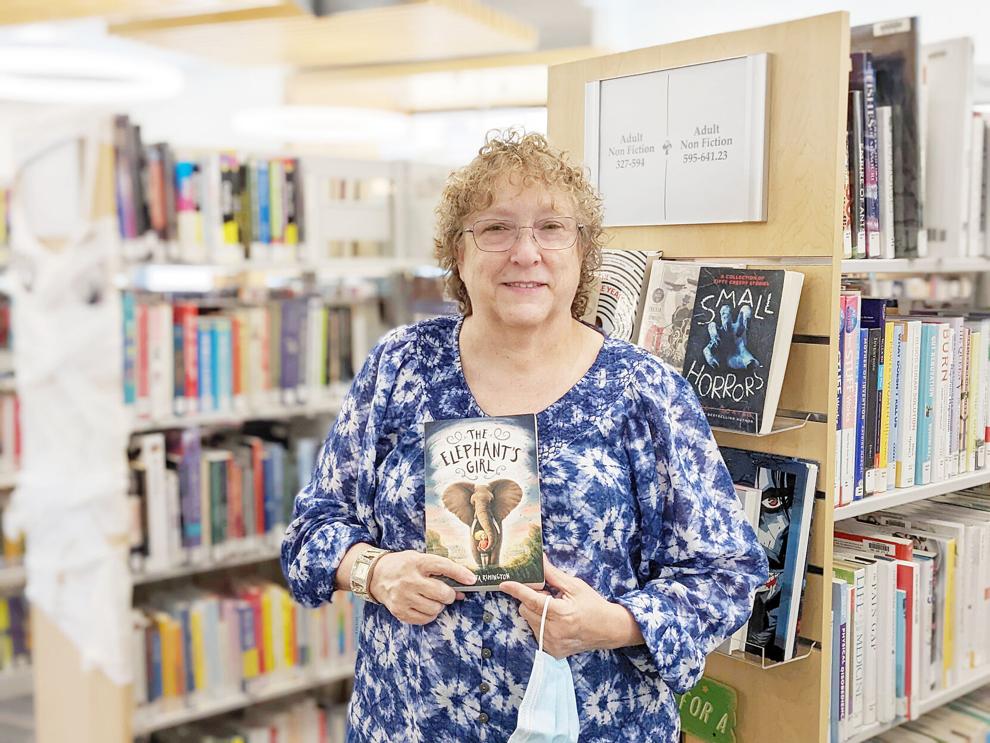 The Elephant's Girl
By Celesta Rimington
Ages 9-13
This juvenile fiction book was a joy to read — funny, poignant and fascinating. The characters are unique but believable. I highly recommend this book for children of all ages who love animals, adventure and a little magic. Set in modern times, "The Elephant's Girl" has a 1950s feel to it. There is a sense of childhood innocence and wonderment in the book that took me back to my summer vacations at my grandparent's farm.
The story centers around the mysterious telepathic images sent from an elephant named Nyah to a young teenaged girl who lives at the zoo with her foster father Roger Marsh. Lexington had appeared at the zoo as a toddler in the middle of a tornado. She was found in the elephant enclosure; Nyah's trunk wrapped protectively around her. She couldn't remember anything about her life before the tornado. 
Lexington doesn't know what to make of the images that Nyah has shown her, but she knows that these images must mean something very important to the elephant and possibly to her. She sets about trying to find out what these images mean and why they matter. She also has a burning desire to find out who her parents were and what happened to them. Nyah also wishes to find the elephants she was raised with in a small circus and that is one of the reasons that Lex receives flashing images from her. Both elephant and teen are searching for something they have lost.  
Her summer is busy: meeting a ghost in the woods beside the zoo, Lex seeks to help her regain something she has lost; figuring out how this mysterious ghost ties in with her search for her family; exploring her new-found feelings for Fisher, her best friend; and trying to come to grips with her ideas about family and who that may involve. 
Review by Lori Jane Perdew
Pacific Branch, branch manager
---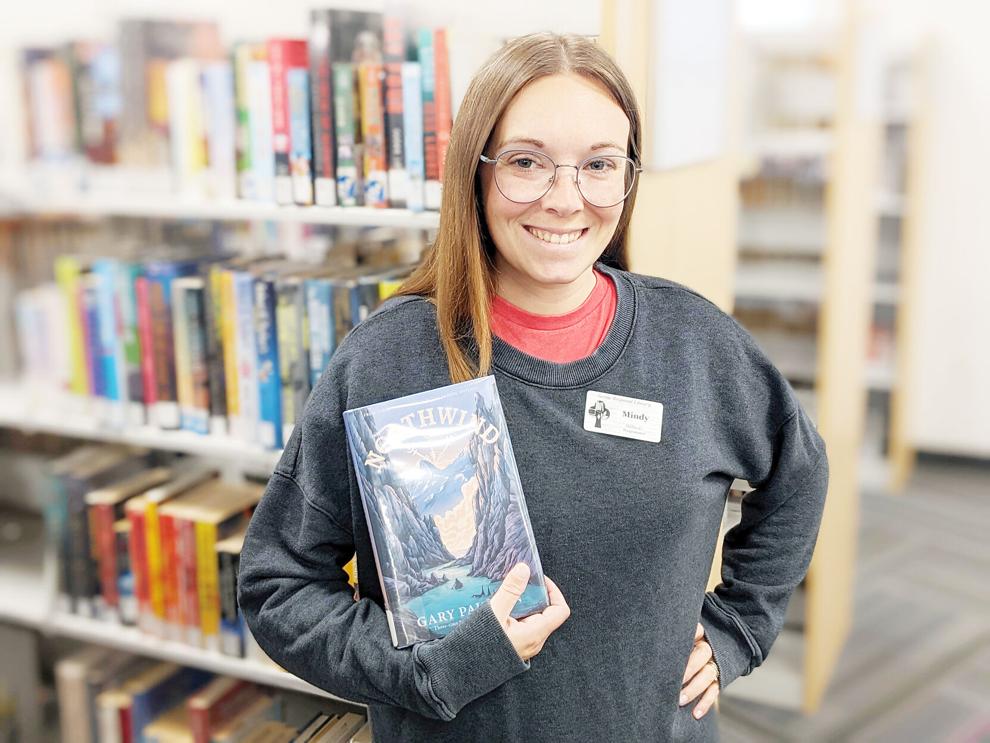 Northwind
By Gary Paulsen
Ages 10-14
This is a story about survival, perseverance, and finding happiness within oneself. Our main character, Leif, has been let down by more than any child should. He has suffered the loss of his mother and the only people he had close to a family, been let down by humanity, faced death, and yet he still moves forward. 
This juvenile fiction story is a very heavy read, but is also so spiritually inspiring on how one can connect with nature to heal. With tons of Nordic mythology throughout, his acceptance of what he can't control and what is to come: Valhalla, is very courageous.  I appreciated the "Little House on the Prairie" vibe of when survival and hard work were necessary. The details of hunting, gathering food, and building shelters were very reminiscent of the Little House series. I also appreciated how the author did his research on the behavior of whales, bears, ravens and more. I was astonished to find out that the author lived and sailed in this environment, which was where a lot of his research came from. This is a story for any child, or adult for that matter, who are going through a hard time and struggling to find their place in the world. This story will stay with me for a very long time, and I hope to someday see the whales dance as Leif did.  
"Of course there were life surprises that were not always good.
Like a sickness that killed or a whirlpool to suck you down or a surprise of coming out of thick fog into a frenzy of jumping and feeding whales without a warning. But you faced those things as they came and either were successful or you went to Valhalla. 
That simple.
You lived or you died.
And in between the two, if you kept your mind open and aware and listened and smelled and watched.
In between you learned." 
---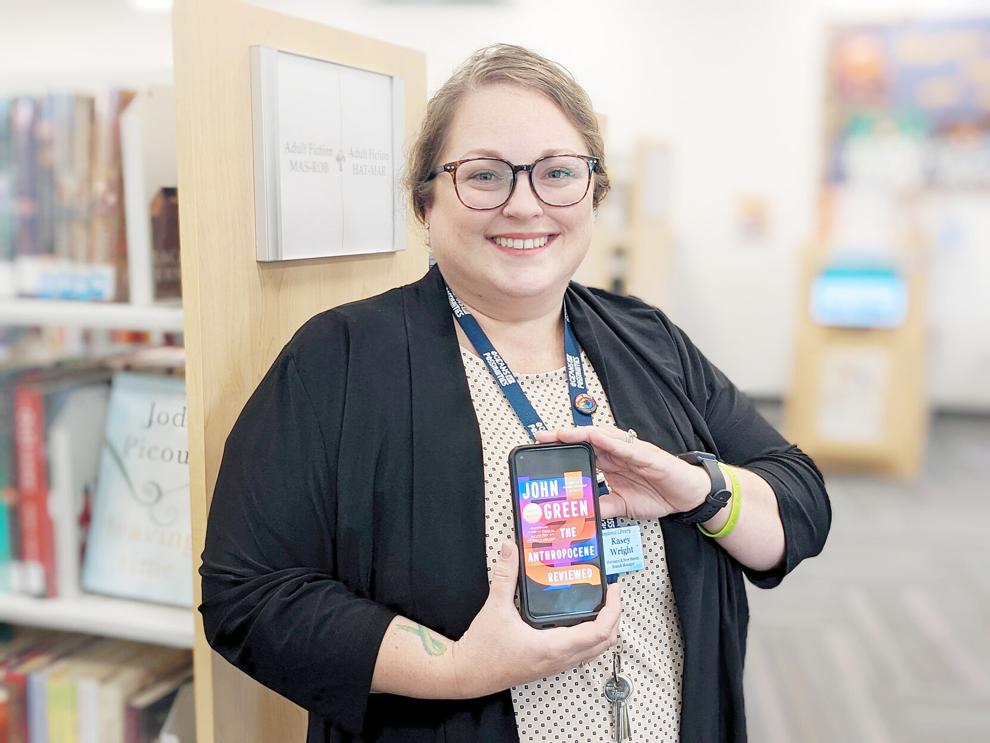 THE ANTHROPOCENE REVIEWED
By John Green
Adult readers
Author John Green, who rose to fame with young adult (YA) novels such as "The Fault in Our Stars" and "Turtles All the Way Down," has stepped out of his normal YA fiction writing to educate us about the little things that happen all around us, every single day in "The Anthropocene Reviewed." 
"The Anthropocene Reviewed" is used to describe our current geologic age where humans are the culprit of global alterations. Humans have taken amazing experiences, such as hiking in our beautiful national parks, and rated them with stars. We no longer see for ourselves if an experience is worthwhile. Yelp and Google reviews have taken the place of curiosity. In this collection of short essays, Green reviews "different facets of the human-centered planet on a 5-star scale." This book is an extension of Green's podcast by the same name. The essays include some of the most interesting human phenomena, such as staphylococcus aureus and viral meningitis, to absurd topics ranging from Canada Geese and Icelandic Hot Dogs from Bæjarins Beztu Pylsur. 
As an anxious, empathetic overthinker, I wholeheartedly relate with Green, who is the book's main character, but he reminds us that we are all playing supporting roles in this life. 
I really enjoyed how Green used his wisdom and wit to draw me into topics that I would not have otherwise cared about. If you are a trivia fanatic, or someone who is looking to expand their knowledge on a variety of random subjects, this book is for you. Listeners of the AR podcast and non-listeners alike will enjoy this easy read that is full of depth. The book is full of wonderful quotes and anecdotes, and I think it would make a wonderful gift for a high school or college graduate. This somewhat personal memoir of short essays reminds us that life is exciting, fascinating, and definitely not mundane. 
I give "The Anthropocene Reviewed" FIVE stars.
Review by Kasey Wright
New Haven/Hermann Branches, branch manager 
---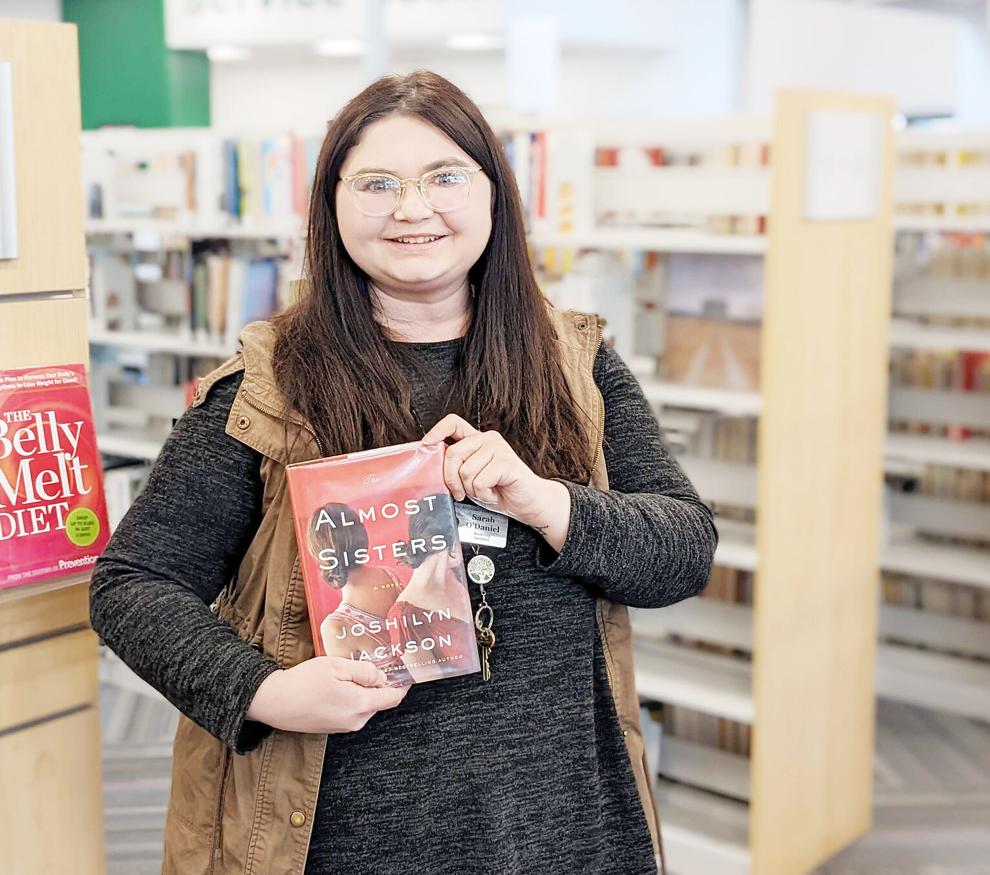 The Almost Sisters 
By Joshilyn Jackson 
Adult readers
"The Almost Sisters" by Joshilyn Jackson is a book I find myself returning to year after year. The first time I read it, I enjoyed it well enough. Typically after I finish reading a novel, I think about it for a few hours and then promptly move on to the next. 
This book was an outlier to that process. As more time passed, thoughts of this book lingered until I found myself picking it up again. Upon a second reading, I realized this novel would stick with me forever.
There's just something about books featuring elderly ladies who grew up in the deep south. Almost all have belly-laughing humor present, but few have as much heart as "The Almost Sisters."
The story follows Leia Birch Briggs, a graphic novelist who is newly pregnant with a baby boy from a one-night stand; her 90-year-old grandmother, Birchie, from Birchville, Alabama; Birchie's best friend from childhood, Wattie; and Leia's step-sister, Rachel. 
Before Leia can tell her family the news of her pregnancy, she receives an onslaught of texts and phone calls informing her of an incident at the Birchville, Alabama, First Baptist Fish Fry. She soon finds out that the two older women had managed to hide Birchie's descent deep into dementia. The next thing Leia knows, she is in Birchville attempting to sort out her beloved grandmother's affairs, much to Birchie's chagrin. However, it is when the trunk in the attic is discovered that the true history of the Birchs' past begins to unfold.
This book tackles many tough topics, such as race, unplanned pregnancy, relationships and dementia. Still, it does so with grace, empathy, quirkiness, and humor as Jackson weaves multiple stories within the same plot while heading in a linear direction. 
A highlight of the novel is the charming way Jackson connects the women in the story through shared emotional experiences, focusing on the importance of female relationships. It is rare for a book to make me laugh and cry in the same sitting, and "The Almost Sisters" completes the task every time.  
Review by Sarah O'Daniel
Scenic Regional Library, marketing specialist
---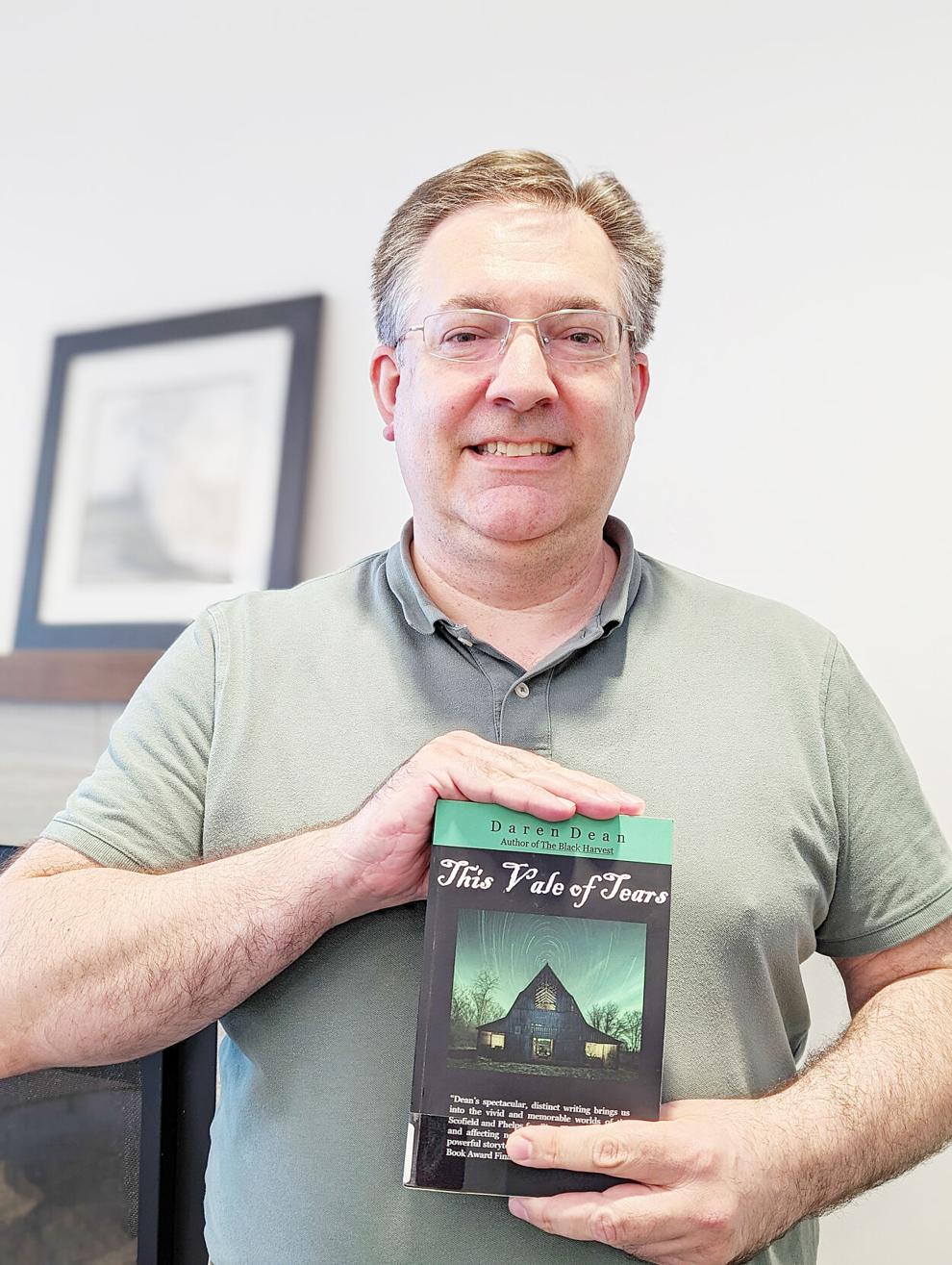 This Vale of Tears
By Daren Dean
Adult readers
In Dean's "This Vale of Tears," several generations of the Scofield and Phelps families try to come to terms with their pasts. This edgy, southern gothic saga, opens with Troy Scofield killing his wife's lover Bobby Lee Phelps. Troy serves seven years for the murder and returns home to start over.  
Raelyn Phelps, niece to the unfortunate Bobby Lee, is only just an adult herself and tired of raising her younger siblings while her overbearing mother works at a local hospital. In an act of rebellion, she runs away and crosses paths with Troy, who offers to help her.  
Dean tells a story with a cast of memorable characters that brings depth to this southern, 20th Century Romeo and Juliet. He writes tight, descriptive, gritty narrative that gets inside the characters' heads and shows them for the flawed human beings that they are. Raelyn's mom, Ruby, who clearly calls the shots in the Phelps clan, gets her husband and brother-in-law together to go in search of Raelyn, bring her home, and enact retribution on Troy for past and current discretions.  
There's action too. Troy and Raelyn run away to New Orleans. Her family tracks her down to bring her home. In another scene, a shootout at Troy's house during a harsh winter storm shows how committed his enemies are. Bullets volley back and forth until Troy comes out on the porch, pistols in both hands, shooting from the hip.  The adversaries flee and only then, as he passes out, does Troy realize he's been shot.
A vale or valley of tears refers to the burdens we suffer in our lives on earth.  Some religious beliefs suggest we can only let go of these burdens when we enter Heaven. While it is difficult to like any of the characters, it does feels like you know them.  Perhaps they are your friends, family, neighbors or co-workers. Dean's writing draws you in and allows you to empathize with them. This is a gripping story, with deep, rich characters, that show us that life is difficult and doesn't always turn out the way we want it to. All good stories have the potential to make you uncomfortable and to dwell on the past. That's why this is a good story.
Dean is also the author of "Far Beyond the Pale," "I'll Still Be Here Long After You're Gone: Stories," "The Black Harvest: A Novel of the American Civil War," and the forthcoming (2023) "Roads: A Novel." Currently, he is an Assistant Professor of English and Creative Writing at Lincoln University of Missouri. He lives in Jefferson City with his wife and children.
Review by Paul Schroeder
Administration, collection development manager
---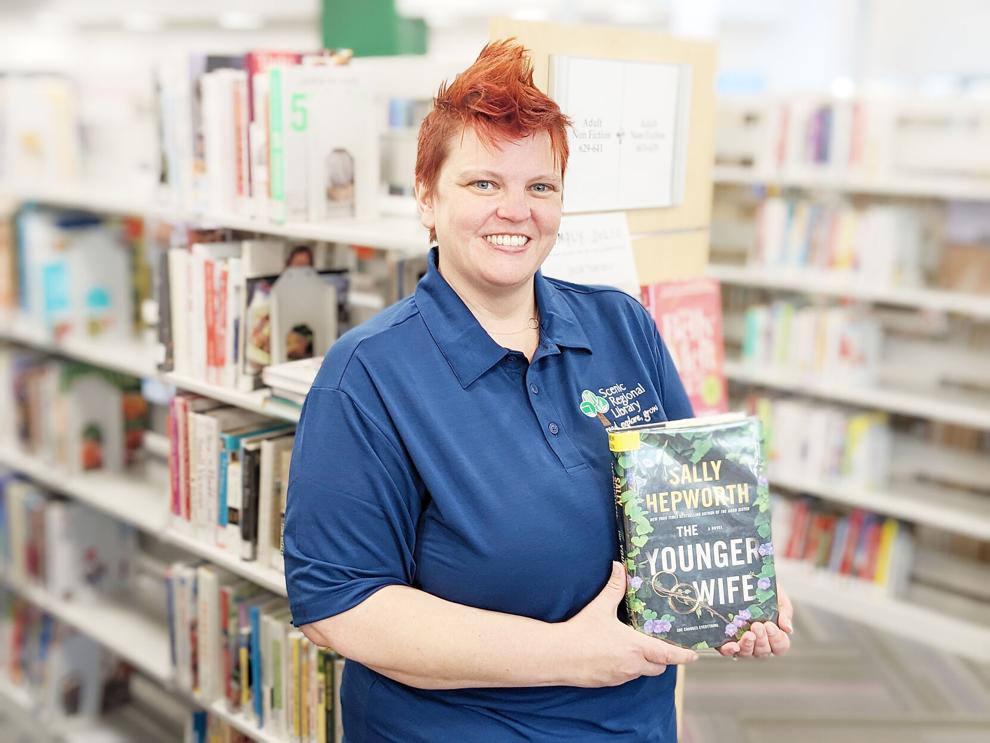 The Younger Wife
By Sally Hepworth
Adult readers
The story begins at the wedding of Stephen and his much younger fiancée, Heather. Moments after the vows are spoken, the couple is signing the register when a loud crash is heard. There is a lot of blood and a call for a doctor in the house. The reader is left not knowing what happened or who the victim is. The story is non-chronological as it starts in the present and goes back in time to follow the stories of sisters: Tully and Rachel, and Heather, their soon-to-be stepmother. All three women have unresolved issues from their past that affect their relationships, work and family lives.
Tully has anxiety and shoplifts as a way to calm her feelings. Rachel is a well-known baker and uses food as her coping mechanism. Heather had a traumatic childhood and low self-esteem and uses alcohol as her release. We learn about each woman's past and current situations in separate chapters. 
Stephen's wife, Pam, has advanced dementia and resides in a nursing home. Stephen falls in love with Heather, their interior decorator. Stephen announces he is divorcing Pam to marry Heather. As each female character is working through their issues, the sisters discover their mother had stashed a large sum of money, but she cannot explain why due to the dementia. As the stories develop through the book, we find that Tully, Rachel and Heather are not the only characters keeping secrets. The stories unfold and we end up back on the wedding day to discover what happened after the vows were exchanged. 
I loved reading the personal stories of the women. I felt connected to each character and their story. I wanted them to succeed in overcoming their issues from the past. My favorite character was Rachel, but I really enjoyed reading this book. I would say this is more of a psychological suspense novel as there isn't really any action, but definitely worth a read. The novel has strong women and deep character development. Scenic Regional has access to the book in regular and large print as well as CD audiobook and ebook!
Review by Renny McBride
Union branch, branch manager
---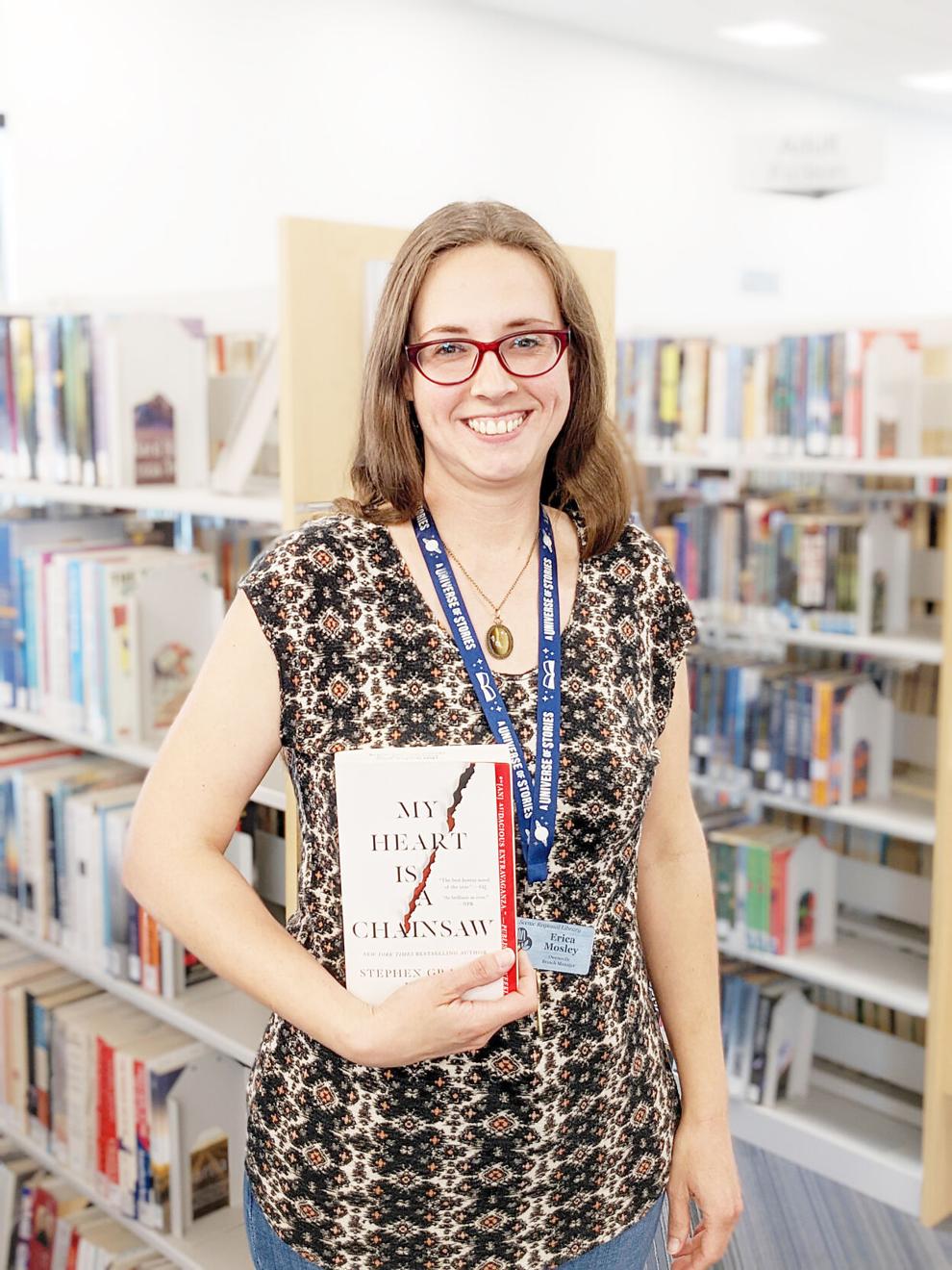 My Heart is a Chainsaw

 
By Stephen Graham Jones
Adult readers
A series of grisly deaths in the lakeside town Proofrock, Idaho leads high school misfit and horror movie aficionado Jade Daniels to suspect she is in the midst of a real-life slasher film. Most people would be terrified but not Jade. She's been training for this moment her whole young life.
She tries to mobilize the townspeople, but of course (just like poor Crazy Ralph in a certain slasher classic) she only gets laughed at when she tells them a mask-wearing, machete-wielding psycho killer is on the loose. Even I wasn't quite sure how to read Jade; is she seeing what she thinks she's seeing, or is it all in her head?
Honestly, this novel didn't grab me until about a hundred pages in, when it started digging into why Jade is so obsessed with slasher films. Why they have become the textbook for surviving her life?
The slasher genre has long been dismissed for its one-note characters, senseless plot lines and gratuitous violence. But Stephen Graham Jones somehow turns that framework into a vehicle for exploring the inner lives of complex characters and finding deeper meaning amidst all the extraneous stylized violence. We see slasher films through Jade's eyes: a guide to surviving not only the attack of a serial killer swinging a nail gun; but also a brutal childhood, a negligent father, and the trials of growing up Native American in a small, predominantly white, Idaho town that doesn't seem to have a place for her.
Still, this book has an edge, and comes complete with all the grisly tropes. Jones really, really loves slashers and has clearly spent a significant portion of his life watching and just generally geeking out over them. For the reader, it's a lot more fun if you know a little something about horror films yourself and can keep up when Jade casually tosses the names of slasher archetypes (Laurie, Sydney, Nancy) into the narrative.
Overall, I had a blast reading this crash-course. Everybody knows "Friday the 13th" and "Scream," but I'd never heard of "Black Christmas" or "Just Before Dawn." I now have a few additions on my to-watch list.
"My Heart is a Chainsaw" is book No. 1 of The Indian Lake Trilogy. Book No. 2, "Don't Fear the Reaper," is due out next February.