The Missouri Department of Health and Senior Services' COVID-19 dashboard, which is updated weekly, shows the COVID-19 community level in Franklin County is "low" with 112 cases from May 5-11. Statewide, there were 5,602 cases during that seven-day period, according to the dashboard.
Still, Dr. Ann-Elizabeth Mohart, chief medical officer at Mercy Hospital Washington, cautioned that at this point in the pandemic, that might not be the best data point anymore.
"Currently we can't interpret cases today like we could early on because then we were essentially tracking and capturing every person that was tested in that data," Mohart said. "And now most people are testing at home in a way that we're not ever going to see. So this is no longer a really accurate count-by-count, case-by-case tracking of cases. It'll give us an idea of a trend, you know, is it going up or down, but it's no longer as reliable as a data point as it once was."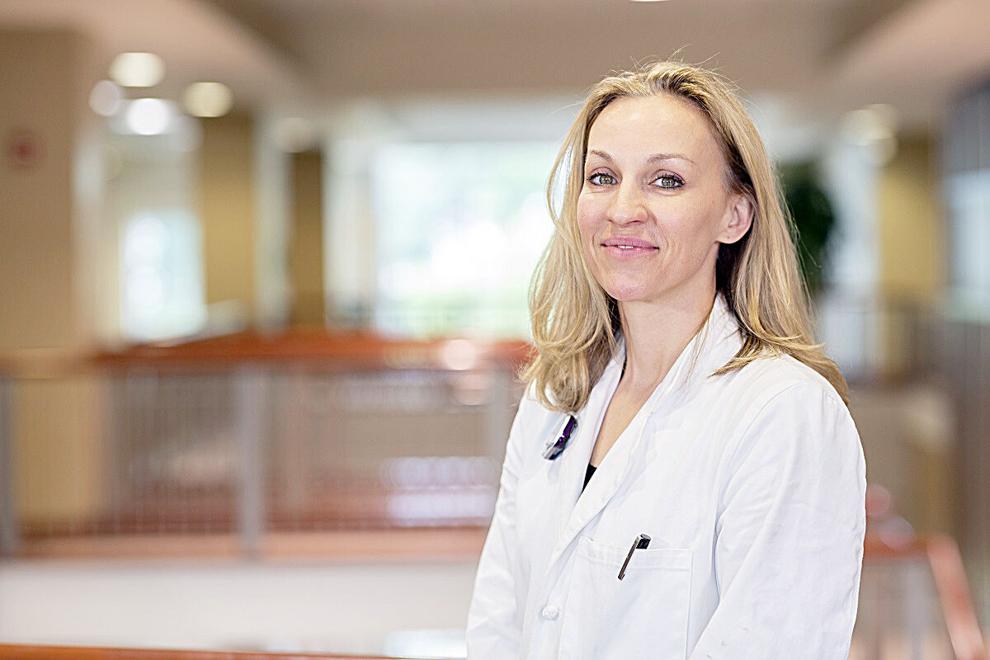 Mohart said her focus was on hospitalizations.
"Currently, we're seeing quite a few patients in the emergency department coming in with COVID, but we're seeing exactly what we would hope to see ... which is that those patients are well enough to go home," she said.
As of Friday morning, Mohart said Mercy Hospital Washington had two patients, both of whom were admitted in the last 24 hours, with complications from COVID-19. Prior to that, she said, there were no COVID-19 patients admitted for several weeks.
Mohart said a good indicator of COVID-19 prevalence in the community at this point in the pandemic is data from Washington's wastewater monitoring program, which looks for COVID-19 viral particles in human waste that moves through Washington's sewage system. That data remains low as well.
Mohart said wastewater data can help health experts catch outbreaks early as spikes in the wastewater data precede spikes in hospitalizations.
"The wastewater is showing just a slight rise," said Washington Emergency Management Director Mark Skornia, who helps oversee the program. "No large spikes."
The data, available through an online dashboard that compiles numbers from wastewater monitoring programs across the state, shows that on May 2, the most recent data available, there were 144,200 viral marker copies — a unit of measurement for viral material — in Washington's wastewater. That's an increase from April 25 when there were 115,100.
For reference, during the height of the omicron-driven COVID-19 surge in January, there were 4.8 million viral marker copies, according to data collected on Jan. 17.
Union's wastewater monitoring showed a larger jump, but still remained low. On May 2, it detected 101,800 viral marker copies, up from 32,300 on April 25. Pacific reported 32,000 viral marker copies on May 2 and 24,900 on April 25.
Mohart said this is consistent with what's happening elsewhere in the region.
However, in other parts of the U.S., COVID-19 cases are increasing. New York City's seven-day moving average has reached almost 2,500 COVID-19 cases daily; that's up nearly 20 percent from the week before and 400 percent from early March, according to NYC Health. California reported approximately 8,000 daily COVID-19 cases in the week ending May 11, up 18 percent over the previous week, the Los Angeles Times reported.
Mohart said health officials here are watching that diligently, but remaining calm.
"You always want to keep an eye on what's going on in other areas of the world," she said. "Especially when you have a virus that's incredibly contagious. It's showing up in other parts of the world, so it's very likely that at some point it's going to be showing up here. We're not necessarily fearful of that at this point, but it is something that we track and if it starts to increase and pick up here, we'll be prepared to handle that."
She wanted to assure people that she believes it will be manageable. "There's no need for like fear or panic. We can handle this."