Washington Parks Director Provides Project Progress Update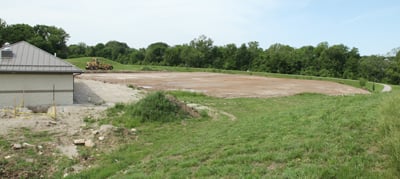 Grade Land for Tennis Courts
Grading work is ongoing at Phoenix Park in the eastern part of Washington in preparation for the construction of six new tennis courts. Once the ground is dry, public works crews will continue grading and begin compacting several layers of rock before asphalt paving work begins for the courts. The new pavilion and restrooms facility at left is about 98 percent complete, according to Washington's parks director. Once the new courts are substantially completed, four existing courts at Optimist Park will be demolished to make way for a new skate park.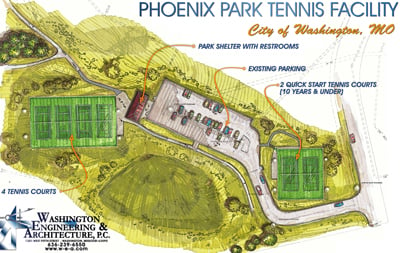 Planned Projects at Phoenix Park
This concept drawing provided by Washington Engineering and Architecture shows an aerial view of what Phoenix Park will look like once tennis courts and a restrooms/pavilion facility have been built. On the left are four tennis courts that will be lighted. Two additional courts, shown at right, will be located near the park entrance. A covered pavilion with restrooms is planned on the west side of the parking lot.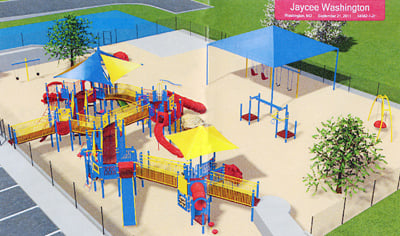 Proposed All-Abilities Playground
This is a proposed concept of the Washington Jaycees all-abilities park, which will be built east of the Kohmueller farmhouse along South Lakeshore Drive near Lions Lake. The design process is ongoing and visual appearance may change, but the park will feature a playground with equipment for children with special needs but be open to children of all abilities.