Korean War Veterans Eligible for Medal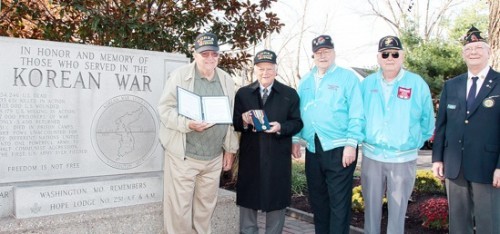 Peace Medal for Korean War Veterans
The Korean War Veterans Association, Missouri Department/Chapter, has launched a campaign to inform veterans in this area that they may qualify for the Ambassador Peace Medal, which is provided by the Republic of Korea to men and women who served in the U.S. military in Korea during the war (1950-53).
  The medal was presented to two Washington Korean War veterans, Bernie Hilermann, left, and Bill Miller, Sr., standing next to Hillermann, at the Korean War monument in Krog Park last Friday, Nov. 16. Hillermann and Miller were among the leaders in the campaign to establish the monument.
   From the right are Dave Anderson, former commander of Post 218 of The American Legion, who has received the medal; E. Frank Williams, O'Fallon, state commander of the association and a national director; and Jim Fountain, Florissant, national director.
   Anderson has agreed to help publicize the medal and handle applications from Korean War veterans who are eligible. Missourian Photo.