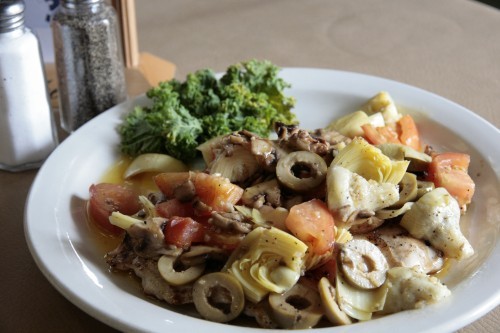 Sicilian Chicken
History:
Nick and Julie Nicoletti have been in the restaurant business for a combined 30 plus years. Many years ago, Nick's Grandma Jean and Grandpa Frank made their way to South St. Louis from Palermo, Sicily. With them Grandma brought her old world recipes and continues the tradition while raising three sons. The son's originally were Barbers until Mike broke out and decided to start a restaurant. With the help from his nephew Nick they established Nicoletti's together 28 years ago. Nick has perfected Grandma's pasta dishes through the years and has decided to branch out on his on with what is now Cafe' Palermo in honor of his Grandmother Jean. In keeping with family tradition, Nick and wife Julie have created what they think will remain a mainstay for Pacific and the surrounding communities to enjoy with family and friends. Great Food, Service and Ambiance is what we set as our goal for success.
Owners: Nick and Julie Nicoletti
Established: April 2012
Business ID: 4000006486 | Universal ID: 2be56864-c521-5ec2-a5d0-a2ba20683032
Testimonials

Customer Testimonials


Enjoyed the meal - Berry Patch salad and steak were great!

Customer Testimonials


What a joy! From one second generation Italian with a German husband.