New Building Is Library's Biggest Achievement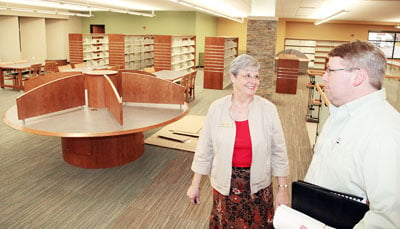 Nearing Completion
The newly renovated and expanded Washington Public Library will reopen to the public Monday, April 2. Here, Library Director Nell Redhage talks earlier this week with Steve Strubberg, of Horn Architects, the architect on the renovation project. The empty shelves behind them will be filled with books and other materials over the next three weeks while the library is closed in preparation for the move back into the renovated space.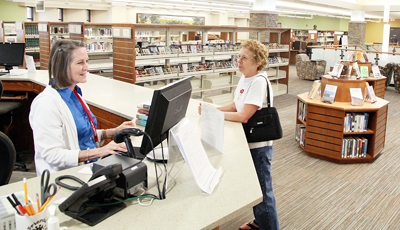 Library Reopens
The Washington Public Library reopened in its renovated and expanded building Monday morning, April 2. Library staff estimated that about 600 patrons visited the library throughout the first day, and most of them were returning books or checking out the renovations, according to Library Director Nell Redhage. Janet Juedemann, library clerk, helps a patron Tuesday morning on the upper level.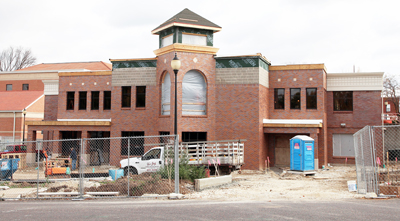 New Entrance Takes Shape
The new entrance to the renovated Washington Public Library facing Lafayette Street begins to take shape as the general contractor, Demien Construction Company, Wentzville, continues working on the approximate $2.5 million project. Most of the exterior brickwork has been completed and windows are being installed. Construction could be finished by the end of February and the library could reopen as early as April.